The MaXimus Pro rebounder doesn't pretend to be a top-of-the-line mini trampoline, but it could easily be. There's so much value inside, topped off with solid build quality, that make it one of the top best-buy rebounders around.
Weight limit: 310 lbs (135kg)
Recommended for: age 16+, for everyday training activities.
---
Review of MaXimus Pro Folding Rebounder
Upon first sight, you'll notice a very generous package: an exercise DVD with a 3-month online subscription to a video service containing amazing jumping sessions covering beginner to advanced lessons, a carry bag, weights, a stability bar, and exercise bands. It's a fantastic deal considering the modest price. It is also foldable. That alone makes this rebounder a very enticing buy: Could this be a be-all-end-all when it comes to rebounding exercises, not requiring a single cent more to spend? Well, and we're pleased to say that it really might.

Design 
The design is very classic without bold design choices. There's an air of Britishness to it (the trampoline is originally British). It won't take your breath away, but it looks very pleasant and sturdily build. There are silver accents around the black mat and safety skit, courtesy of the metal frame parts.
Frame
The steel tubing is surprisingly capable, with a generous 300 lbs weight limit (135 kilos). That's more than enough for most use cases. In any case, it never feels unsafe to use. It is extremely stable, aided with black rubber pads on each of its six legs. The rubber stoppers on the bottoms of the legs work wonders for reducing vibrations and noise. It shouldn't rust, but then again it shouldn't be left out in the rain either. No guarantees there.
The handle bar is set 36 inches above the mat, and unfortunately, it's non-adjustable. Something obviously had to give, and the handle bar is where they did it. This height is comfortable for people under 6ft 5in, so unless you're very tall, the bar will be fine to use. The trampoline itself is set 10 inches from the floor.
Bear in mind the manufacturer doesn't recommend this model for children.
Bounce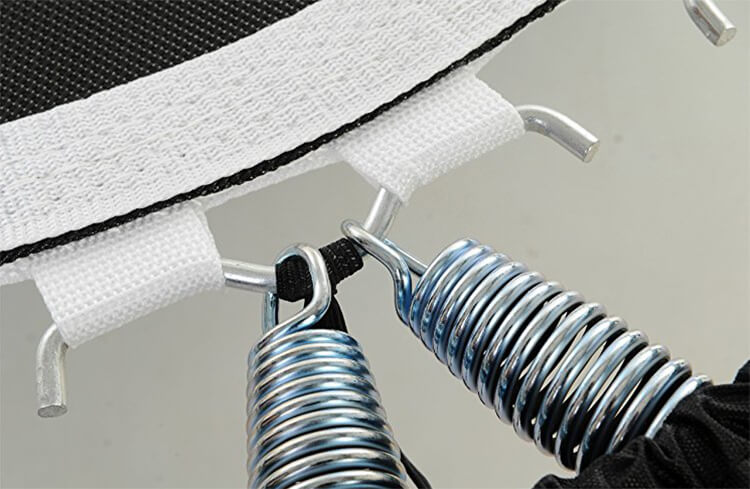 The rebounder follows a tried and true formula, not unlike a Volkswagen. It needs none of that bungee cords and elastic bands, no thank you. MaXimus Pro opts for old-school steel springs, and it sports 32 of them. It's size (11cm/4.25″ in length) is more than adequate for a smallish, 40-in trampoline.
The trampoline doesn't bottom out in any use case, and its metallic coils make for a much more pleasant bounce than comparable elastic cords. They are large and provide a Goldilocks bounce, as we like to call it –it's just right. There's no fear of bottoming out as these springs are more than adequate in resistance.
You will just have to make sure to oil them from time to time to prevent squeaking and other noises. But that's all maintenance you'll have to do, as the stitching is sturdy and there are no weak joints or connections.
Warranty & Assembly
The spare parts can easily be purchased from various online retailers, including from the manufacturer itself at a modest price. This will ensure longevity of the rebounder in case of small damage resulting from general wear and tear.
The warranty isn't quite its strongest point, with a year's warranty on the frame, half a year on the mat and the springs, while the rest is covered with a three-month warranty. It's not a mind-blowing warranty period, but you can't complain too much when you consider the entire package. Make sure to register in online via their website, otherwise you could be left out dry. Their customer support is quite good overall, and they are easy to reach, whether via an e-mail or phone.
The instructions are an example of well-made and usable material. You'll find the trampoline hassle-free to set up. You get a few extra parts, like rubber pads, don't let that confuse you. However, take care when folding it (yes, it is quarter folding; it folds twice), as it'll require a lot of muscle strength to do for the first few times. Lithe women, do not attempt to do so on your own.
Regarding resistance bands, they connect between spring W hooks, as per image below!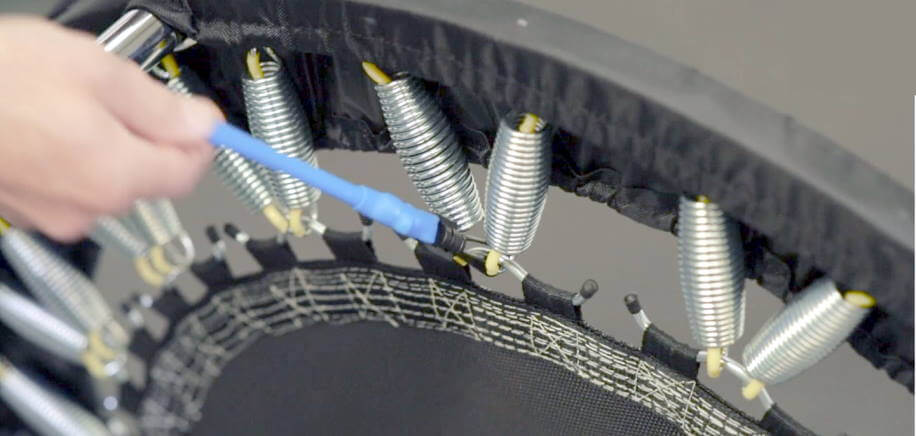 ---
Overall
This is a mini trampoline best suited for more advanced users who feel they can get their money's worth from the included equipment. Beginners could also benefit from this, but their money would more effectively be spent on a Stamina 36-incher (entry level mini trampoline) or a bit more advanced model as Jumpsport mini trampoline Model 250.
For a mid-range choice, you'd be hard-pressed to find anything better for your hard-earned cash.
Check TOP 10 Best Mini Trampolines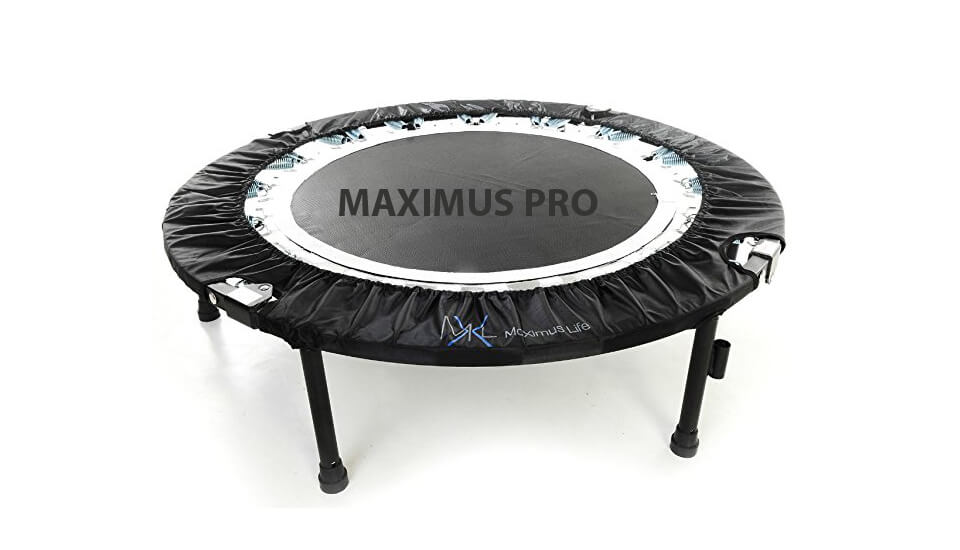 MaXimus Pro Quarter Folding Rebounder
In this market which is very saturated with all sorts of rebounders it can be difficult to differentiate oneself from the competition. Some opt for garish colors, others for extraordinary shapes. This one does neither, and takes a different route, a well-known one: Offer more for less. That being said, this is undoubtedly the best all-around package on the market. The trampoline is reliable and built to a high standard. It's costlier than most others, but you get such a comprehensive package that it's bound to save you money long-term. All these exercise goodies would cost you an arm and a leg when bought separately.