SkyBound SkySoar Round Trampoline Review
Weight limit: 330 lbs (150 kg)
Size: 15ft
Recommended for:  Suitable for families with children and adults of various ages, weights, and skill levels, seeking a safe and enjoyable outdoor activity.
The SkySoar 15ft round trampoline features six supportive U-shaped legs, ensuring a stable base for safe jumping. The trampoline is available in an eye-catching orange color, and it is designed with galvanized steel materials, making it perfect for unisex teens and families alike. The trampoline's design incorporates a no-gap enclosure system and a UV-resistant safety pad for optimal safety and durability. Its sleek appearance, with curved enclosure poles, adds to the overall aesthetic, similar to one of the previous models – SkyBound Cirrus (discontinued).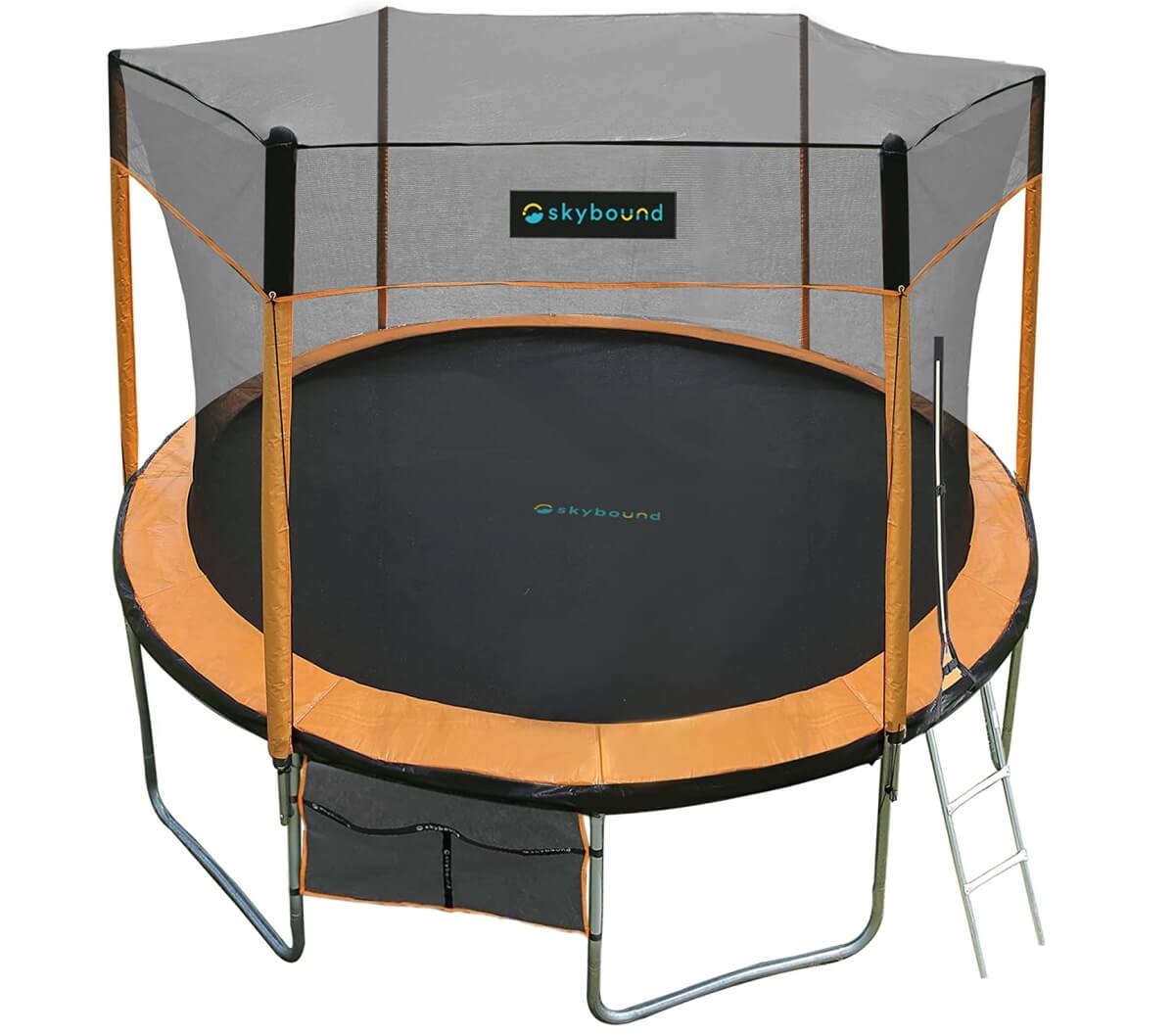 Sturdiness
Constructed from a galvanized steel frame with reinforced welded T-sockets, this trampoline offers excellent sturdiness and stability, ensuring a safe jumping experience. The frame has a 2.4-inch (6.1cm) diameter and 0.12-inch (3.05mm) thickness, adding to its robustness.
Frame
The galvanized steel frame is rust-resistant and provides long-lasting durability. The reinforced welded T-sockets prevent the frame from twisting, contributing to the trampoline's overall stability.
Weight Limit
With a weight limit of 330 lbs (150 kg), the SkyBound SkySoar 15ft round trampoline accommodates a wider range of jumpers than many competitors, especially in this price range.
Jumping Mat
The jumping mat is made from high-quality polypropylene material, which is UV-resistant and designed to withstand extended use. The mat's tensile strength is rated at 8,000 lbs (3629 kg) per square inch, ensuring its durability.
Springs
The trampoline uses 108 zinc-plated springs, each 8.5″ (21.6cm) long, offering exceptional bounce and performance. The springs have a 0.83-inch (21mm) diameter and a 0.126-inch (3.2mm) wire thickness, contributing to the trampoline's superior bounce quality.
Enclosure
The patented "Dual-Defense Performance" enclosure system enhances safety by reducing the risk of contact with the frame or springs. The no-gap design and curved enclosure poles ensure jumpers are contained within the jumping area, minimizing the risk of injury.
Padding
A thick, UV-resistant safety pad, measuring 1 inch (2.54 cm) in thickness, covers the springs and frame, offering additional protection against injuries. More information about trampoline padding can be found here.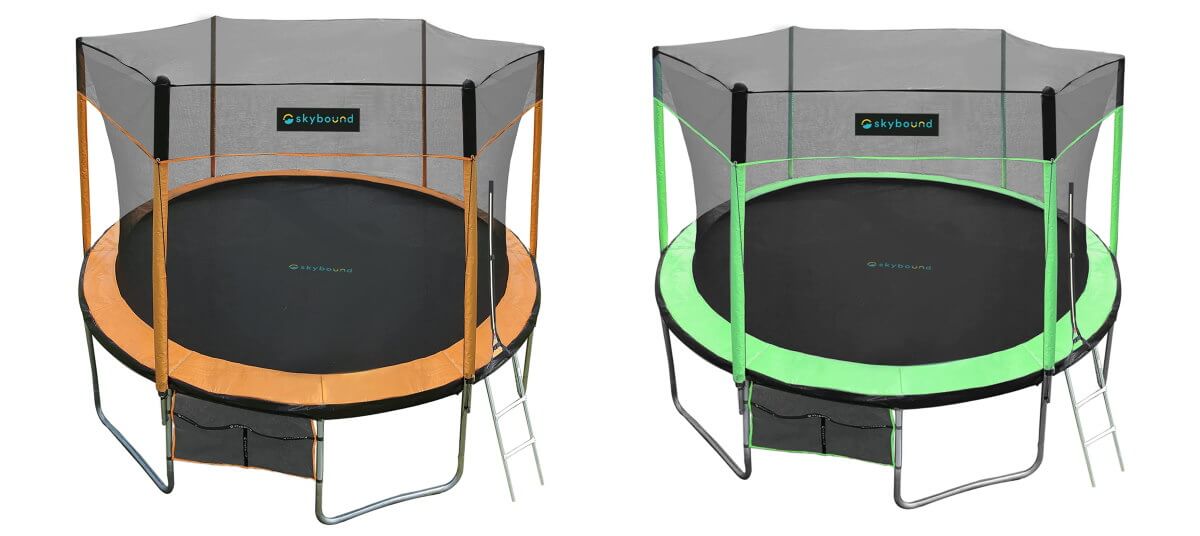 Shipping & Included Accessories
This trampoline package includes the trampoline, basketball hoop, ladder, anchor kits, and user manual. The item package dimensions are 96 x 40 x 19 inches, with a package weight of 172 pounds. The trampoline will be shipped in three separate boxes, with two large and heavy boxes and one smaller one.
US-Based Customer Service & Industry Leading Warranty
SkyBound offers a 3-year manufacturer-limited warranty on the frame and a 1-year limited warranty on all other materials. The company also provides an easy-to-read instruction manual, a step-by-step installation video, and a US-based team of experts to help with any questions or concerns.
In terms of returns, SkyBound provides a return shipping label if a customer wishes to return the trampoline. This ensures a hassle-free return process for customers who may be unsatisfied with their purchase.
Assembly
The assembly process is straightforward, with clear instructions provided in the manual. The included assembly tool makes it even easier to set up the trampoline. When assembled, the trampoline measures 180 x 180 x 35 inches.
Safety Certifications
The SkyBound SkySoar 15ft trampoline is laboratory-tested and exceeds all US/EU safety ratings. It is officially ASTM safety certified F318-16 & F2225-15, CPC, ISO 14001 & 9001, Intertek, and BSCI approved, ensuring a high level of safety for users.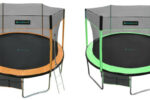 SkyBound SkySoar 15ft Trampoline Review
In summary
The SkyBound SkySoar 15ft round trampoline offers a fun, safe, and durable backyard entertainment option. With its various safety certifications, high-quality materials, and added features such as the cover and basketball hoop, this trampoline is a fantastic choice for families looking to create an exciting outdoor space for their children.
PROS
Price - in this price range it's difficult to come up with better product
Springs - 8.5" springs do make a difference when it comes to the jump height. With 108 of them, expect fun times.
Included accessories
CONS
Mat could be a bit better
Sturdiness - it would be a bit more stable if frame was made from a bit thicker steel.