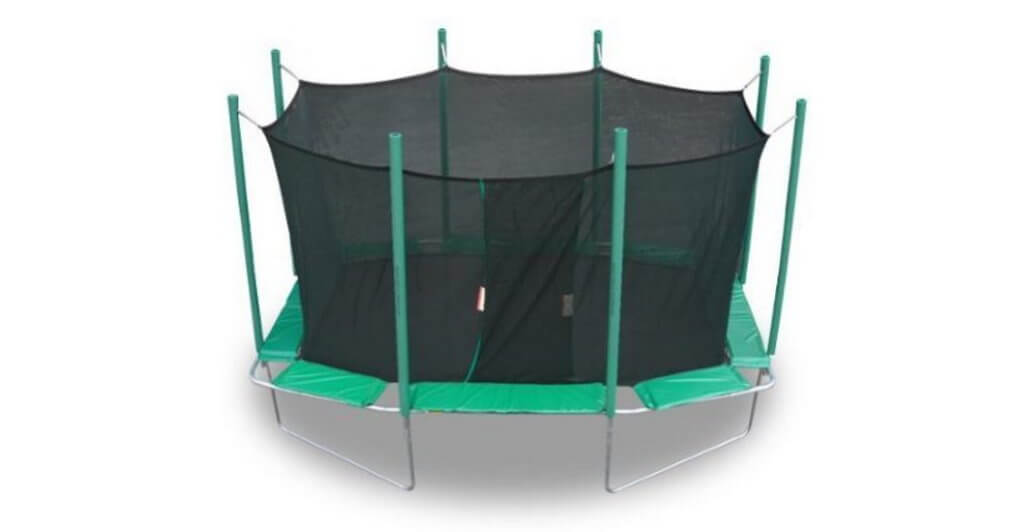 Magic Circle 9×14-Foot Rectagon Trampoline with Enclosure
What comes to mind is that obviously somebody skimped when hiring marketing and creative staff. A rectagon trampoline that goes by the name 'Magic Circle'? Doesn't really have much to do with logic alright. But we aren't here to pick holes at half-baked naming choices. What matters is whether the construction is half-baked too. Let's check!
Weight limit: 450 lbs
Recommended for: Age 6 – 14
---
Design
This trampoline truly is a breath of fresh air. Yeah, the green color isn't particularly exciting but the shape is very interesting. The trampoline is an octagon, which should place it between a rectangular and a round trampoline in terms of performance. There are eight sides, however they are not equal; the shape is oblong.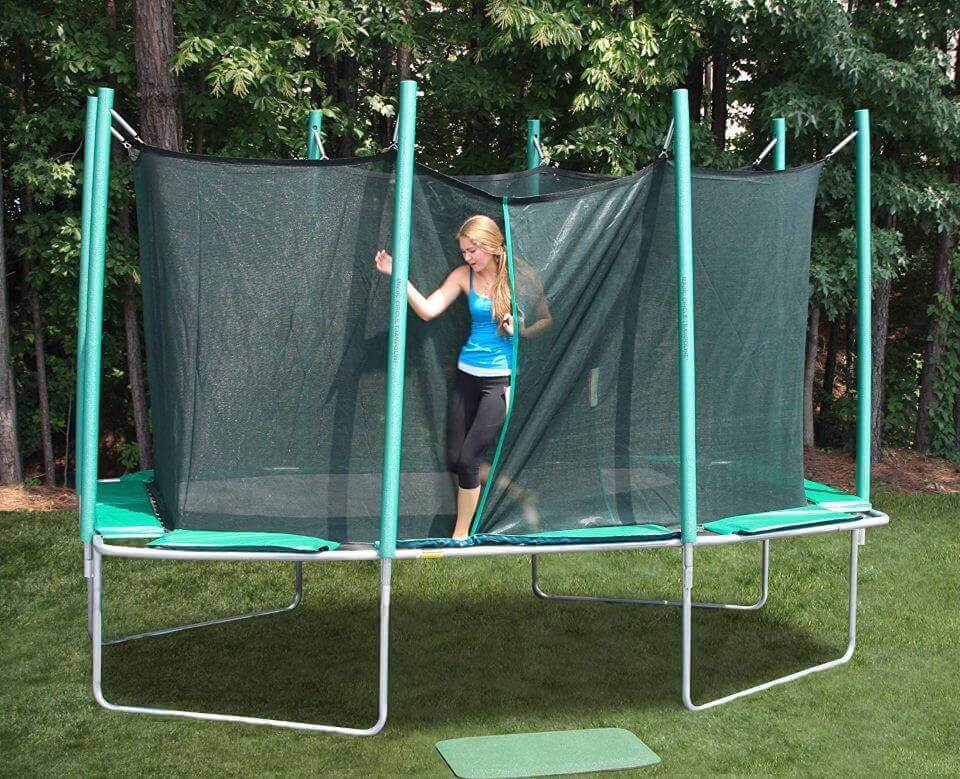 Frame
The rated weight limit of 450 lbs is not easy to achieve. It requires the use of high-quality materials. A high-grade 14-gauge steel frame, 1.66″ in diameter is used all-around. The frame doesn't bend much during bouncing and overall it gives a good sense of security. Steel is galvanized to help fight rust. There are only four legs that keep it stable, but we'll let it slide due to its unusual shape.
The trampoline is not small; with 9×14 ft in size, it can potentially host two adults (though that's unsafe).
Enclosure
The trampoline comes with a capable enclosure. There are eight enclosure poles in total, and they are fairly basic. They are covered in a thick layer of plastic foam, though, so any contact shouldn't cause harm.
The netting is excellent. It is very tightly woven with quality fibers that can withstand a lot. There's no need to fear that your limb might pierce the netting; it's that good. We would've liked a somewhat safer entry and exit system besides a Velcro strap, but convenience goes a long way. We liked how the netting and the enclosure are one-piece; the springs are outside of the enclosed jumping area. They better be, 'cause we didn't like the pads at all.
Pads & Mat
It's not that the pads are bad, it's that there are these huge gaping holes around the trampoline. Granted, there are no potentially dangerous springs in these uncovered parts, but it would've been nice to see the whole enclosure covered with padding. It can't be that expensive and it gives peace of mind to ordinary users.
The mat is stitched 6 times around with UV-resistant thread, is very sturdy, and exudes a quality feel, but only to a degree. Both the mat and the pad are UV-resistant and can be left outside with no ill effects, at least during the summer, wouldn't risk it leaving it over winter.
Bounce
Responsible for a nice solid bounce are 8.5″ springs, but octagonal trampolines are by themselves very interesting in this regard. There is more responsiveness and a staggered bounce, akin to the rectangular trampolines, while the jumper also benefits from the more uniform distribution of the jumping surface. The bounce is satisfying and quite high. Due to the shape, there is more space for maneuverability while bouncing, but not as much for somersaults for example.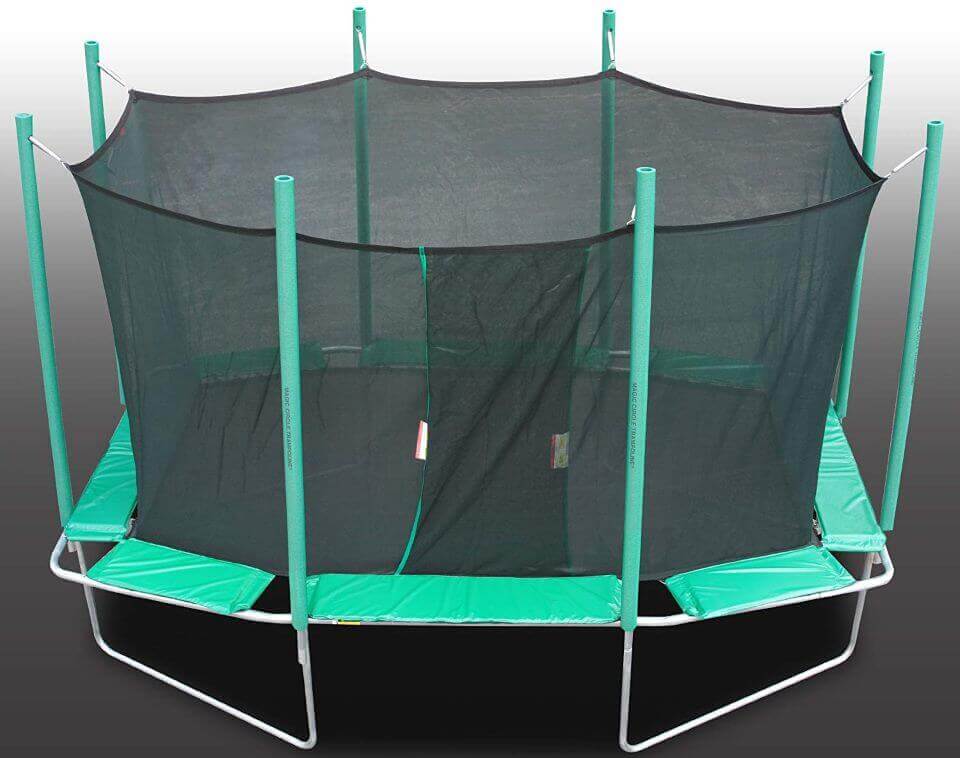 Assembly
The assembly is straightforward. Due to its size, two people should do it, but it's doable within an hour. We lament the fact that no spring tool is included, otherwise, the installation would've been even faster. The trampoline arrived in three safely-packaged pieces. The instructions aren't difficult to understand and the experience was smooth.
Warranty
The processing of warranty claims is simple, and the company can be reached by e-mail, and it is as follows:
Frame: 10-years
Springs: 5-years
Mat: 1 + 4 years pro rated
Pad: 1-year
Magic Circle 14-Foot Rectagon Trampoline
In a sea of trampolines all looking the same, the KidWise Magic Circle rectagon shaped trampoline is an interesting product. It's nice and comfortable to bounce on. Its shape lends itself well to a stable bounce. It comes with an outrageously high weight limit and a very sturdy construction. But (there's always a but) such an unusual shape comes at a price premium. You should accept that you won't be getting the best bang for your buck with this trampoline – but still, you're getting a 'bang' alright!
PROS
Excellent enclosure
Unusual shape
Structural stability
CONS
Shoddy padding
Not the best value, a bit too expensive