Exacme Luxury Fibre pole 15ft Enclosed Trampoline Review
We know Exacme as a manufacturer of value, sturdily built trampolines. This makes their foray into the world of 'luxury' trampolines a bit odd. The name surprised us until we saw the unit itself, which actually is their L series of trampolines. Apparently, their definition of 'luxury' is as modest as the asking price. While we were imagining the likes of SkyBound Stratos or Acon trampoline, we got a slightly upgraded regular trampoline. But that's not bad at all! Read on!
Weight limit: 400 lbs (180 kg)
Recommended Age: 12 – 99
Model #: 6183-L015
---
Buy on Amazon - $489.90 (last updated: 2023-11-26 11:00:02 ET)
Quick Specs: Exacme 'Luxury Fibre pole' –  15 feet Round Trampoline – 6W Legs – Enclosure – Net & Safety Pad – Ladder
Frame Steel Tube Size: 1.65″(Diameter) x 0.06″(Thickness)
Frame Height: 29.3″(Min)/37.8″
Galvanized Springs: 108 pieces
Spring Length: 7″
Enclosure Height: 71″
Enclosure Net Pole Pad Material: PVC
Pad Size: 15ft Outside Diameter With 13-inch Pad Width
Pad Material: PVC+PE (7.9″ thick)
Net Enclosure Pole Size: 1.26″(Diameter) x 0.05″(thick)

Design
Compared with run-of-the-mill budget trampolines, it is obvious at first sight that this trampoline is quite refined. It features sleek pitch black poles that complement the silver stainless steel legs brilliantly. They couldn't shake their love of blue safety pads, though. Still, you have an option of ordering green pads if you'd like. All in all, a respectable presentation.
Frame
The structural stability is achieved with the help of 6 U-shaped legs. That's four more than comparable trampolines offer, and it's perfectly adequate for a 15 ft unit.
The entire trampoline is galvanized and won't rust. The trampoline is rated at 400 lbs, which is a weight you'd be hard-pressed to go over (remember, one jumper at a time). Don't mind if you somewhere see weight limit stated at 350 lbs, as official docs which arrived in the package clearly say 400 lbs.
Stable and strong T-joints are used to connect the poles. This results in a less lateral movement when bouncing and more energy transferred to the springs.
Enclosure
The enclosure is what the manufacturer had in mind when they mentioned luxury. Instead of classic galvanized steel tubing that is often used for enclosures, this one features flexible but firm fiberglass poles. The material is lightweight and the risk of getting hurt from striking the pole is markedly reduced.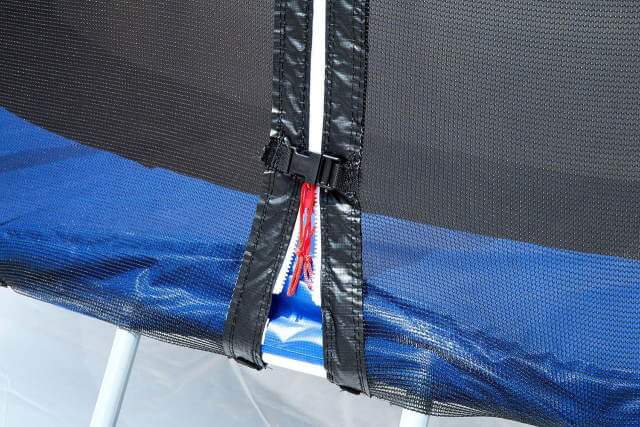 The poles are also resistant to rust and corrosion (as they are not made of steel at all). As a point of reference, most fishing poles are made of the same material, so you know what to expect.
From inside the enclosure, there are no visible metal parts; everything has been shielded with soft foam padding or stowed further away. The springs are within the enclosure area, but there is enough safety padding to not make it an issue.
The netting is taut and can be a bit tricky to assemble with its ropes and straps. It is worth it in the end, as the net doesn't sag at all.
Entry and exit are via a zippered opening in the net. You also get a free ladder included in the package.
Bounce
The bounce is above average for this class of trampolines. Ample fun is provided by its 108 (!) 7-inches long springs that are galvanized. The jumping mat is standard polypropylene. Overall, we were more than happy with the springiness and softness provided by the generous number of springs.
The bounce is also high and landing well-cushioned. At no point did we feel safe and out of control. Plus, a little wobble when bouncing added to that perception, and the enclosure netting doesn't budge when you bounce. Fantastic.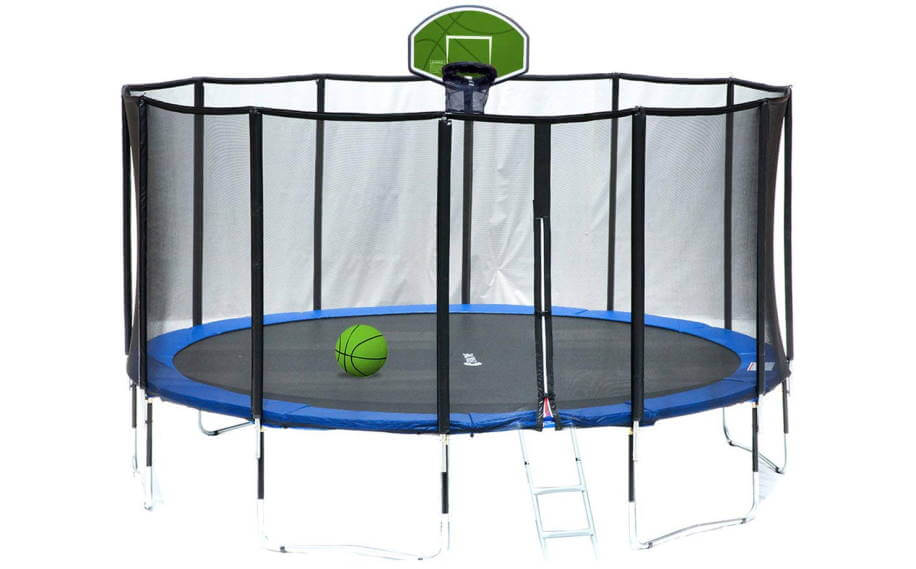 Installation & Warranty
The trampoline comes in three huge boxes with loads of parts. It might seem daunting at first, but it is doable in a single afternoon, as long as you keep track of the instructions. All hardware is included, so there is no need to purchase anything extra. Even if you lose a few parts, the manufacturer has packaged ample spares.
Exacme trampolines come with a 30-day return policy, with a total of 90 days' warranty for all parts but the frame, which comes with a 1-year warranty. This should be improved, but apparently, the manufacturer decided it's not worth it for this asking price.
---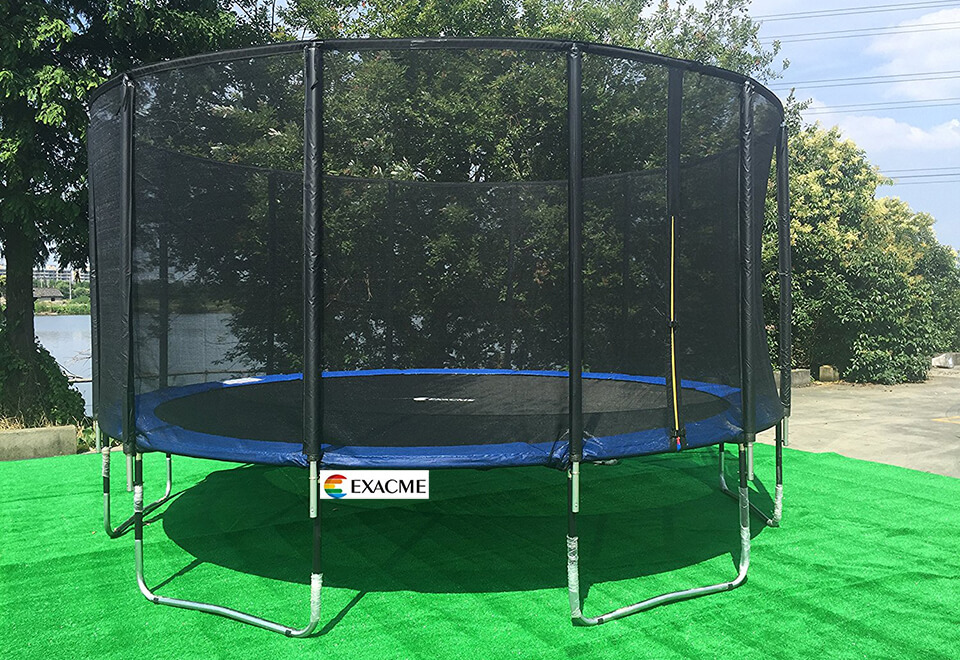 All in all, this trampoline is a basic unit with certain improvements. Are they worth the price premium? Emphatically yes! For a third of the price extra you get a trampoline with a huge number of springs, nifty enclosure and good quality materials. It really does feel premium despite its traditional design and a very acceptable price.
Strongly recommended!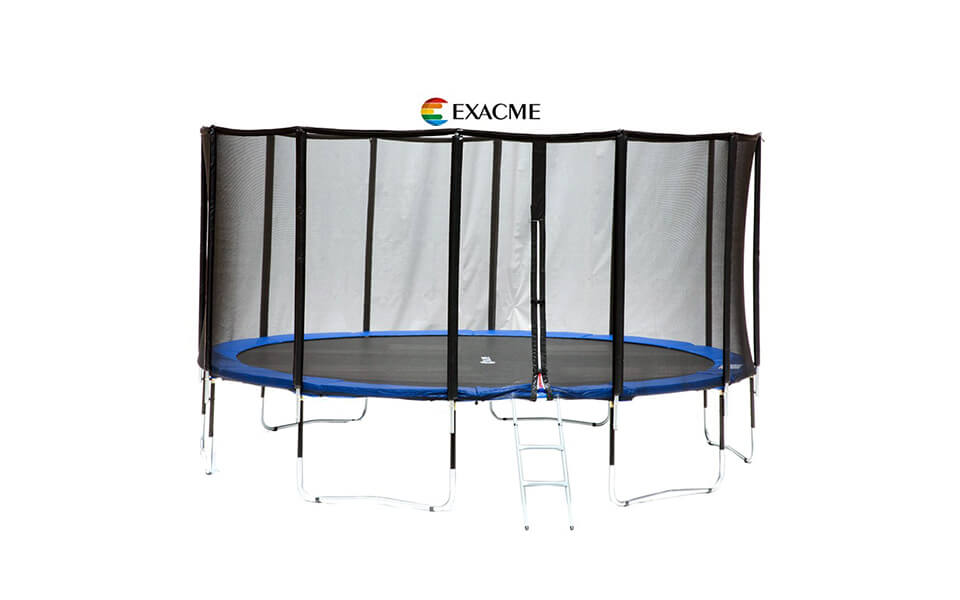 Exacme Luxury Fibre pole 15ft Round Trampoline
Exacme surprised us again. Using new technologies seen mostly in several times more expensive trampolines, is quite remarkable, especially when you consider the price tag. What to say, if you need "all-rounder" to have in your backyard, then this is the trampoline for you. You can always buy new one in few years 🙂
PROS
Quality materials
Good build quality
Great enclosure
Above average bounce
CONS
Short warranty
Looks too ordinary