Review of ExacMe 14ft Trampoline with Enclosure, Basketball Hoop & Ladder – T series
Weight Limit: 335 lbs (140 kg)
Ages: 6+
While not being the most refined among trampolines, ExacMe 14-ft trampoline sets out to impress with its 96 springs and a good enclosure at a bargain bin price.
---
Buy on Amazon - $359.90 (last updated: 2023-11-26 12:00:02 ET)
Design
Rather uninspiring in design, the ExacMe trampoline won't win any awards. But it's not ugly by any means. It's a standard-issue design with blue safety pads and a black enclosure. The design will suit those who don't really mind and would rather appreciate the cost savings brought about by the lack of flair. But as with every trampoline, it's not all about the looks.
Enclosure & Frame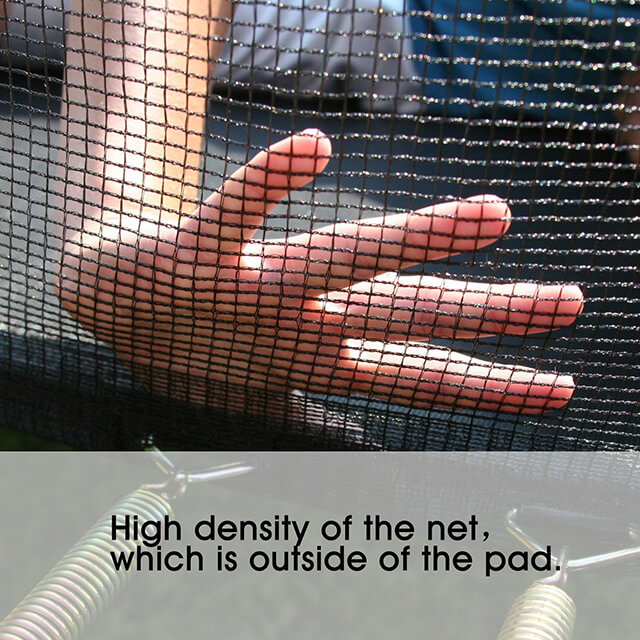 Six U-shaped legs that this trampoline has kept it more stable than some of its five-leg competitors. Six enclosure poles keep the net firmly stretched around the trampoline. The poles are a bit thin and are just 1 inch in diameter, though, and there have been reports of them bending during heavy weather.
The steel tubes are galvanized to prevent rust and aren't shoddily built.
Unfortunately, the springs are inside the enclosure, a slight safety ding that is somewhat mitigated by the heavy-duty pads. They do have trampolines with netting connected directly to the mat, it's their C series, but honestly, all the specs are a bit worse than on this, T series 14 ft Exacme trampoline, and as the price difference is minimal, we will not recommend them.
Overall, the mesh does the job and it withstood several tricky landings by our not-so-slim reviewer. It also appears to be very sturdy and didn't degrade in the rainy weather. The enclosure features a zipper to facilitate safe entry.
Mat & Safety Pad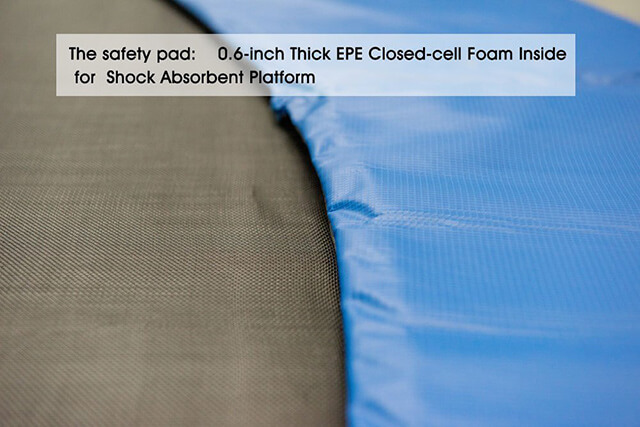 The mat is made of polypropylene, which is somewhat of a standard in the world of trampolines. It's well-stitched and sturdy. The pads are also standard-issue PE+PVC material, with a thickness of 0.6in. This is above our minimum requirements of at least half an inch for optimum protection.
Mat is 6 times sewed PolyPropylene, with 8 stitches on the edge, where V-rings are connected to the springs.
The weight limit is 375 lbs. This is a lot for a trampoline of this size. We have our doubts about the limit, but the trampoline did survive our short-term testing under 350 lbs. of weight.
Springs & Bounce
This is one of the best parts of this trampoline. The mat is bouncy and springy. You get a nice feeling when you bounce that resembles some of the more semi-professional trampolines out there. We could see ourselves bouncing on this for hours on end.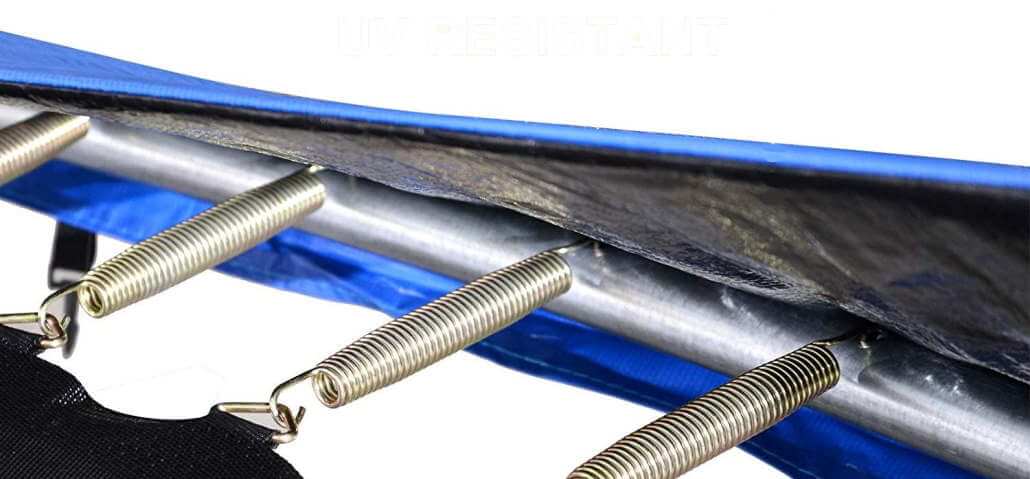 The manufacturer didn't skimp on the number of springs – whopping 96 springs are something most trampolines of this size don't offer, let alone in this price range. The 15 ft model comes with an even larger number, 108. The springs each measure 6.5-inch in length and are 0.12 in thick.
These springs are the exact reason why the bounce is so good. Yes, they are kinda thin and you can expect that some of them will stretch after some time, but replacement springs are available on most of the online shops. You just need to know to buy a 6.5″ spring pack, and you're good to go!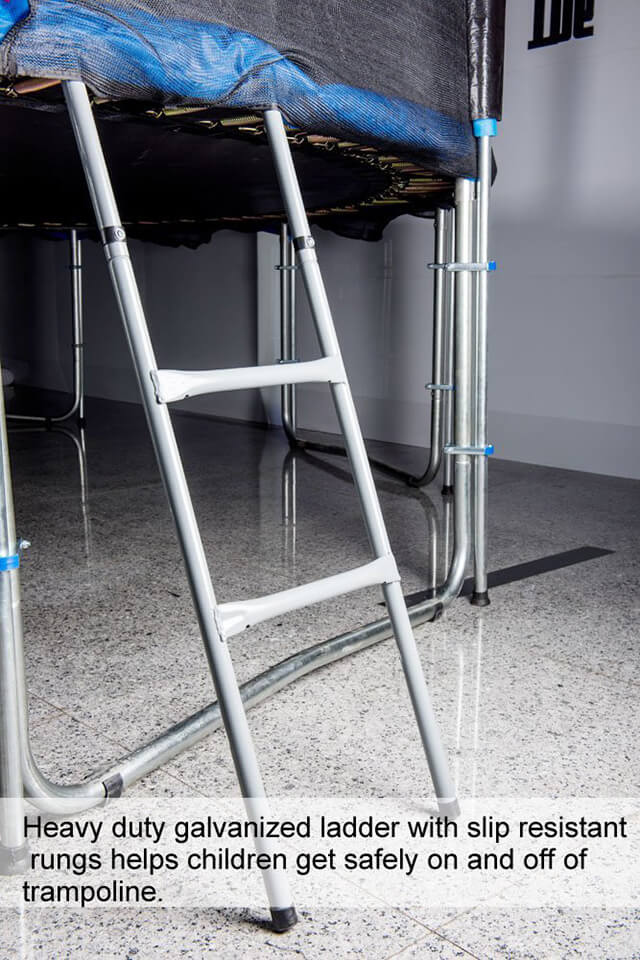 Assembly & Warranty
ExacMe features a large selection of spare parts at keen prices to buy after your warranty expires. It's standard as most companies have, 4 years on frame and 1 year on all other parts.
Regarding customer support, they have a spotty record. Note that they might charge a 20% restocking fee should you choose to return your trampoline back (unless it's due to a manufacturing defect, of course).
The trampoline comes packaged in three bulky boxes, but the assembly process isn't too complicated. Due to the sheer size of the trampoline, we recommend that two people be present to put this together easier. A wrench is included in the box for easier installation.
It's nice that the installation is intuitive, as the instruction booklet leaves a lot to be desired. The instruction booklet leaves a lot to be desired, but with a little bit of guessing you can make out what's required of you.
Do find someone to help you with assembly, as the trampoline is big and comes in three bulky boxes. Some have reported missing nuts and bolts – unfortunately, this happens all too often with the cheaper trampolines, but getting a replacement shouldn't be an issue.
Conclusion
This 14ft trampoline has obviously been created with a simple underlying philosophy – to give the best value for as little money as possible. And the Exacme Trampoline has done just that. Yes, it is a bit wonky and indeed, the instructions are horrible.
The warranty is lackluster too and the overall presentation lacks the polish that other competitors have
However, this trampoline does have a few very important things going for it. It's well-built, sturdy, and has a great number of springs. for the size.
You get enclosure, basketball hoop and the ladder included in the price. The bounce resembles that of very expensive trampolines, and all for a bargain bin price.
---
You May be Interested in these trampolines: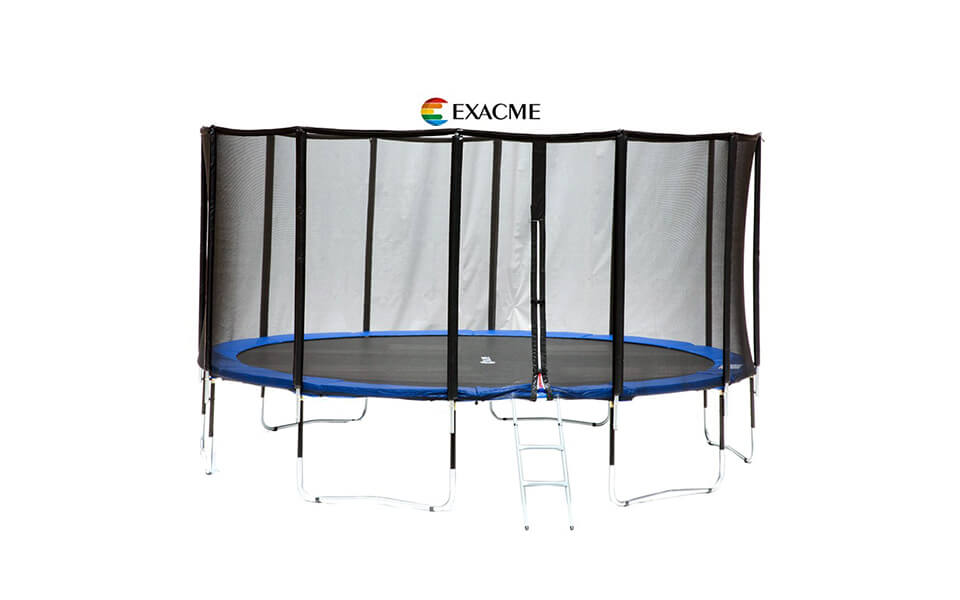 A luxury trampoline for a fraction of the price? Is such a thing possible? Well, we'd always err on the side of caution, but as we say, every trampoline deserves a fighting change. Let's see how the Exacme unit performed. Read more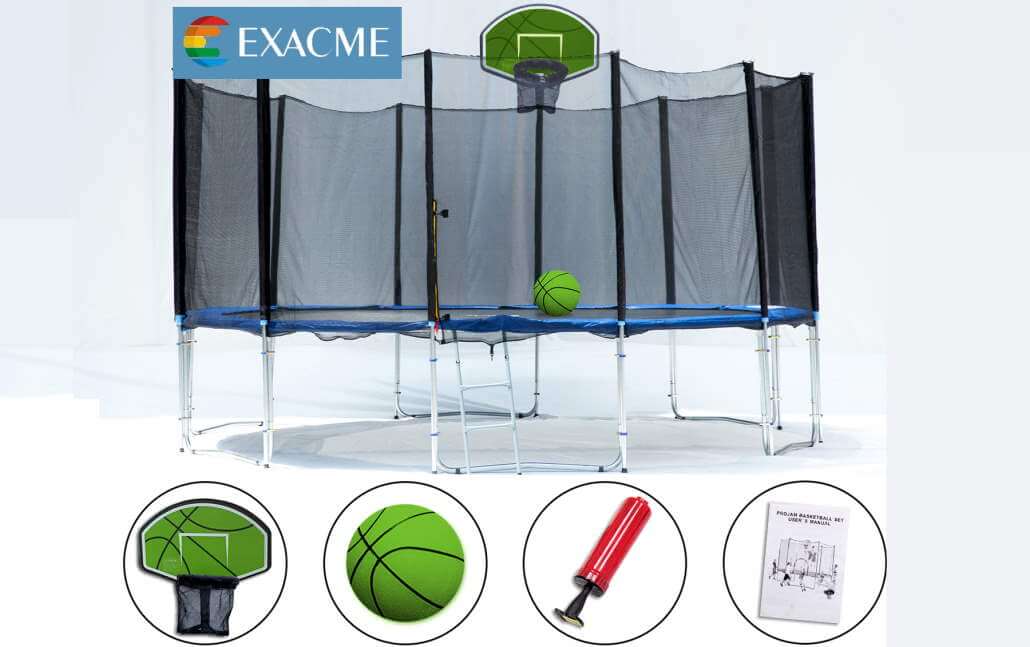 ExacMe 16 ft trampoline – in case 15ft is not enough, for just several bucks more you can get an even bigger and improved version of the ExacMe T-Series trampoline, this time with included basketball hoop. Is it worth it? Well, read our review of the 16ft ExacMe trampoline and decide for yourself!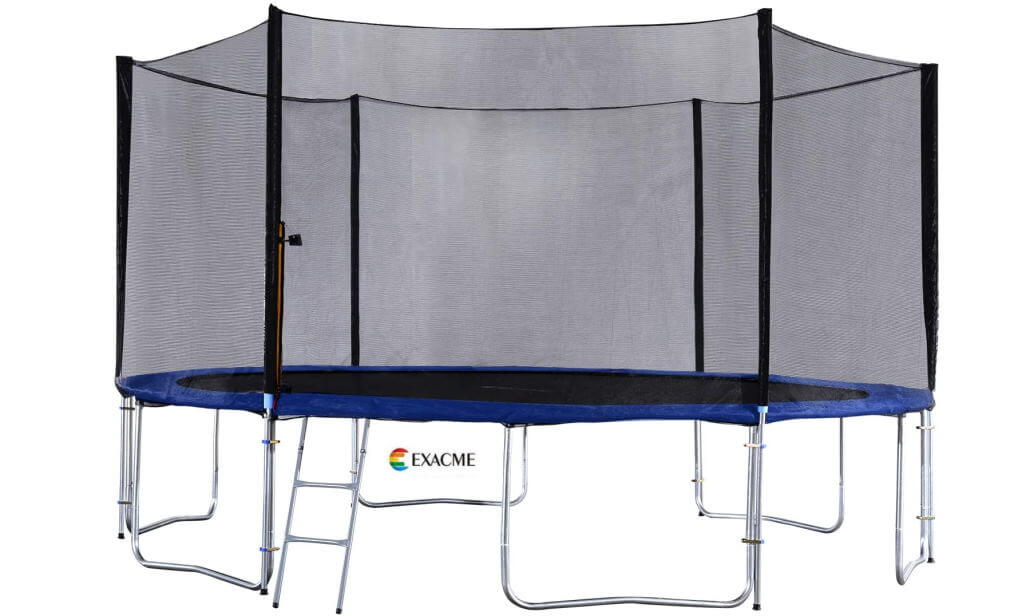 ExacMe 15 ft Trampoline T-series, trampoline with a crazy weight limit, low price, and great reviews, and probably one of the best deals you might get. Below average price coupled with a lot of free extras, create that sweet spot when it comes to trampolines. Are there any hidden surprises? Read our review about the 15 ft ExacMe trampoline!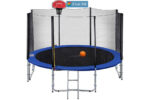 ExacMe 14ft Trampoline
While not as refined or premium as some high-end trampolines, the ExacMe 14ft round trampoline is all bang for your buck. And here it succeeds – its cost is only a fraction of the similar class trampolines, it is reasonably safe, has a great bounce and you get a lot of extras - from basketball hoop, ball and ladder. But, we still think that's a bit too expensive as for several $$$ more you can get 15ft. version! Of course, sometimes the reason is availability, and if 15 ft is not available, go for this one. Overall very solid trampoline from a
reputable manufacturer
.