Review of Kangaroo Hoppers 15-Feet Round Trampoline with Safety Net Enclosure and Spring Pad (Bonus L-Shaped Ladder Included)
This time we have green Kangaroo Hoppers round trampoline which, according to price, should be fairly similar to established manufacturers, like SkyWalker. And did this trampoline meet our expectations? Well, read on…
Weight limit: 375 lbs (170kg)
Recommended for: Age 9+
---
Kangaroo Hoppers 15ft Specifications: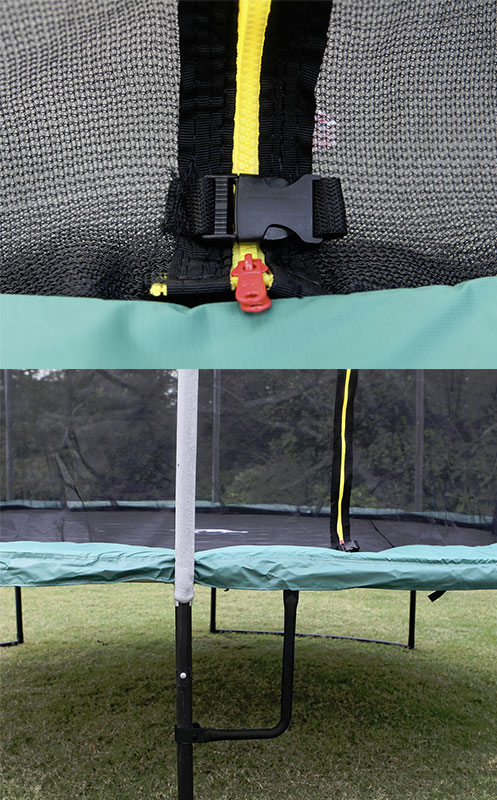 Design & Size
The trampoline looks very good. Ours came in dark green and the color is just perfect. The subtle kangaroo logos are eye-catching as well.
The trampoline is large; with the enclosure, it's 8.85 ft tall. The tube frames are 38mm in diameter and are 1.5mm thick. A total of eight poles keep the enclosure safely in place. This should be enough for regular use.
The total weight capacity of the 2020 model amounts to 375 lbs, which means it can accommodate two to three kids (but try to be safe as we are against multiple jumpers on the trampoline. Yes it is fun, but it is also dangerous!).
The steel legs are galvanized (to prevent rust) and coated in black color. They look sleek (not like standard U or W-shaped legs) and sturdy. Also, a provided ladder that is built-in into the trampoline frame is nothing but brilliant engineering.
The enclosure is great. The mesh provides good safety and prevents you from touching the springs or landing outside the trampoline, and it is UV resistant, just like the mat. The mesh door is zippered. There are models with a better enclosure setup, but these will cost a lot more.
Springs & Mat
The mat is UV-coated to prevent sunlight damage – you can leave it outside for a long time without worrying. There is a total of 90 pieces of 6.5″ springs responsible for ensuring a good bounce.
The springs are corrosion-proof with a rust-resistant coating, which makes them more durable. Jumping feels good; there is nothing odd or out of ordinary in this trampoline.
The pads covering the springs are industry-standard – thick enough and made of standard PE material with an unknown stitching count (looks like 6, but this is unconfirmed as we tried to contact customer support but had no luck, more about it below).

Installation & Warranty
The good news: The trampoline comes with an illustrated step-by-step booklet, which should let you set up the trampoline in no time. If you lost it, we got you as it can be downloaded here. What's more, the manufacturer states no drilling or additional tools is required. And yes, they are right. But the bad news is, the instructions are not written so well and some of the parts are a tight fit and will require two people to make it work. At least when you get to last part, trying to fit enclosure and poles together– you have to force them in and hold them together until you manage to snap the others in. It is an arduous and time-consuming process, but it can be done on your own! Just don't expect it to be easy.
Should something break and you need some replacement parts, you can contact the customer service who usually give out replacements without too much hassle, that is – only if you buy from Amazon so you can return trampoline or ask for replacement parts fairly easily. For contact numbers check our manufacturers page.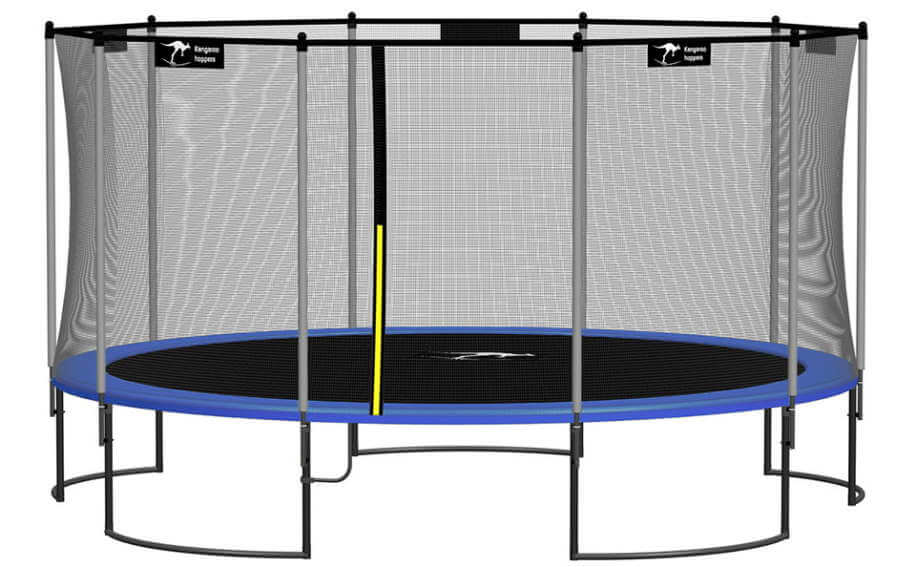 Overall, we feel the trampoline is excellent. It does have certain issues, such as very complicated assembly, but the overall quality is more than decent and you also get a (laughably small) ladder as a freebie. The trampoline features an attractive design and plenty of space to bounce around, which is a lot of trampoline for such a reasonable asking price of $420. It's a good outdoors trampoline which we expect to last you a long time – thanks to its rust-free springs and curvy legs, and the UV-resistant mesh and mat materials. Too bad for customer support.
Recommended? Only if you are willing to take your chances and hope that all parts will be delivered. If not, then check some similar-sized trampolines below!
---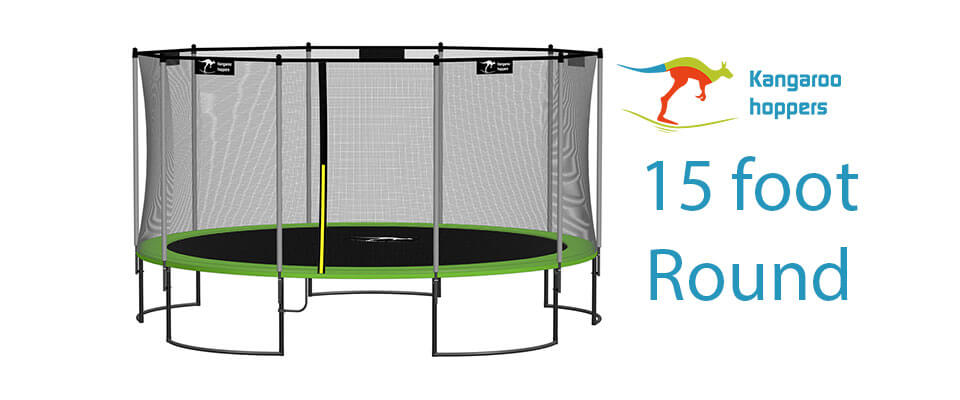 Kangaroo Hoppers 15ft Round Trampoline with Enclosure
Want to feel like a kangaroo? Then this trampoline is for you! Rating would be better if assembly wouldn`t be so difficult, even for experienced people. Don`t know what Kangaroo Hoppers staff was thinking but not everyone is Bob the Builder. Hope they will fix those issues in their next model as this is something they need to work out, fast.