PureFun Dura-Bounce 14ft Trampoline Review
Weight limit: 350 lbs.
Age: 6+
Enclosure: Included
PureFun DuraBounce Features
Design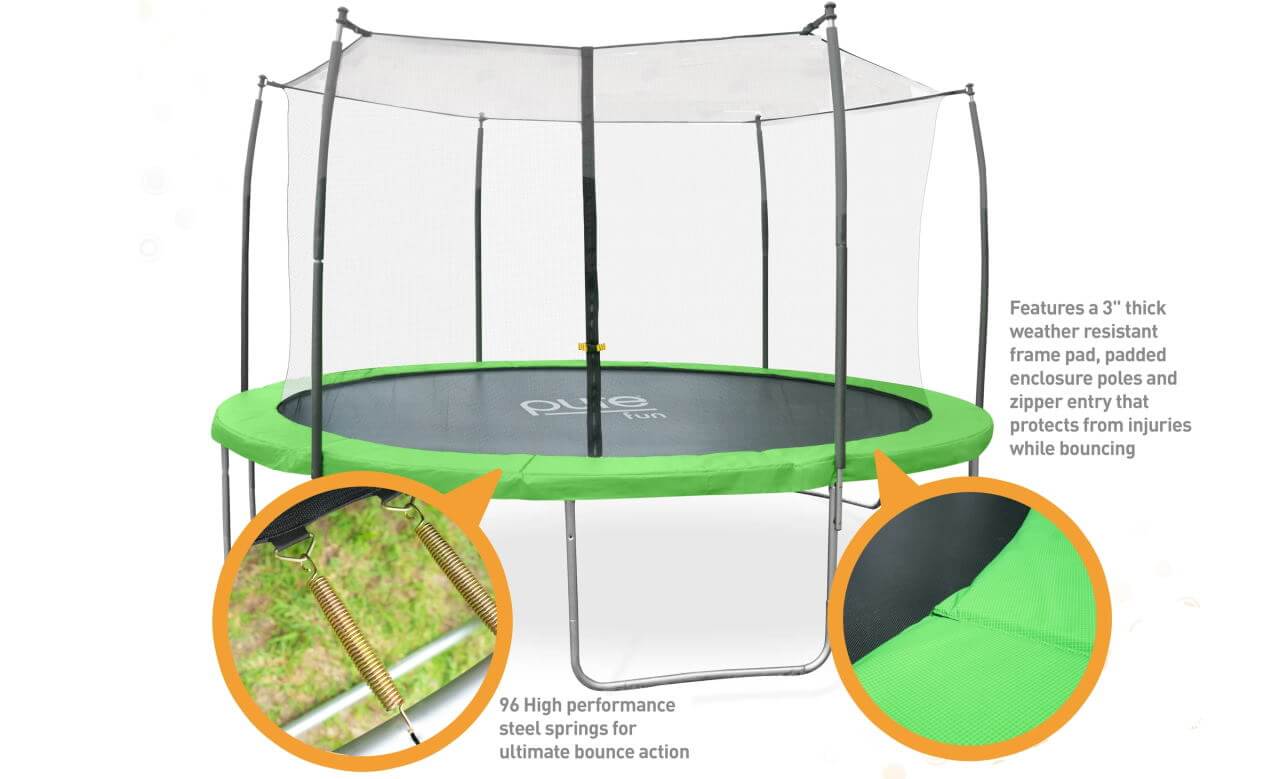 The first thing you see, aside from fairly generic enclosure and regular U-shaped legs, is a nice shade of lime green which covers the safety pads. It is a nice touch and greatly livens up the trampoline. When you inspect it closely, you can see the quality stitching that adds a nice, iridescent sheen. Eye-catching yellow enclosure buckle straps are a nice touch, too. We feel the trampoline won't look out of place in most backyards, provided they are adequately large.
Frame & Enclosure 
The enclosure is zippered, which allows for easy entry. Buckle straps provide additional security and ensure the enclosure won't accidentally open, even if the zipper fails somehow. This is a nice touch that we haven't seen often, and most interesting is fact that you can find those mostly on cheap trampoline. 

The mesh is UV-resistant and we could find no damage after our testing, whether because of us or the elements. The poles come with protective caps that the enclosure attaches to. The poles are curved away from the mat, as is customary with safe trampolines. They are covered in thick foam; the protection is satisfactory. The trampoline is reinforced by making use of T-sections instead of regular joints. This makes the whole structure more rigid and stable.
Problem is that netting is a bit too loose, which is most likely the planned outcome. Yes, it provides more room if you fall on it, but also can be considered as a safety risk due to the possibility that you can hit padding. Few minus points in "Enclosure and safety" for the reason!
The netting is woven on the inside part of the trampoline, meaning the springs are outside the enclosure. Even if you misjudge the landing, you won't touch the springs and are less likely to be injured.
6 U-shaped legs keep the trampoline adequately stable. The trampoline doesn't wobble. All the tubes are galvanized to prevent rust and so can safely withstand a couple of thundershowers.
The trampoline meets all the relevant regulatory requirements (ASTM, TUV-GS, CE/EN).
Mat & Safety Pad
We were quite impressed with the mat. The manufacturer boasts double stitching on the mat (and it's true, you can see the stitching by looking more closely). The polypropylene (or Polypro, as dubbed by the manufacturer) mat also has a layer of weatherproofing. The frame cover is made of PVC and is fairly thick. There are multiple layers inside and it adequately absorbs the impact forces.
There should be no safety issues with this trampoline, very similar feeling as you would get with ExacMe 15 trampoline, which is one of the main competitors of DuraBouce.
Springs & Bounce
The trampoline numbers 96 springs, 7″ long, which is industry standard for 15 ft trampolines. More springs you'll find only on better but more expensive trampolines, with some exceptions, like ExacMe 15 ft trampoline (108 pieces 7″ long).
But, it's not all about the numbers, as well. The springs are all galvanized and do provide a good bounce. It's smooth and provides just the right amount of cushioning and rebound.
We found it among one of the best in class. The mat attaches to the springs with sturdy spring hooks. Some other trampoline manufacturers could learn a lot from this!
We were also impressed with the weight limit for this trampoline – a whopping 350 lbs. Well, not that outstanding, but certainly respectable and one of the highest limits for trampolines of this size.
Assembly & Warranty
Replacement parts are issued within 30 days from your purchase if you find something missing from your box but ll parts can be purchased from the manufacturer for a reasonable price. A mat, for example, costs less than $100. The warranty is 1 year limited on the frame and 90 days s from the date of purchase. We find this to be unacceptably short and it really is the only major black mark against this trampoline.
---
PureFun Dura Bounce 14ft Specs 
Shape: Round
Weight Limit: 350 pounds
Frame Material: Steel
Frame Joints: Sturdy T joint to prevent frame damage
Jump Surface Material: Polypropylene
Springs: 96 High performance steel springs, 7″ long
Jump Mat Color: Black
Trampoline Dimensions:
Overall Height – Top to Bottom: 35″
Overall Width – Side to Side: 168″
Overall Depth – Front to Back: 168″
Overall Product Weight: 145 lbs
---
#ASSEMBLY GUIDES AND VIDEOS
The assembly was straightforward. It does take a fair amount of time – the manufacturer's estimate clocks in at 60 minutes, but you could need more, depending on your level of skill. You'll need a hammer, a wrench, and a couple of Phillips screwdrivers. You do get the hook for the easier installation of the springs. The instructions are easy to follow and everything is explained in a straightforward manner.
Then again, if you want, you can check out this PuraFun DuraBounce assembly video…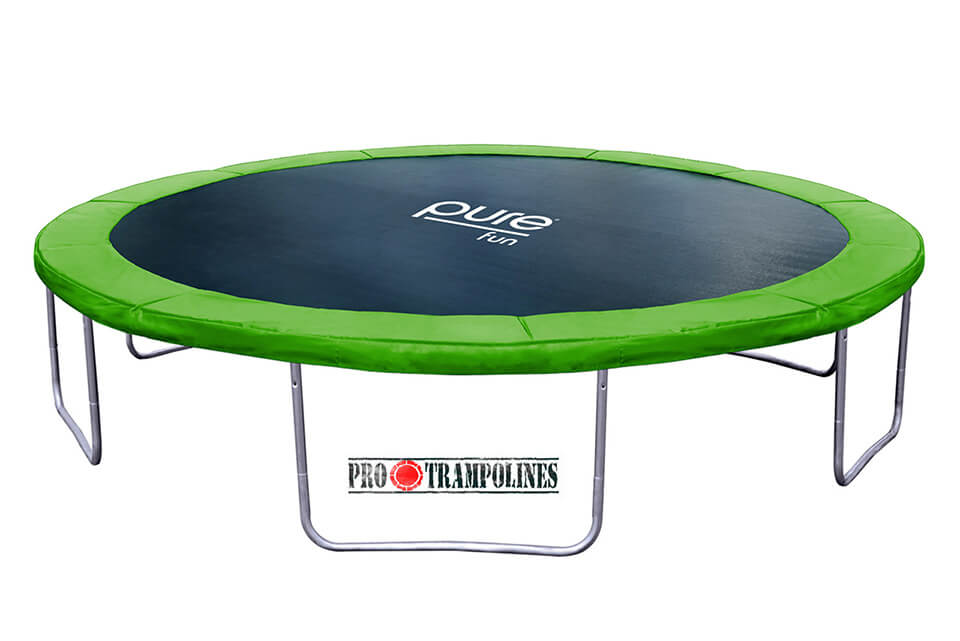 Pure Fun 14 ft Dura-Bounce Trampoline
We must say that few
trampolines
have left such a
positive overall impression
on us as this one. There is
nothing extraordinary
about it, but everything is done with such an attention to detail and to such a high level of quality that you really cannot see the manufacturer cutting corners anywhere on the trampoline. The weight limit is great and the bounce is excellent. The price is more than adequate and ranges between 200$ -  $600, depending on size,  and we can definitely recommend this trampoline to anyone, if you can get over the somewhat short warranty period. We cannot fathom why would such a good trampoline come with such a short warranty period – but our two cents on this issue is that you probably won't be needing it anyway.
Recommended trampoline!
PROS
Good price
Fresh design
Excellent build quality
High weight limit
CONS
Lackluster warranty
This size deserves at least 108 springs