Review of Zupapa 14ft Round Trampoline (2023 Model)
Weight limit: 425 lbs (190 kg)
Size: 14ft diameter
Shape: Round Trampoline
Recommended for: Ages 8 – 14
The Zupapa 14ft round trampoline is designed to provide both fun and safety for users of all ages. This German-based company has a TÜV certification, ensuring the quality of materials and manufacturing. With its sturdy frame, responsive bounce, and reliable safety features, this trampoline offers a great balance of performance and value.
Check latest price on Zupapa US
Frame
Featuring a 1.65″ diameter steel tubing with a thickness of 1.5 millimeters, the frame of the Zupapa 14ft trampoline is robust and durable. Its galvanized steel construction allows it to withstand the elements when left outside. The double-reinforced legs and long enclosure poles provide added stability, ensuring a more consistent bounce.
The design of this trampoline is rather conventional, with a "boring blue" color scheme. Although not particularly eye-catching, the Zupapa 14ft trampoline focuses more on functionality than appearance.
Mat and Springs
The Zupapa 14ft trampoline comes equipped with 96 galvanized springs, each measuring 7 inches in length. This generous number of springs ensures a smooth and enjoyable bounce. The mat is UV-resistant with 6-rows of stitching, offering durability and a comfortable jumping surface. The 96 V-rings on the mat correspond to the number of springs, providing an even and responsive bounce, and we were happy about it.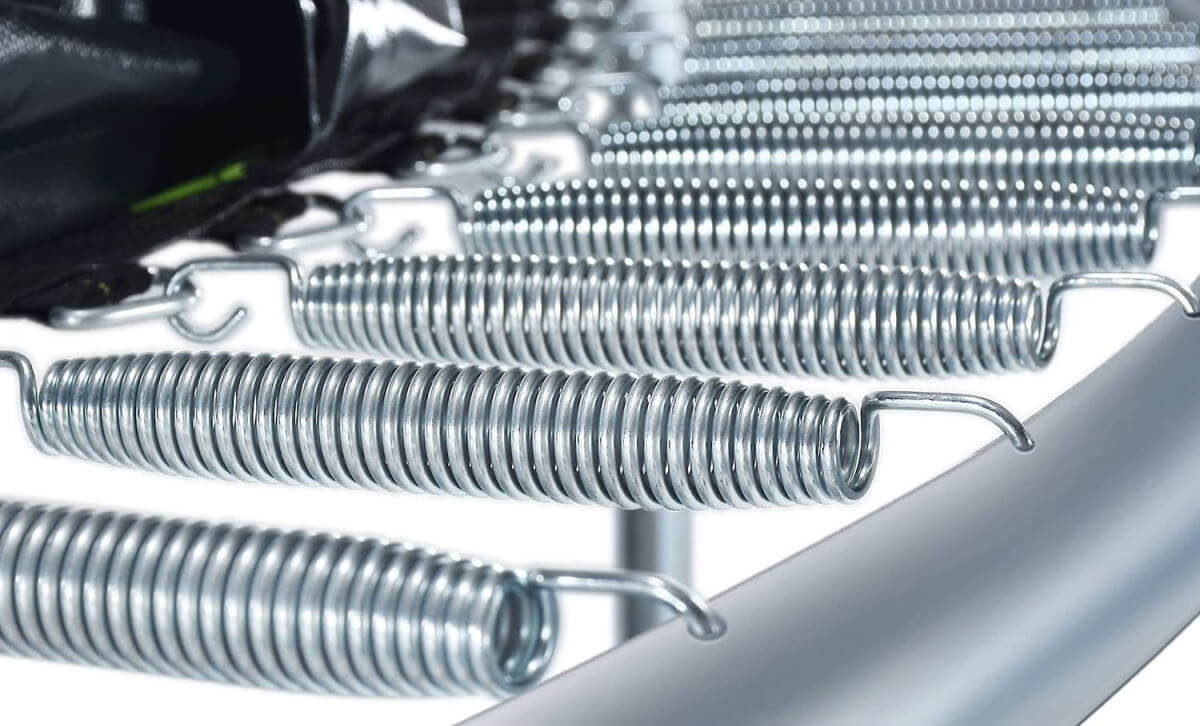 Safety Enclosure Net & Padding
The safety enclosure net on this trampoline is made of UV-protected PolyEthylene material, providing a safe and secure jumping environment. The enclosure has been upgraded from previous models, offering better durability and longevity. With an overall height of 2.5 meters (98 inches) and a ground clearance of 26 inches, the trampoline ensures a safe jumping experience for users of various ages, thanks to the included ladder.
---
Key Specifications:
Size: 14ft diameter
Weight limit: 425 lbs (190kg)
Frame material: Galvanized steel, 1.65″ diameter tubing with 1.5mm thickness. Frame Height: 2.9 ft
Product Dimensions: 168″L x 168″W x 107″H
Product Weight: 242 lbs
Springs: 96 galvanized springs, 7 inches in length
Safety enclosure: UV-protected PolyEthylene netting, with total enclosure net height: 6 ft
Warranty: 10 years on frame, 2 years on other components, 3 months on accessories
---
Accessories:
The Zupapa 14ft trampoline package includes a complimentary ladder, making it easy for younger jumpers to access the trampoline. The package also features a mat cover to protect the trampoline from harsh weather conditions. As for trampoline anchors or stakes, it is recommended to purchase sturdier ones separately if needed.
Assembly:
This trampoline comes in three large boxes with easy-to-follow instructions. The assembly process is relatively straightforward, requiring no additional tools. The manufacturer even provides gloves to keep your hands clean while handling the metal parts. Assembly should take approximately one to two hours, depending on your prior experience with trampoline assembly.
Warranty:
The warranty for the Zupapa 14ft trampoline is 10 years for the frame, 2 years for all other components, and 3 months for accessories. With its reliable customer service, Zupapa stands by its product and is ready to assist with any issues or questions.
---
Comparison with Competitor trampolines – JUMPZYLLA 14ft and ExacMe 14ft round trampoline
When comparing the Zupapa 14ft trampoline to its competitors, we've chosen the Jumpzylla 14ft and ExacMe 14ft round trampoline as reference points.
Zupapa 14ft Trampoline vs Jumpzylla 14ft
The Jumpzylla trampoline is a popular choice for many consumers, featuring a durable design, quality materials, and slightly higher weight limit. While the Zupapa trampoline is slightly more expensive than the JUMPZYLLA model, it offers a better overall value in terms of durability and customer satisfaction.
Zupapa 14ft Trampoline vs ExacMe 14 round trampoline
ExacMe trampolines have been on a market for some quite time now, and their quality is well-known, especially if you see price to quality ratio, where it's almost unbeatable. But, when it comes to comparison with Zupapa 14ft trampoline, things aren't looking great for ExacMe. Zupapa 14, despite being more expensive, Zupapa is better in every aspect, from spring length, weight limit, frame tube diameter, added accessories, just to name a few. Now, if a price is the biggest factor, you can't go wrong with ExacMe, but if reliability and longevity will be in question, then go with Zupapa.
In conclusion, the Jumpzylla 14ft trampoline is a great option for those on a budget. While it may not be the best in terms of quality and durability compared to some of its more expensive counterparts, its affordable price justifies these drawbacks. If you're looking for a trampoline that offers a fun and safe way to bounce around without breaking the bank, the Jumpzylla trampoline is worth considering. However, be prepared to make some trade-offs in terms of quality and durability.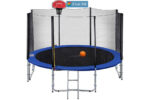 While not as refined or premium as some high-end trampolines, the ExacMe 14ft round trampoline is all bang for your buck. And here it succeeds – its cost is only a fraction of the similar class trampolines, it is reasonably safe, has a great bounce and you get a lot of extras - from basketball hoop, ball and ladder. But, we still think that's a bit too expensive as for several $$$ more you can get 15ft. version! Of course, sometimes the reason is availability, and if 15 ft is not available, go for this one. Overall very solid trampoline from a
reputable manufacturer
.
The Zupapa 14ft round trampoline offers an excellent combination of safety, durability, and performance at a reasonable price point. While it may not be the most aesthetically pleasing option, it delivers where it counts – a safe and enjoyable jumping experience for the whole family. And, if you're looking for something different, please check our list of best trampolines.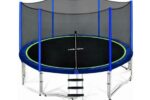 Zupapa Trampoline 14ft Round
The Zupapa 14ft Round Trampoline offers a durable, safe, and enjoyable jumping experience for the whole family. Its hot-dip galvanized steel frame and high-quality materials ensure long-lasting fun, while the included accessories provide extra convenience and protection. With a generous warranty and a high weight capacity, this trampoline is an excellent investment for creating lasting memories.
PROS
Sturdy and durable construction: The galvanized steel frame ensures long-lasting use and resistance to rust and outdoor elements.
Smooth and enjoyable bounce: With 108 springs, the trampoline provides a responsive and comfortable jumping experience.
Additional accessories included: The package comes with a complimentary ladder and mat cover for added convenience and protection.
CONS
Mat stitching: The 6-row stitching on the mat is good, but an 8-row stitching model would have offered better durability.
Anchors not included: The included stakes may not be sturdy enough, so it's recommended to purchase separate anchors or stakes for added stability.