Vuly Lite 12ft Trampoline Review
[DISCONTINUED PRODUCT]
The wacky Australians have hit us again with the newest addition – the 12ft Lite trampoline. Their trampolines have always been one of the oddest products around – yet their additions have always been spot on and made for great, quality trampolines. This one is focused on the entry-level of the market, but our expectations were high nevertheless. Did the Vuly Lite deliver? Read on…
Weight limit: 240 lbs
Recommended Age: All ages (we recommend 6 and up)
Enclosure: Included
---
Check latest price on Amazon
Check price on Vuly website
Design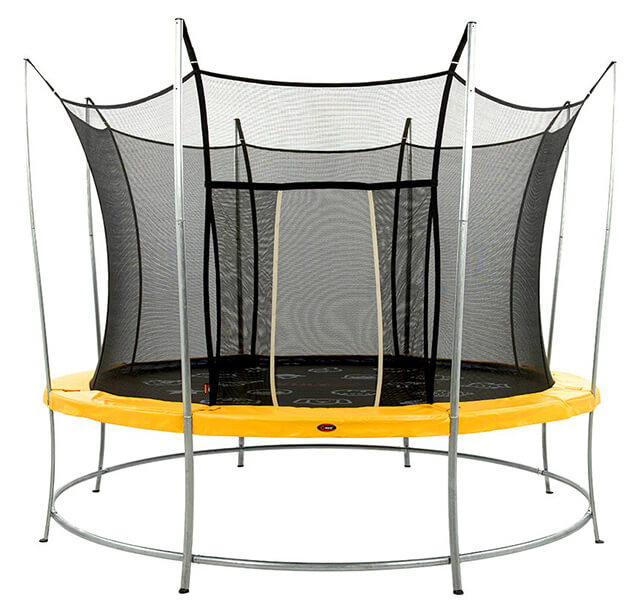 Vuly trampolines have always been very distinguishable. Their trademark curved enclosure netting is bound to turn a few heads. But they didn't stop here. The trampoline comes with twist – reversible safety pads! One side is blue, while the other is a nice, creamy color. You can turn it whenever you want to freshen up the look. Truly innovative and amazing. Plus, the mat is also adorned with nice pictures which are actually a game on its own.
Enclosure & Frame
The netting is pure joy. It is very taut and there is no way you could impact the springs or enclosure poles, let alone the floor. The net is sewn so that the springs are out of the bouncing area, for extra safety. It is made from sturdy polyethylene.
The frame is reinforced with two steel rings that connect the legs together. These rings add more structural strength and stability than other design choices. There are 7 legs in total, which is great for a 12ft. trampoline. As is standard in the world of trampolines, the whole structure is galvanized to ward off rust. There is no powder coating that is present on more expensive models.
Mat & Safety Pad
The mat appears to be quality made, with dense stitching to improve reliability. Instead of opting for a boring black mat, the designers chose to use up the space to create a little game called VulyHexVex.
The reversible safety pad provides the same amount of protection on either side. The pad is weatherproofed and made of Bisonyl. The enclosure does most of the work so we don't expect the pads to suffer too much impact force – it's mostly there as backup.
Its weight limit of 240lbs. looks very conservative when taking the build quality into account, and it likely is. However, it is marketed primarily as a children's trampoline so it is not much of a concern (and 240 lbs is enough for most adults anyway). Still, it's good to keep in mind and you shouldn't go over the limit.
Springs & Bounce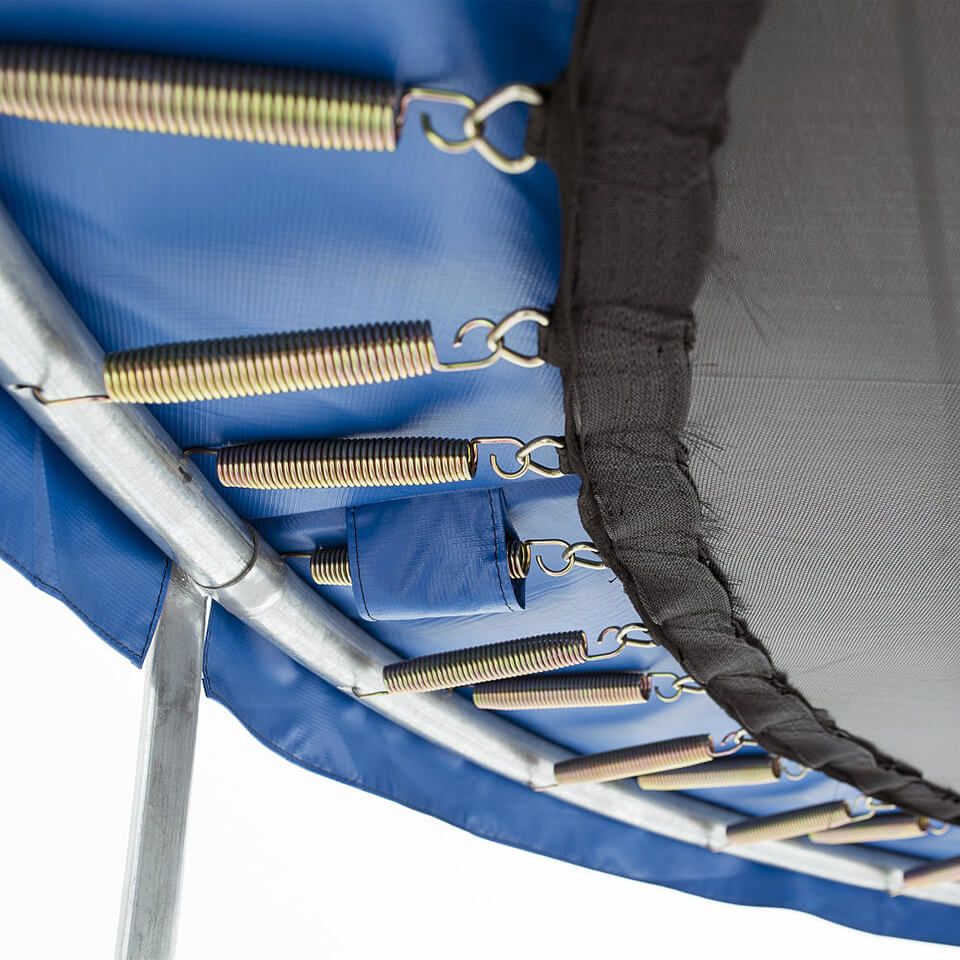 Now, this is where the fun starts. The very rigid frame of Vuly ensures the forces don't get wasted by rocking the trampoline back and forth; they are instead directed back to improve the bounce. And improve they do. It's extremely good and feels effortless. It's very easy to bounce high. It's not quite as good as with its most expensive cousin, the Vuly Thunder (obviously), but is one of the best trampolines in its category.
Its 72 tapered coil springs are responsible for the fun explosion. They have positioned a tad differently than in the other trampolines (over-and-under the frame as opposed to in-plane) which creates a staggered effect when bouncing.
Assembly & Warranty
The assembly of this trampoline is very simple. There are no nuts and bolts for you to waste your time on. Everything is Lego-style, modular, and fairly intuitive. There are no other bundled games or a ladder, except the aforementioned VulyHexVex.
Pads come with a 1-year warranty, springs, safety net and mat are safe for 5 years and the frame is covered for six years. Not bad. It's easy and simple to make a warranty claim via a form on Vuly USA's website. A few photos are all you need. We liked that a lot.
Conclusion
The Vuly Lite is an excellent window into the world of top-quality trampolines. While not the cream of the crop, it has many of the high-end features for a comparatively low price, as those trampolines cost thousands of dollars. However, compared to the usual trampolines, Vuly Lite is a good half to double the price.
Still, we believe it is a good buy. It is a high-quality product with a generous warranty and is a lot of fun to use. It will definitely give you hours and hours of quality fun and exercise. Its fresh design is an eye-catcher and convenient assembly is an added bonus. We recommend this trampoline if you're looking for a high-quality product. If you want something better, there are always alternatives, likes Vuly Thunder or Vuly2.
Pros:
build quality
safety features
bounce
design
Cons:
---