Review of ORCC 12ft Round Trampoline
If you are searching for a new outdoor trampoline, especially if it will be your first one, you're in luck as here we have something that will not break the bank but will offer sufficient performance for everyone to enjoy. Here is the ORCC 12 ft round trampoline!

As with every trampoline, ORCC 12ft is a fantastic addition to any backyard, offering fun times and a bit of exercise for your kids. With its focus on safety, and durability, and not so much on the actual performance, this trampoline is a great investment for years of enjoyment. Let's explore key features of the ORCC 12ft trampoline and why it stands out among its competitors – Zupapa and Skywalker Trampolines.

---
Who is it for?
The ORCC trampolines are perfect for families and individuals looking for a safe, durable, and high-performance trampoline for their backyard. The range of sizes, from the smallest 8ft intended for younger children (up to the age of 8) all the way to the biggest 16ft trampoline, a size that can accommodate multiple children at once (something we strongly discourage). This one, a 12ft model, is somewhat of a sweet spot, big enough for all age groups, as long as the intended use is recreational jumping.
Design
Round ORCC trampolines come in blue and green color, and honestly, the green version looks way better than the standard blue. They are following tried design, with safety and performance in mind, featuring a UV-protected jumping surface, rust-resistant metal components, and a heavy-duty frame made from galvanized steel. Yeah, it's nothing new on the market, but as an entry-level trampoline, it's enough.
Sturdiness
Constructed with a heavy-duty steel frame and galvanized springs, ORCC trampolines provide a stable and sturdy surface for users. The W-shaped legs add extra support, while the U-shaped wind stakes ensure stability during windy conditions. 4 W-shaped legs offer ample strength and stability to support the entire trampoline, and in the case of 12ft ORCC, they are doing great job as trampoline is quite sturdy, even when adults are using it.
Orcc 12ft Frame Specs
The frame is made from rust-resistant, galvanized steel, ensuring durability and longevity. The 1.7-inch (43mm) diameter steel tubing, 1.5mm thick, makes it sturdier than many competitors' models. For instance, Zupapa 12ft trampoline uses 1.65″ diameter steel tubing (1.5mm thick), which is not a huge difference but it's stronger.
Something we didn't like is that they are stating that diameter and thickness exceed ASTM standards, but this is only a marketing trick, as ASTM (American Society for Testing and Materials) certification standards do not specify a particular thickness for trampoline frames, as the requirements can vary depending on the trampoline's size, weight capacity, and other factors. Instead, ASTM standards focus on the general safety, performance, and durability aspects of trampolines. Manufacturers can choose to exceed these standards to provide a safer and more robust product, as ORCC has done with their trampoline frames.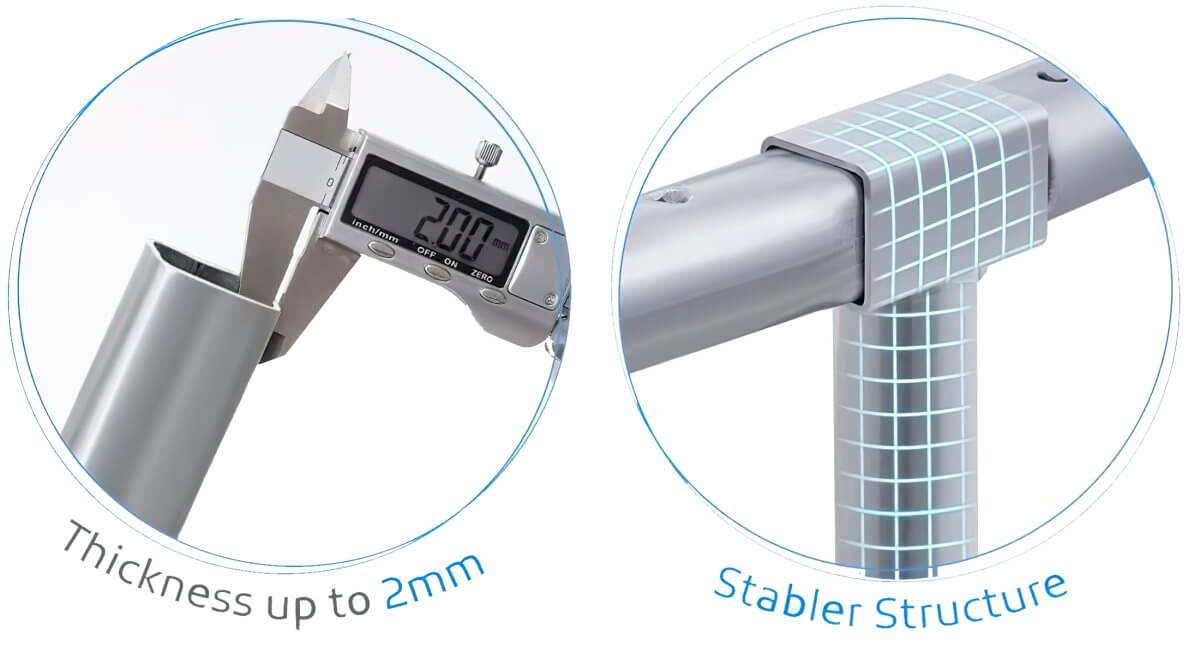 Jumper Weight limit
12ft Orcc Trampoline offers a maximum weight limit of 450 lbs (204 kg), a number that will suffice for both teenagers and grownups alike. When compared to Zupapa 12ft trampoline (425 lbs) and Skywalker 12ft (200 lbs), it is good, but definitely not double, as most of the manufacturers are just playing it safe.
Jumping Mat
The jumping mat is made from waterproof, UV-resistant, and fade-resistant materials, featuring heavy-duty stitching for longer service life and better bounce. The surface is also tested to withstand 100,000 jumps. Overall, when we take into consideration that some parts of the mat are covered with padding, the actual jumping area for the 12ft model would be approximately 81.64 square feet.
ORCC Steel Springs
The 12ft trampoline features 72 heavy-gauged 7-inch galvanized springs, while the 15ft trampoline has a total of 108 springs. They are quite stiff when new so it's recommended that someone heavier does a bit of jumping first, so kids could benefit from full potential ORCC has to offer.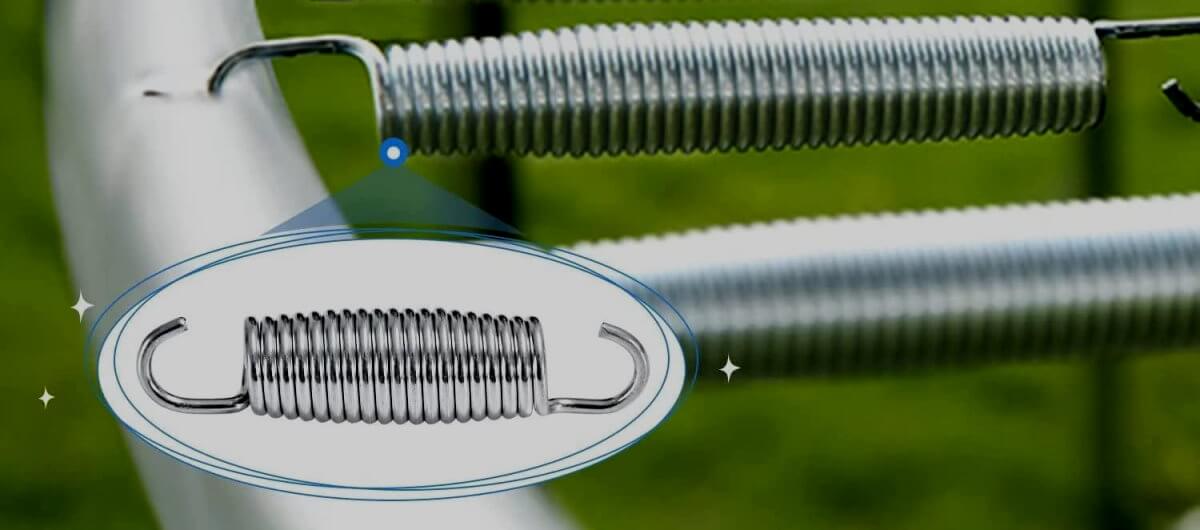 Safety
Safety is a top priority for ORCC trampolines, with features such as a 6ft high enclosure net, padded enclosure poles, and a heavy-duty ladder for safer entry and exit. The trampoline also include a safety padding and wind stakes. Here we need to mention that during storms you should definitely do a bit more than rely on anchors alone.
Enclosure/Safety Netting
ORCC comes with a 6ft high enclosure net made of high-quality polyethylene material (PE – the most common plastic), offering increased durability and UV protection. The enclosure net is designed to keep jumpers safely within the jumping area and prevent them from accidentally falling off. The poles are padded with 10mm foam to minimize the risk of injury from contact with the steel poles.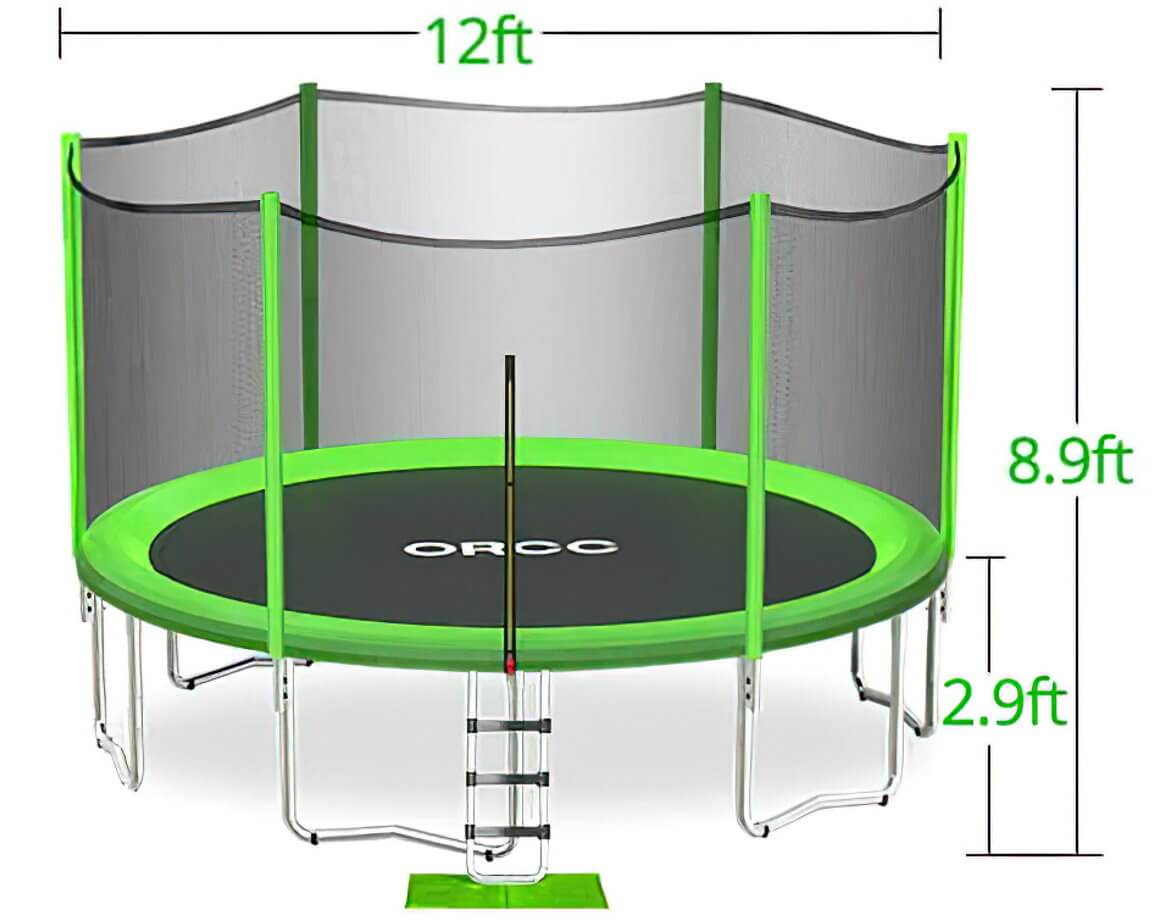 ORCC offers in-net and out-net versions of the enclosure, and due to its difference, it is good to consider both versions:
Out-Net Enclosure:
Increased Jumping Space: Out-net enclosures are attached to the outside of the trampoline frame, maximizing the available jumping surface within the enclosure. This provides jumpers with more room to perform their activities and can be beneficial for multiple jumpers (not recommended) or for those attempting more complex moves.
Easier Installation: Out-net enclosures are typically easier to install as they do not require the removal of spring padding or other components before attaching the net. This can save time and effort during the initial setup process, and trust us, sometimes can be tedious work.
Safety Considerations: This may increase the risk of jumpers making contact with the springs, spring padding, or outer frame, necessitating proper supervision and adherence to safety guidelines.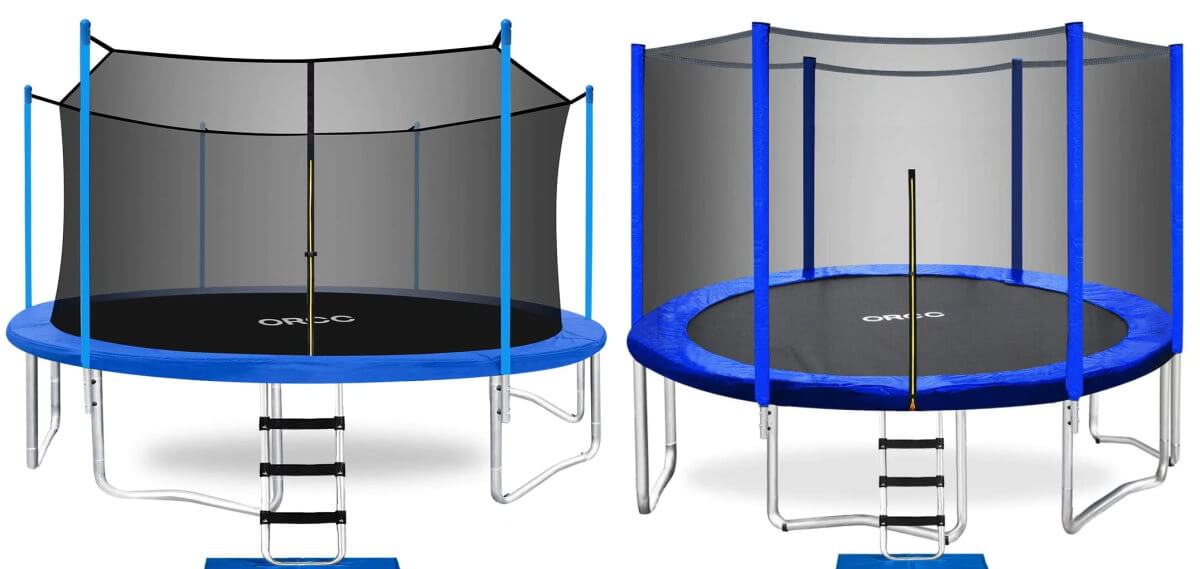 In-Net Enclosures:
Decreased Jumping Space: Slightly reduces the available jumping surface as the net is attached to the inside of the trampoline frame. While this might not be an issue with larger trampolines, it can definitely be considered as a minus point on smaller trampolines, like this ORCC 12ft.
Harder Installation: It mostly requires additional steps during setup, such as the removal of spring padding or other components before attaching the enclosure net.
Safety Barrier: Provides a safety barrier between jumpers and the trampoline's edge, reducing the risk of falling off the trampoline or making contact with the outer frame.
It is essential to note that out-net enclosures may have an increased risk of jumpers making contact with the springs, spring padding, or outer frame. Proper supervision and adherence to safety guidelines are crucial to mitigate this risk.
Safety Padding covering springs
0.8-inch (20mm) thick and durable PE+PVC green frame cover protects the springs and provides an additional safety layer for users. Its role is to minimize the risk of jumpers accidentally coming into contact with the springs or the trampoline frame during their jumping sessions, and as logic dictates, the thicker, the better. 20mm is the industry standard on 12ft trampolines.
Included Accessories
Anchors (Wind Stakes): The trampolines come with 4 U-shaped wind stakes for added stability and safety. In windy conditions, move the trampoline to a sheltered area, disassemble it, or secure the top frame to the ground using ropes and stakes.
Rain Cover: For trampoline owners who want to protect their investment from harsh weather conditions, including rain, snow, and intense sunlight. The rain cover is designed to fit snugly over the trampoline, shielding the jumping mat, springs, frame, and padding from moisture, debris, and UV damage.
Ladder: Designed to attach securely to the trampoline frame, a ladder makes it easier for users, especially children, to climb on and off the trampoline without assistance.
Quality of ORCC Trampolines
ORCC trampolines are made from high-quality materials, ensuring a long-lasting and safe trampoline experience. The UV-protected jumping surface, rust-resistant metal components, and heavy-duty construction contribute to the overall quality. But what matters here is customer service, and from the looks of it ORCC did its homework, as now there is no issues in contacting them to ask for replacement parts or any other issues.
What's in the boxes?
Trampoline comes in 3 boxes, while the 10ft version comes in 2 boxes.
Trampoline: The main trampoline frame, jumping mat, and springs.
Trampoline Safety Pad: A protective pad covering the springs – 0.8-inch
Trampoline Ladder: An anti-skid ladder for easy access to the trampoline.
Trampoline Enclosure Net: A safety net to enclose the jumping area and prevent accidents.
Trampoline Rain Cover: A cover to protect the trampoline from rain and other weather conditions.
Gloves for Installation: Two pairs of gloves to assist with assembly.
Spring Pull Tools (T-Hooks): Two T-Hooks to help with installing the springs.
U-shaped Wind Stakes: Six wind stakes for the 12ft model (used to secure the trampoline to the ground for added stability).
Instruction Manual: A guide to help with the assembly and usage of the trampoline.
Assembly of ORCC Trampolines
Detailed instructions and assembly videos are provided, along with two pairs of gloves and 2 T-Hooks for quick assembly, but if you plan to do it alone then it'll take at least an hour more, so around 2.5hrs for single person install, and 1.5hrs by two adults. In case you need a digital version of the instruction manual, it can be downloaded here – ORCC Out-Net Trampoline Assembly Manual & ORCC In-Net Trampoline Assembly manual.
ORCC Warranty information
This limited warranty applies from the original date of purchase:
1-year warranty for trampoline pads and enclosure nets
2-year warranty for jumping mats and springs
3-year warranty for trampoline frames
Is it worth the price?
This trampoline is currently available for around $450, still not a bad price for everything you get, despite the fact that I'd like to see more springs on the frame. Considering the high-quality materials, safety features, and most important – included accessories, ORCC trampolines offer great value for the price.
Any issues?
Some concerns include the lack of official safety certifications, limited size options, and difficulty in contacting the company due to limited online presence. But this being somewhat cheap trampoline, I wouldn't worry about this, especially if ordered via Amazon, as for every single issue you can always contact them.
Specification & Review Summary
Material: Foam, Steel
Pad Type: Foam Pad
Shape: Round
Product Dimensions: 144″L x 144″W x 34.8″H
Frame Material: Alloy Steel
Maximum Weight Recommendation: 450 Pounds
Number of Springs: 72 springs
Spring Length: 7-inch heavy gauged galvanized springs
Safety Enclosure: PE Mesh Netting, 6FT (1.84 meters)
Mat Material: Polypropylene (PP), Waterproof Surface, UV-Resistant and Fade-Resistant
Steel Tube Frame: Heavy-duty steel, 42mm (Diameter) x 1.5mm (Thickness)
Frame Cover: PE+PVC in green cover, 20mm (Thickness)
Ladder: New upgraded anti-skid ladder, Deep galvanized steel
U-shaped Wind Stakes: Galvanized steel, Length 10-inches (254mm), Depth underground is about 7.5-inches (190mm)
Legs: 6 W-shaped legs for stability and support
Safety Certifications: ASTM and CPSIA (Consumer Product Safety Improvement Act)
ORCC trampolines are a solid choice for those looking for a safe and durable trampoline but without huge performance, meaning it would be a great choice for people who would use it as their first trampoline. Despite some concerns about warranty information, the overall construction and quality make it a worthwhile investment.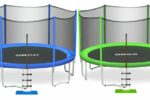 ORCC 12ft Trampoline Review
The trampoline reviews show that customers generally have a positive experience with the product. Many appreciate its sturdiness, quality, and the fun it provides for children. The trampoline seems to have a firmer bounce than others, which some users prefer, but honestly, we are not among those. The assembly is straightforward but can be time-consuming. However, a few customers experienced missing or broken parts, causing delays in using the trampoline. Despite these issues, the company's customer service is prompt and helpful, offering refunds or replacement parts when needed. Some users recommend purchasing additional anchors for added security in windy conditions. Overall, customers seem satisfied with the Orcc trampoline and the support provided by the company.
PROS
Easy to assemble: Many users mention that the trampoline is relatively easy to set up, with clear instructions.
Sturdy construction: The trampoline frame is made of heavy-duty steel, and the jumping mat is made of durable, UV-resistant polypropylene material, ensuring a long-lasting product.
Safety features: The trampoline includes a safety enclosure net, a safety pad, and U-shaped wind stakes for added stability.
Good customer service: Other people reviews indicate that the company is responsive and provides replacement parts when needed.
High weight capacity: The trampoline has a maximum weight capacity of 450 lbs, allowing for multiple users within the weight limit.
CONS
Bounce issues: Some users report that the trampoline doesn't have as much bounce as they would like, which may affect the experience of those used to gym-quality trampolines.
Ladder quality: A few users mention that the included ladder is not the best quality and might be difficult to use.
Water retention in padding: One review mentions that rainwater can soak into the padding around the edge, which might be inconvenient.
Possible issues with safety net: A user reported a hole in the safety net upon arrival, though the company promptly replaced it.