Ultega Trampoline – Perfect choice for young families!
Providing fun moments of exercise along with necessary trampoline safety enclosure attached, Ultega "Jumper", 14-foot trampoline is designed to be enjoyed by all family members.
As said above, Ultega "Jumper" trampoline comes with a surrounding enclosure that will protect against fall-offs, and secondarily, it will protect the mat. It-s safety features are even more visible when you take a look at the frame and legs -4 legs, galvanized steel frame along with the nonstandard design of legs. Working together for increased stability, strength & safety. Mat quality is somewhat higher than competitor products and it lies in TOP 5 best ones.
Weight limit: 200 lbs (90kg)
Recommended for: Age 6+
---
Check Ultega 14ft price on Amazon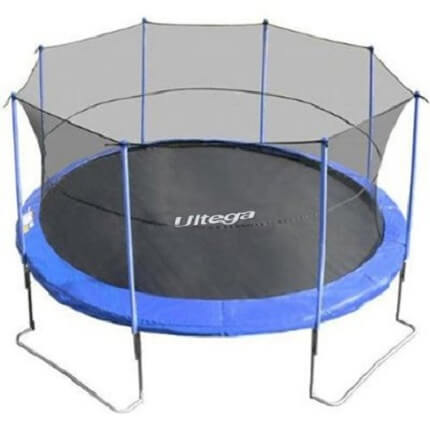 Features & Specifications of Ultega "Jumper" 14 foot trampoline:
Extra durable galvanized steel frame
All around safety net along with eight padded trampoline rods
UV resistant jumping mat with max weight limit up to 400 pounds
88 trampoline springs with protective pad
"ASTM" certificate
2 year warranty
Because of its quality, safety, and durability, Ultega trampoline is widely accepted inside trampoline groups. A 4.3-star rating at Amazon makes it a good choice if you are in search of a trampoline.
The only thing which users advise to buy alongside with trampoline is weather cover – mostly because included trampoline mat has a bad habit of overstretching if left on sun and rain. Anyway, this just might be a good thing – a 2-year warranty on all Ultega trampoline parts will make sure that you get a new one…  Shipment of trampoline if you order online comes in SINGLE-BOX.
Now go grab that Ultega Trampoline. Already bought it? Download user manual here.

---