Review of Merax 10 foot Round Trampoline with included Enclosure
Weight limit: 250 lbs (115 kg)
Recommended for: Age 6 – 13
---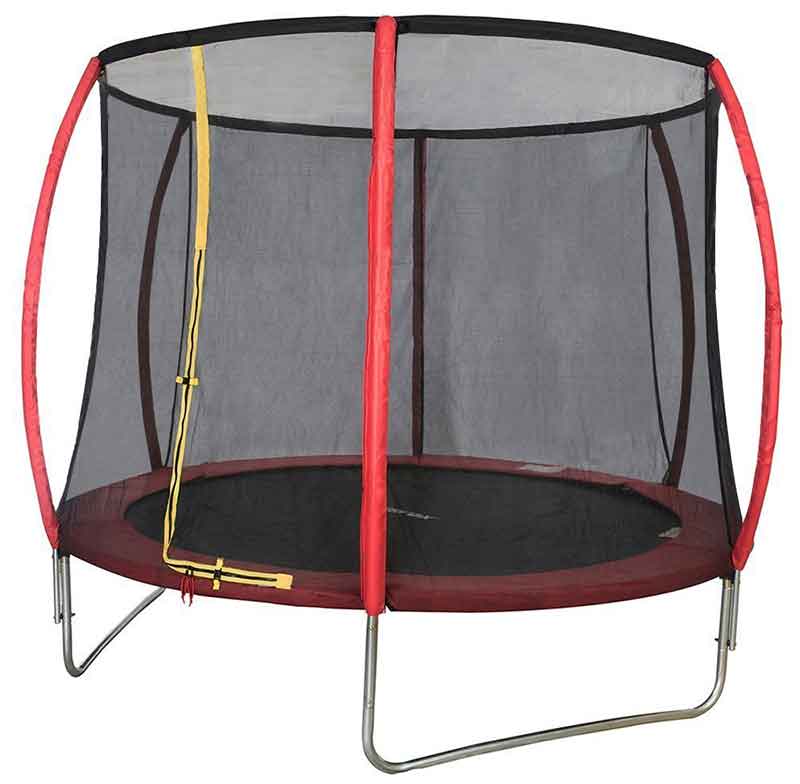 Specifications of Merax 10 ft. Trampoline
As this trampoline feels very sturdy (more than anticipated), only 3 support legs scream for attention as there is a high risk of flipping over, especially when jumpers weigh more than 200 lbs.
Frame:
The frame is made from galvanized steel connected & supported by three W-shaped legs. Stability, as with all 3-leg trampolines, is not great but is satisfactory.

Springs:
54 steel springs
Mat:
Made from PolyPropylene mesh, is a heavy-duty product but it will not give you a very high bounce. Great for first-timers or smaller children but not so great for somewhat experienced jumpers.
Enclosure:
Merax trampolines come equipped with a security net, giving you peace of mind that nobody will fall off a trampoline. The total height of the enclosure is 6.2 ft, measured from the mat.
Padding:
Filled with thick foam + PVC outer coating, which is waterproof. Comes in red color making it look a bit different than other home trampolines.
Assembly:
Assembly can be done by one person in 2 hours. Dimensions of the assembled trampoline are 10 x 10 x 8,2 feet while the height of the trampoline without enclosure is 1.97 ft or just above 8 ft with enclosure.
Warranty:
The trampoline comes with a one-year limited warranty on all parts.
---
Check all trampolines and their Pros & Cons
Pros:
Big weight limit
Price
Mat quality
Cons:
Only 3 support legs hold the frame. 4 would be way better (but do not worry too much as this trampoline sits very low to the ground)
New manufacturer, no info on product durability.
Number of springs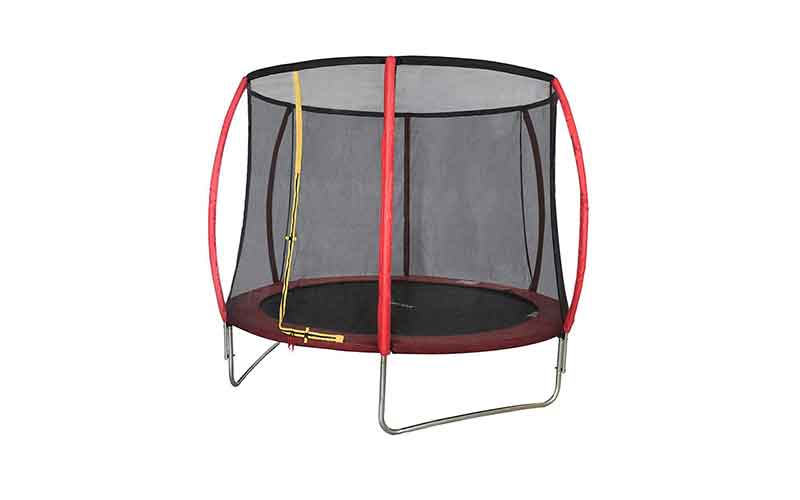 Merax 10 ft Round Trampoline
This trampoline is pretty good when compared to other 10 ft trampolines, but we had to lower ratings because of only 3 support legs. Honestly, we just don't trust 3-leg trampolines, the risk of flipping whole trampoline is just too big.