Giantex 15ft Trampoline Review
We've had the pleasure of reviewing another 15 ft trampoline from Giantex, who is serious about this model and expects a lot from it. But can this "basic" trampoline play with the big boys? Let's find out together, read this review of Giantex Trampoline!
Weight Limit: 375 lbs (170 kg)
Recommended Age: 6+
---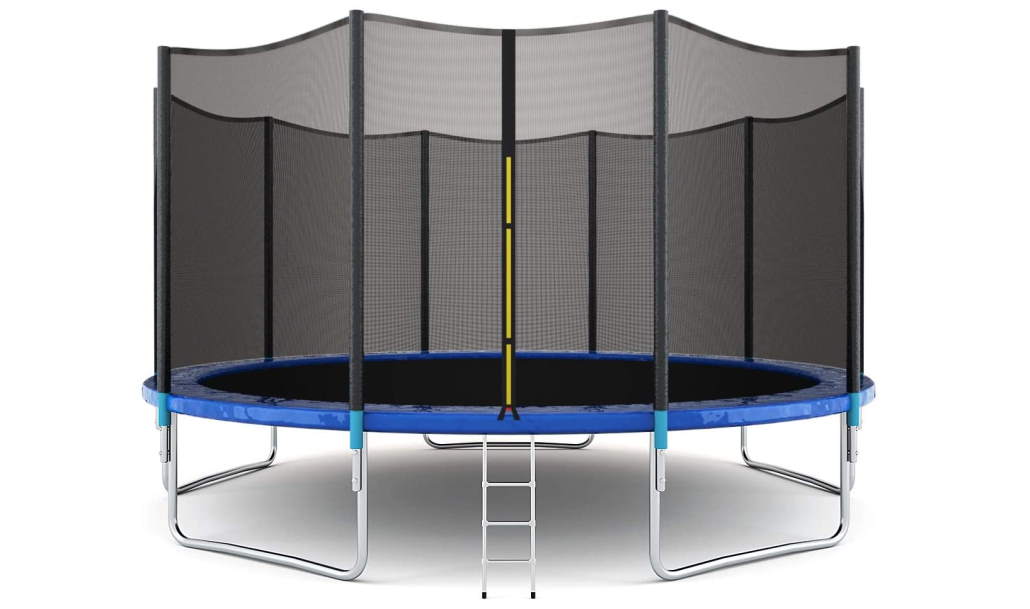 Design
Giantex decided not to experiment too much with the design of this trampoline. As a result, we are left with a standard-looking trampoline with a tried and tested design. Overall, we feel it is a bit bland, but there is nothing really wrong with it.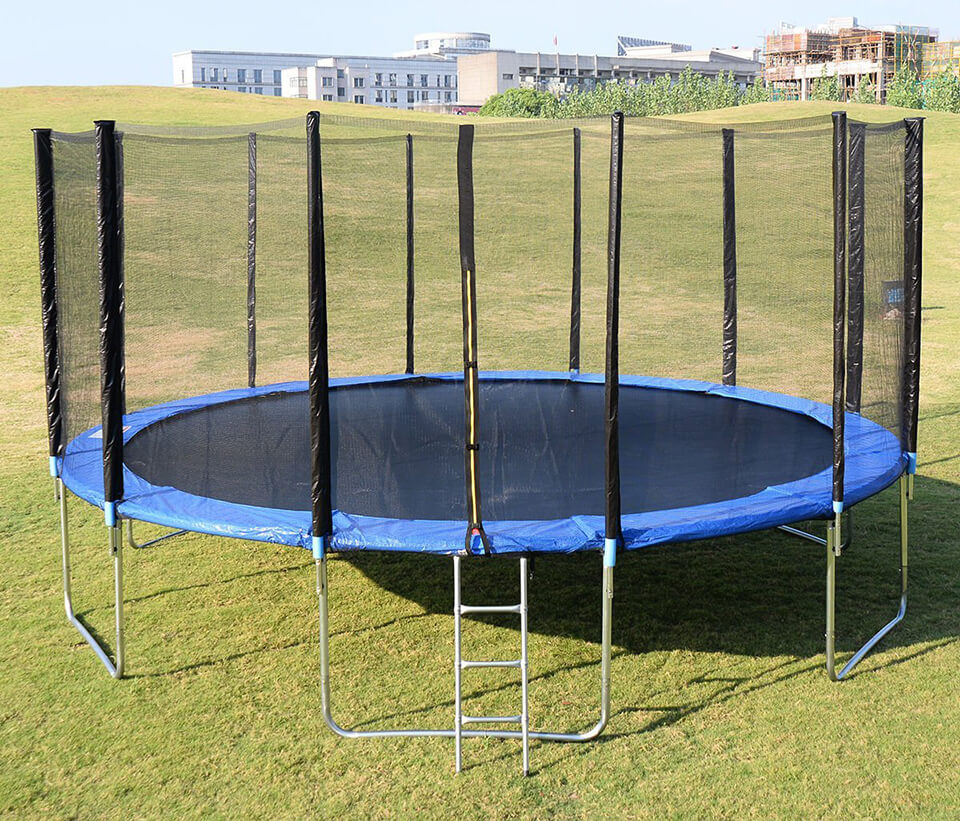 Frame
Its six U-shaped legs give it a ground clearance of 90cm (35in) and keep the trampoline stable. An extra pair of legs would have been nice for extra safety, but it doesn't wobble as it is.
The ladders are a nice addition for easier and safer entry and provide extra value. Unlike with some other trampolines, where the "ladder" is just a single step, these ladders are full-height.
Enclosure
The enclosure is 70.8 inches high, which provides for a good level of safety. All the tubes and frame pipes are galvanized to prevent rusting. The enclosure poles are covered in soft PE sleeves, but unfortunately, they aren't curved for extra safety. However, this is common for trampolines in this range. The enclosure net also doesn't protect the user from touching the springs, but the pads take care of that; but more on that later.
Click here to see TOP 10 Best Trampolines
The mesh is made from heavy-duty polyethylene and is sufficiently dense. The manufacturer didn't skimp on it, and we appreciate that. Entry and exit is easy enough through the zippered opening.
Mat & Safety Pad
The mat is standard-issue, as seen in many other trampolines. It is weatherproofed and so the trampoline can be left outdoors. It doesn't look like the most durable of mats, at least when compared to round trampolines from the competition, in this class, of course. With normal use and care, it should last a while.
The safety pads are here to prevent any injury due to touching the springs and impacting hard areas. The outer part is made of PVC (which is good for weatherproofing), while the inner part is filled with EPE (expanded polyethylene), a waterproof material. There are better impact-absorbing materials, but this is also sufficient. The pads could be a bit thicker, though.
Springs & Bounce
A total of 90 springs will satisfy the casual and undemanding users, which the trampoline is aimed at. Those in the market for a more upmarket trampoline should look for something with more springs. The bounce is satisfying enough, although it lacks the wow-effect of some more expensive trampolines – but we shouldn't hold it against Giantex. A plus point is that it won't launch you sky-high unless you try hard, so it's very safe.
Its max rated weight limit is 375 lbs, and while we're having doubts about it (perhaps deduct some 50 lbs), it's still a very nice number.
Assembly & Warranty
The Giantex trampoline is shipped in three boxes. While assembly looks like a daunting task at first, one to two hours is what it should take. The trampoline comes with a spring hook tool to help you set up the springs and a set of screwdrivers for quicker assembly. The directions are simple to follow and the assembly went smoothly. Due to its sheer size of 15ft we would recommend another pair of hands to help you.
As the manufacturer is relatively unknown and doesn't even have their own website, we wouldn't get our hopes up regarding any potential warranty claims. But should something go awry or if there are missing pieces, it is best to contact the seller directly.
---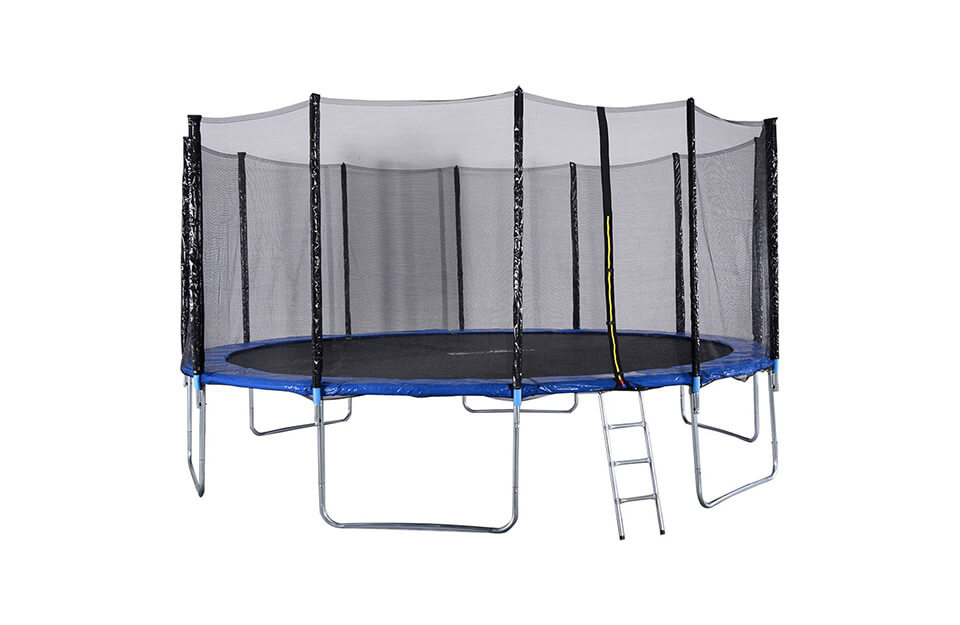 Giantex 15ft Trampoline
We can certainly say this isn't one of the best trampolines we've seen around. But it doesn't need to be. For people looking for a basic and large trampoline at a very good price, this one is not it. What Giantex had in mind was to design a good enough trampoline for a reasonable price, and they've partly succeeded, basic and large yes, reasonable price - no. Compared with its closest competitor, the
Exacme 15ft trampoline
, Giantex trampoline is significantly cheaper and comes with double the enclosure poles. This, in our view, makes it the best budget choice. While the warranty is a tad wonky, the assembly is simple enough and a ladder, which usually costs extra, is bundled here for free. this is a great purchase for casual and occasional users,
but only when on sale
– families with kids, for example, who want a large trampoline as a fixture in their back yard, same as more demanding users - 
should look elsewhere
.
PROS
Size
Included ladder
Average mat
CONS
Frame - we would feel more comfortable if there would be 6 legs
Enclosure material a bit too thin
Springs - low count and steel not too thick (expect stretching)
You Might be Interested in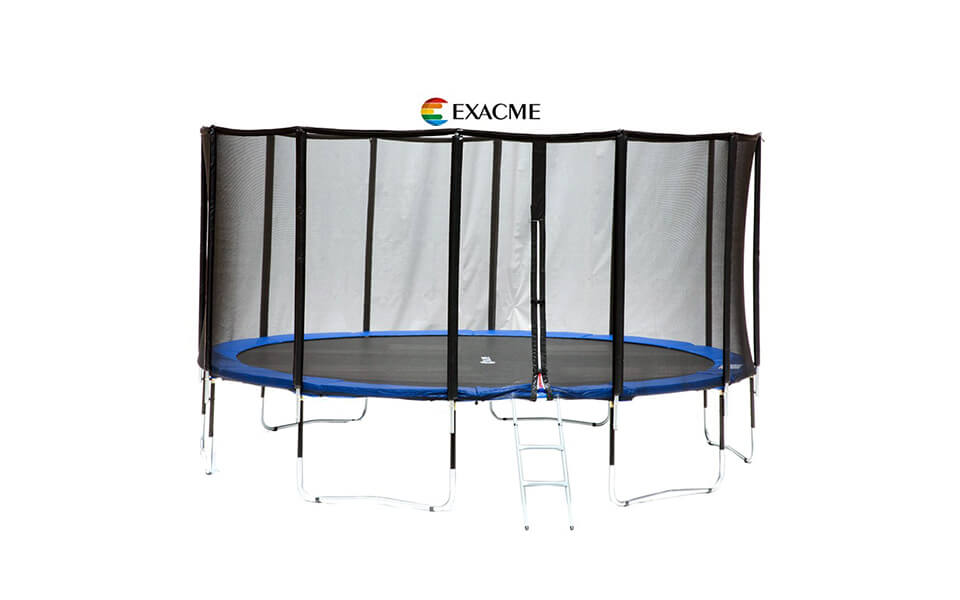 A luxury trampoline for a fraction of the price? Is such a thing possible? Well, we'd always err on the side of caution, but as we say, every trampoline deserves a fighting change. Let's see how the Exacme unit performed. Read more