BouncePro 14ft round trampoline is a trampoline aiming mainly for children as potential jumpers. As previous BouncePro models were involved in recall issued by CPSC in 2012, BouncePro did a lot on improving new generation of trampoline with improved safety -together with correcting flaws and errors they have also presented new safety feature included called "Spinner Flash Litez" – spinning and flashing led lights which are attached underneath trampoline creating glowing center point.
Not only this creates extra playing value for kids it also acts as safety measure as children then stick in the center of a trampoline, exactly on place which is intended for bouncing.
Weight limit: 220 lbs (100kg)
Recommended for: Age 6 – 18
Need BouncePro Manual?: Download here! (for older model but it has same layout)
---
Review of BouncePro 14 foot Round Trampoline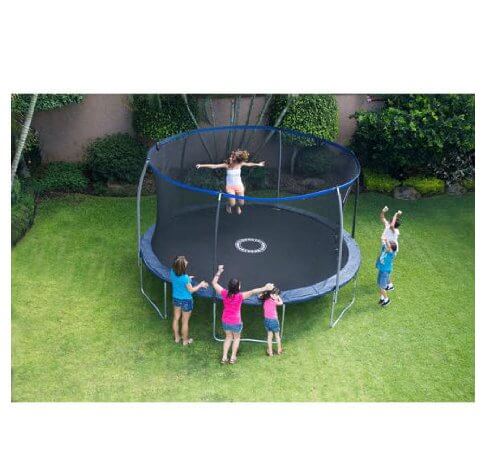 Completely galvanized steel frame with 6 support legs
96 galvanized steel 7″ trampoline springs
UV resistant jumping mat for extra durability with 96 V-rings
14`PE 6ft high enclosure + steel cabled ring top *SteelFlex top
Extra thick padding covering frame and springs
Dimensions: 168″x168″x72″ (LWH) // 14x14x6 feet
Pros:
BouncePro trampoline with "Spinner flash litez" gives extra value for money by offering something slightly different. While on a long term children will stop using it we agree that it does help kids to love this trampoline even more. And whilst every minute they spend working out is good for them, we will reward BouncePro with some extra points for creativity.
Spring loading tool included
good stability
SteelFlex enclosure – steel cabled top adds to stability of enclosure
Cons:
Warranty is only 90 days (2 years on steel frame) – while competition offers at least a year of full warranty at BouncePro decided that 90 days will be enough. Honestly, we agree with it as during this period you can clearly see if everything is OK with trampoline or are some parts missing or defective. But minus points for that!
Height of the trampoline – as BouncePro 14ft trampoline is pretty tall they should really think to include trampoline ladder in this set. We strongly encourage you to buy it or prepare something to help kids climbing in and out.
low weight limit – only 100 kg 🙁
---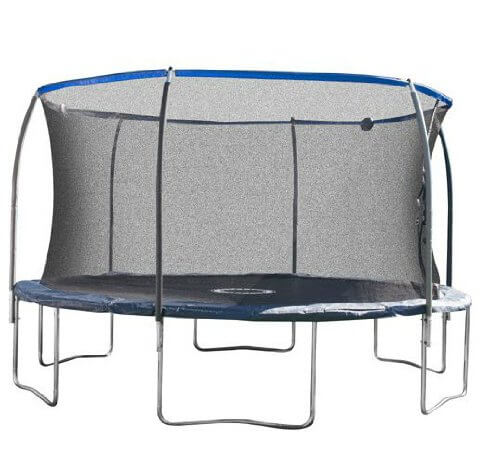 BouncePro 14ft Trampoline
Great looking trampoline for teenagers. Fun times guaranteed.