SkyZone Deer Park – Long Island
The Sky Zone Deer Park Indoor Trampoline Park is located at 111 Rodeo Drive, Deer Park 11717.  For more information call (631) 392-2600.
Skyzone Deer Park facility has over 40,000 square ft of available space with more than 21,000 square ft of trampolines. Settled in a new building designed for Sky Zone, the park will offer the most trampoline space of any trampoline park on Long Island. SkyZone Trampoline park itself will employ more than 150 people.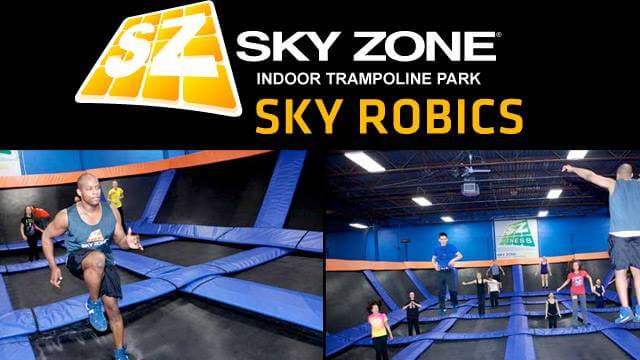 "Long Islanders of all ages are looking for new and fun entertainment experiences and Sky Zone Deer Park delivers this and much more.  We offer a variety of awesome action-packed activities which contribute to a healthy lifestyle" said Michael Kaminsky, General Manager of Sky Zone Deer Park.
What they offer?
SkyFit is low impact workout and combines advanced calisthenics, core exercises and strength building aerobics, all done on our patented, all-trampoline, walled playing courts. SkyFit is one of the most dynamic, effective and intense workouts you can have, while being fun and easy on your joints. Those at any level of physical fitness will reap the physical and mental benefits of this revolutionary workout. Classes will be offered multiple days a week by licensed SkyFit instructors. Beginners are welcomed to any SkyFit classes however for a start you might consider their specific "beginner classes".
SkyRobics is new and insanely good workout system consisting of multiple different trampoline based exercises combined with aerobics workout!
Wanna see how SkyRobics sessions looks? No problem, just check out this SkyRobics video!
How much does it cost?
Depends on what you really want, but they will have some extra options available:
Pay by the class – individual classes available
Unlimited 'monthly memberships' options
10-class 'Get Fit' Punchcards
What to expect?
Here is a little preview of what you might get in this trampoline park.