The top-of-the-line trampoline from Vuly is an absolute stunner, looking more like a piece of alien technology than a simple trampoline for your kids to bounce on. And it isn't really. It isn't just a simple trampoline: it packs a great punch of features that make the bouncing experience truly outstanding.
Max User Weight Limit: 330 lbs
Available size: M, L, XL
---
Vuly Thunder Pro Net
There's the terylene netting, which is very soft and taut. It's held by hourglass, curved poles. The door is full length and self-closing, but it doesn't have a zipper mechanism at all. That's a good thing in our book – less things that could break in the future. It's a distinct improvement from the Vuly Thunder model. The netting itself is 190 cm high. This figure is among the highest in the industry and is, in fact, 10 cm higher than the Vuly Thunder.
Vuly Thunder PRO Springs
As opposed to Vuly Thunder, and indeed all other Vuly trampolines, the leaf springs used in the Thunder Pro are much longer. Translated into the language of motion, bouncing is much richer. It's a difficult feeling to describe, but you really feel the bounciness and the give that the springs give you. Overall, a much more pleasant experience than the regular round trampoline with coiled steel springs. The springs have been tested to 20,000 bounces. Heavier bouncers will especially benefit from the Thunder Pro, given its 330 lbs weight limit.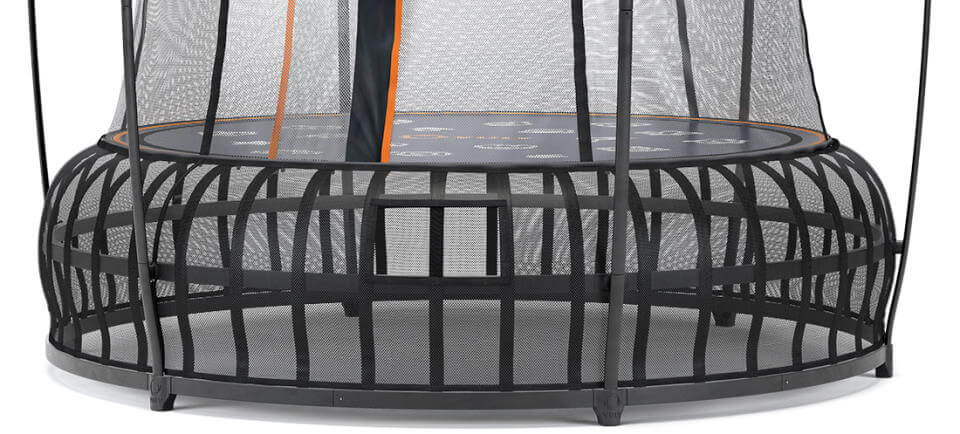 Not everything is bells and whistles. If the trampoline won't be placed in leveled position, basically if one of the legs would sink in the ground, then you will have a problem with leaf springs detaching and flying all around, so make sure to place it on a straight and firm surface.
FYI, there are 56 of them and additional ones can be purchased from Vuly at half price, but only if you have registered your new Vuly. Unfortunately, there are reports that springs break even if you aren't near the weight limit, so we hope that this will be looked upon and solved asap.
Vuly Thunder Pro Mat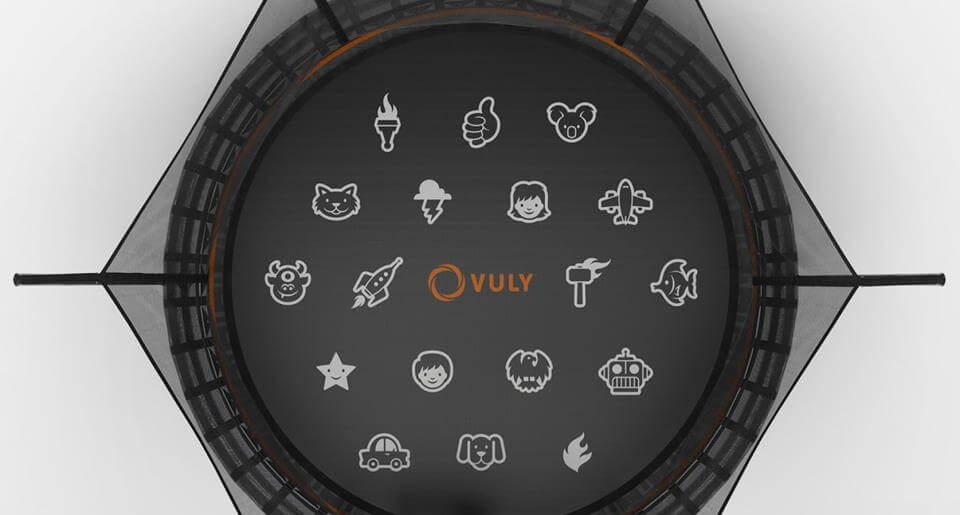 It goes without saying that the mat is sometimes as important as the springs, and the Pro is a good contender in this regard as well. Disregarding the VulyHexVex game print which tends to wear off, the underlying materials are made with strongly layered stitching, giving the trampoline phenomenal resistance and durability.
The frame features rectangular tubing, and is twice galvanized and coated to prevent rust and keep the trampoline looking fresh. Another good feature is that the trampoline comes practically pre-assembled, without the need to use nuts and bolts to assemble it. Even though it's marketed as a "snap to assemble" system, bear in mind these are large and heavy parts and it will take a bit of toil to do so.
As is the norm, the Thunder Pro also comes in various sizes (We recommend the XL – if you're going to buy this, might as well go the whole hog).
Now, it does come at a cost. It's significantly more expensive than the "regular" Thunder for what counts as very positive, but ultimately incremental upgrades. If you have the cash to splash, by all means, do it; you won't regret it. Among us more plebeian shoppers, the regular Thunder will likely do the trick just fine.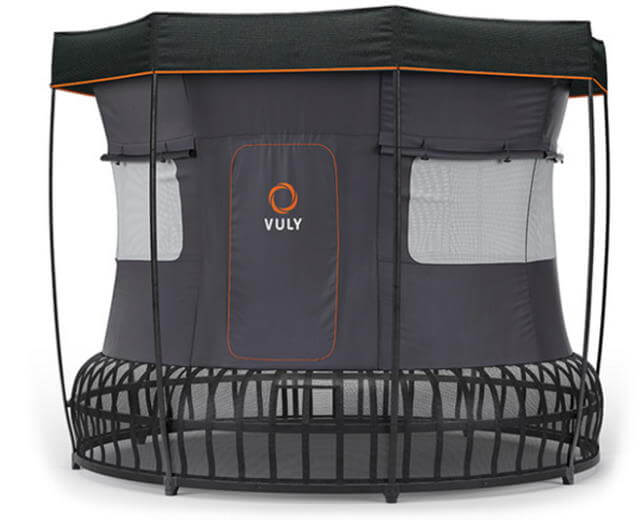 Vuly Thunder PRO vs Vuly Thunder
When comparing these two trampolines, there are definitely some improvements worth mentioning:
Smaller leaf springs on the Vuly Thunder – meaning harder and lower bounce
No black powder frame coating on the Thunder – PRO does look a bit better but also provides improved resistance to rust
Better safety net material on the Pro – protecting against stuck fingers inside the netting and also softer on the skin
Poles are further out from the netting on the Pro – and with it less chance of banging into a pole
Warranty on Vuly Trampolines
The warranty is good – 10 years on the frame, 5 years on the mat, 1 year on the springs, netting, and the skirt. The warranty can be extended for a fee, and you get a 50% discount on spare parts when you register your trampoline.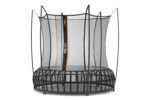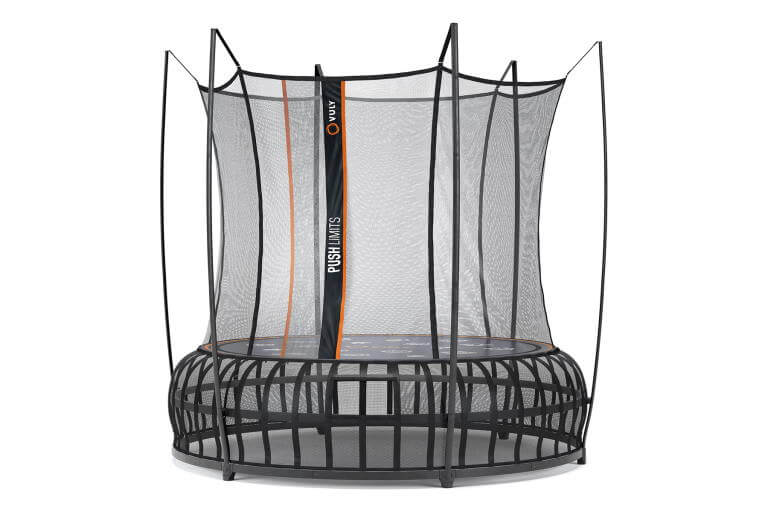 Vuly Thunder PRO Trampoline
This crème de la crème of Vuly trampolines does live up to its name. It's a premium product with great features and usability. It is also built to last. You'll have to pay handsomely for the privilege, though. If money is of no concern, getting the Thunder Pro is a no-brainer if you dig trampolines like these. And who doesn't?
PROS
Excellent quality trampoline which would make you happy for a long time
CONS
Too expensive to be worth the price, too much of a difference between regular Vuly Thunder