Review of Kinetic Trampolines Trampoline with Enclosure, 14ft
Weight limit: 275 lb.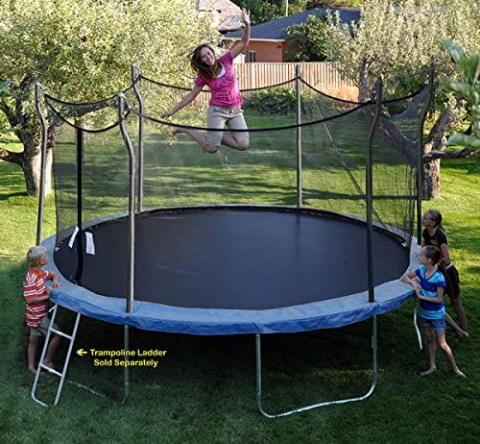 Recommended Age: 10+
To begin with, the trampoline is kept upright with the help of 6 U-shaped legs (more than in some other budget trampolines) and the enclosure poles are well-shaped if a bit odd. They are covered with foam, though and the netting is sewn onto the mat. The pad is lackluster, unfortunately, since the manufacturer feels the net is enough… it usually is, but it would have been nice to have an extra layer of security.
This 14 ft trampoline is one of the cheapest around that we'd be confident to recommend. It's a basic unit but there is nothing particularly wrong with it. In fact, there are 6 U-shaped legs which gives it extra stability compared to some more expensive models.
It comes with neatly shaped enclosure poles. The mat and springs are basic; there are 72 springs, which is a bit conservative number but expected for this price range, so don't expect a crazy-high bounce.
The blue safety padding is there but we've seen thicker and better; so take care and sticky to safety precautions.
The trampoline shouldn't rust and corrode and can be left outside. The problem we've heard about is that sometimes it arrives with missing parts and can be a bit difficult to install. But once you do, it becomes a non-issue. It is rated for up to 275 lbs. of weight, so even plus-sized adults can bounce without problems.
Some issues were reported with bad shipping practices; i.e. beat-up boxes, missing parts, and of course, lackluster instructions. But they are serviceable and the missing parts can be replaced. Set away a couple of hours for installation and arm yourself with patience (and tools, of course).
All said, this is a better trampoline than the cheap supermarket models and we recommend it if you're looking for something absolutely basic that you'll use occasionally if you don't mind tinkering a bit when setting it up.
Convenience has a price, and the pre-assembled trampolines cost a lot of extra dough. Basically, this is an acceptable trampoline with adequate safety. Bear in mind that it's a 14 ft. trampoline, so that's extra value. Consider such trampolines a minimum that we can safely recommend.
Our verdict – acceptable.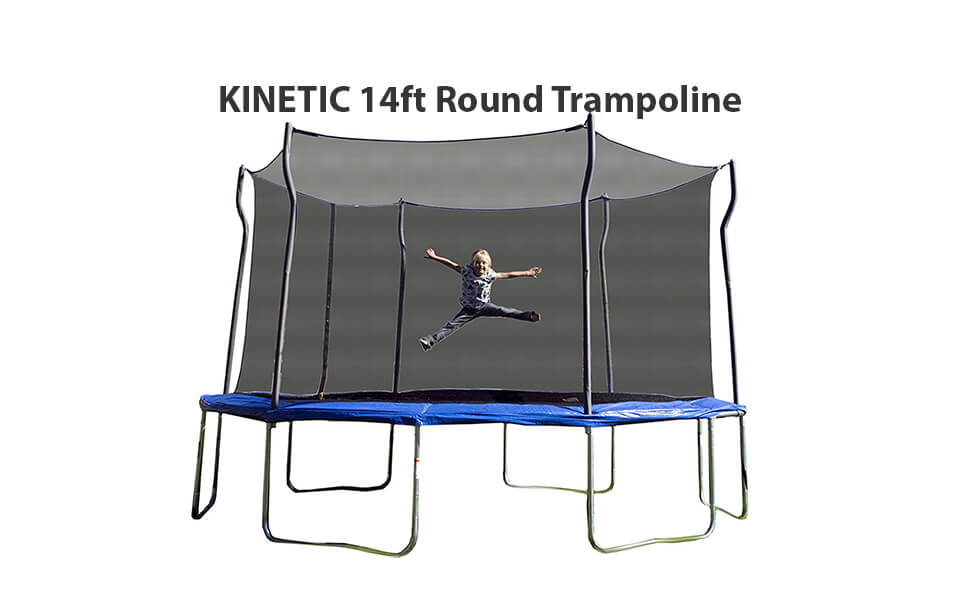 Kinetic Trampoline with Enclosure