We are already acquainted with BouncePro and what we've seen is pretty good. In this case, we're dealing with a square trampoline. Due to a dearth of good square trampolines, we were very excited about this unit.
Weight limit: 220 lbs (100kg)
Recommended Age: 6 and up
---
Review of BouncePro 15′ Square Trampoline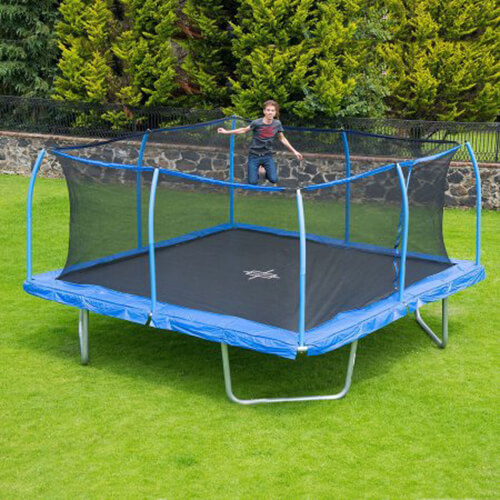 Design
You won't be a square if you get this one. The plastic parts are a nice shade of blue with shiny silver metal parts and a black mat. It's not as exciting as, say, ACON Rectangle, but you don't have to win the lottery to buy this one either. Oh, and it's square-shaped obviously, so that's refreshing.
Frame & Enclosure
The frame sports 2.4 in galvanized steel tubing (rust-free). The support legs (four in total) are made from 3 distinct steel tubes and they are connected to the frame with the manufacturer's patented welded plate system. It adds rigidity and stability to the trampoline.
This is necessary because square trampolines do not encounter an even distribution of loads so some critical points must be reinforced. Correspondingly, the weight limit is disappointingly low when compared to others within size category – only 220 lbs. That's still fine if only teenagers will be using it, though!
The enclosure is fine. The poles are foam-padded and the enclosure mesh is run-of-the-mill, but it does the job… Poles that keep the net in place, are supported with 'SteelFlex', basically, steel wiring which runs around the top of the netting to keep the netting firm and taut. It's a good safety addition, along with the netting attached to the mat and keeping the springs outside the enclosed space. But, there have been multiple reports of poles breaking really quickly.
Unfortunately, BouncePro doesn't arrive with extras, such as ladders. The trampoline itself is higher than most other units; bear this in mind if you have smaller children, as they could need help getting on and off the trampoline.
Mat & Bounce 
There is an upside to the square shape. You'll get approx. 15 percent more jumping surface than with round trampolines (though how much of it is actually usable is another matter). At first, 15′ Bounce Pro is quite stiff but after some bouncing, it settles in nicely.
The bounce is excellent thanks to its square shape (it's more staggered and gentler) and its 104 metal springs. If you're used to round trampolines, it could take you a while to get used to the feel of a square-shaped unit. It's not for everyone. The bounce is not as high as on other shapes, but it is comfortable and even less stressful on the joints. It is especially recommended for children, as it's simply safer. It's not for expert gymnasts, but regular Joes will find it more than pleasing. You'll notice it behaves differently than a round trampoline, but take care when bouncing, as there isn't a tendency to pull you toward the safe middle.
The spring pads and the mat are made of heavy-duty materials and are UV-resistant. However, the spring pad is the weakest link since it is prone to tearing and breaking fast.
Assembly & Warranty 
The assembly is simple and quick thanks to simple and well-written instructions. The trampoline arrives in three large boxes and looks intimidating, but the setup takes two hours at most. Make sure to secure it with trampoline stakes in case your area experiences severe weather. The trampoline is large and strong winds could move or damage it, so we definitely advise buying trampoline anchors or stakes.
The parts are easily available from third-party retailers, however, they can be quite pricey.
Customer support
Some buyers have had trouble contacting customer service and getting repairs for their BouncePro trampolines.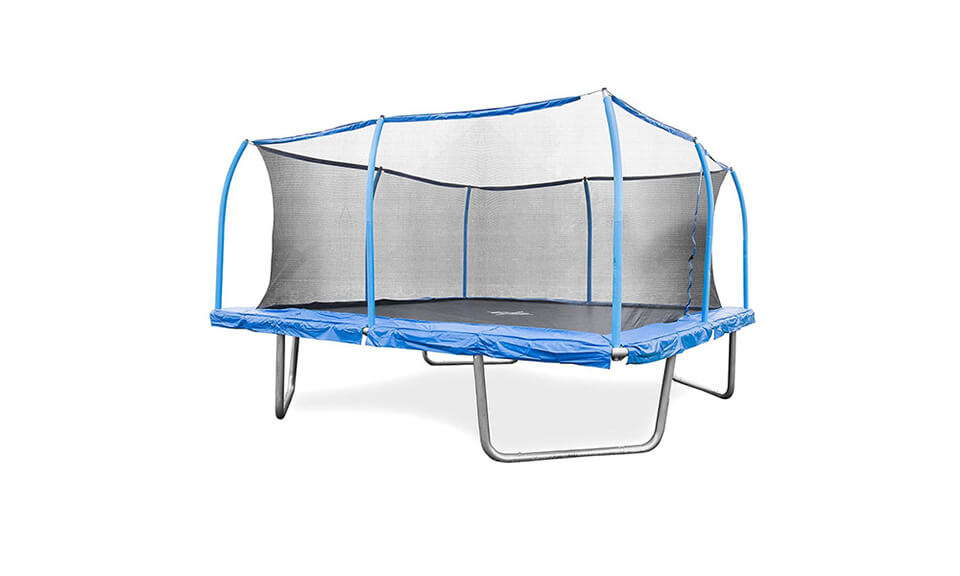 BouncePro 15′ Square Trampoline and SteelFlex Safety Enclosure
All in all, this is a well-built product. It's not breathtaking in its looks (besides being HUGE), but it uses quality materials and sound engineering decisions. It's a good unit, but there are three things to bear in mind: 1. Square trampolines are sort of exotic and they cost more than the comparable round units; 2. The weight limit on this is only 220 lbs. If you were to bounce with a kid (which we do not recommend), you'd be very near or above the limit. 3. Bounce is not as high as expected from trampoline this size. Reason is low number of springs and fact that this is square trampoline, where you'll get bounce a bit better than on
round trampolines
but worse than on
rectangular trampolines.
PROS
Interesting, not so ordinary shape
Large jumping surface
Good quality enclosure
Soft bounce
CONS
Enclosure net poles can easily break
Safety pads prone to tearing
Shoddy customer service