SportsTramp Extreme – Review of 16ft "Magic Circle" Octagonal trampoline
For those looking for a breath of fresh air (and that, in the world of trampolines, means you're totally fed up with round trampolines), this model from Kidwise Outdoors might be interesting. This is an octagonal trampoline (with eight sides) and looks quite peculiar. Have in mind that octagonal models of trampolines are comparatively rare and usually cost a fortune, but usually, money well spent. Is this the case with SportsExtreme octagonal trampoline? Even though we knew this is a 16 ft trampoline we really were surprised by it's size. When assembled looks like you can perform any trick you want on it.

Weight limit: 450 lbs (205kg)
---
This is very strong trampoline, with declared 450 lbs weight limit. While most of competitors have from 200 – 250 lb/100-120 kg weight limit we were skeptical what kind of bounce would we get. First thoughts were that this is more of a playground for kids than bounce & training trampoline but quality of mat itself and 112 springs around it shown how wrong we were.

Features & Specs:
Octagonal design
High-tensile-strength materials
14 gauge galvanized steel frame
112 Heavy Duty 8 1/2 inch trampoline springs
Measures 16 feet ( 5.3 meters) across
450 lbs weight limit (205 kg)
Optional Magic Cage enclosure -recommended.
Overall height with enclosure is 9 feet (3 meters); trampoline height is 3 feet (1 meter)
UV protected foam pads.
Assembles in approximately 1 hr or less with 2 people for assembly.
6 rows of UV resistant stitching on trampoline mat
Frame:
Frame is made from 14 gauge galvanized steel, 1.9″ in diameter, with 4 one-piece rails and 4 one-piece legs which give this trampoline a nice octagon shape. As this frame is one the thickest we ever saw, it isn't strange that manufacturer gives 10-year warranty on it (yes, it really is TEN years) on the frame and all steel parts + 1-4 years of warranty on all other parts (mat, enclosure, pads, etc). For the trampoline of this size, we did expect at least 6 support legs, but as legs are quite big they do the job, making the trampoline surprisingly sturdy.
Springs & Bounce
The "gymnastic quality bounce", as the manufacturer says, isn't quite that good, but the trampoline works very well. Thanks to a large number of tapered springs (112 springs), you get a springy and responsive trampoline. The springs are also longer (8.5″) than usually found on similar trampolines, indicating that the height of the jump will be more than high.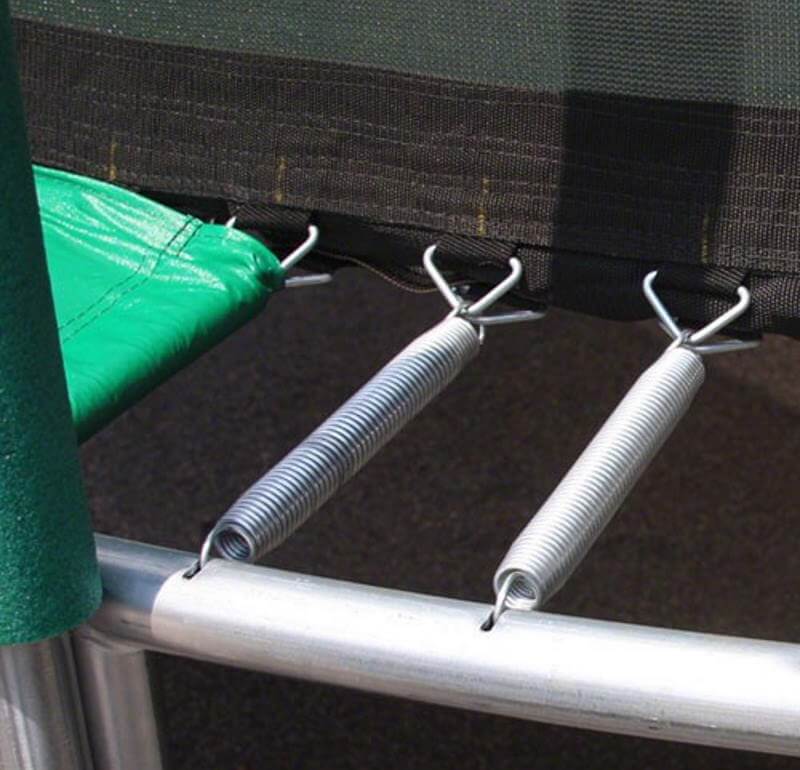 Mat
Mat is 6 times cross-stitched and available in two colors, green and black. Piece of advice, go for the black version. Everything else on the trampoline is in green shades so needs a bit of contrast. The choice is yours, but we just wanted to give you heads-up!

Safety padding
Safety pads of this trampoline are sewn from 8 oz. ultra-violet protected vinyl. Pad is made from poly-urethane foam resistant to impacts. Padding's are being held in place by a spring through a pocket at each end and additional elastic ties which ensures that pads is over rails and frame at all times.
Enclosure:
Enclosure system (called "Magic cage") is sewn directly into the jumping mat keeping your children away from all steel parts. It will take you a while to adapt to the shape and the feel of an octagonal trampoline, but some people prefer these to other shapes. The risk of landing on springs is almost non-existent as netting attaches directly to the mat. As much as this is a good approach when kids are involved, it does decrease the usable size, significantly we might add.
Assembly & Warranty
The assembly is easy enough and can be done within a few hours. No extra tools are needed, not even extra bolts. The warranty is excellent – 10 years on the steel parts and 5 on the enclosure and mat, with 30 days on other parts, but for the price, any less would be disappointing.
Even though it is advertised that it is easily assembled by one person, it requires 2 people plus an hour or more to assemble. Unless you have more that two arms 🙂 And really, this is only major drawback we had on this trampoline! Highly recommended.
Still not interested? Check our reviews of best trampolines!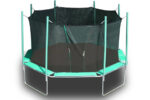 Kidwise Octagon 16 foot Trampoline
This trampoline sort of follows suit. It's much more expensive than the round trampolines, but not overly so. And what you get isn't half bad. You get a good 14-gauge steel frame that resists the elements quite easily and the net is woven onto the mat. As we've stated before, we much prefer this kind of netting to the one that goes around the safety pad. This is much safer. The entry is zippered, although there are no extra safety clamps. Great trampoline, very easy to put together and with good quality parts. Nice high and smooth bounce!
PROS
Weight limit
Excellent springs
Stability (surprisingly!)