Baby brother of Rave Eclipse 200 on test…
While reviewing baby brother of Rave Eclipse 200, which is by the way 8 times more expensive we were pretty skeptical about the overall quality and performance of this trampoline. Were we wrong? Continue reading…
Rave O-Zone 5 ft specification:
This product which is intended to be used for smaller children comes in not so big a body. Only 5 feet in diameter (approx. 152 cm) is enough to be used by only one jumper, despite the fact that the manufacturer stated as capable of handling 2 children simultaneously.
Don't get me wrong, with 240 lbs weight supported this is enough for 2-3 smaller children, but the size of the trampoline itself is the issue. The complete dimensions of this product are 100x136x28 inches with a weight of 46 lbs. Have in mind that accidents can occur because they do jump on it so with this dimension it is clearly not intended for more than 1 person. At least not without direct supervision.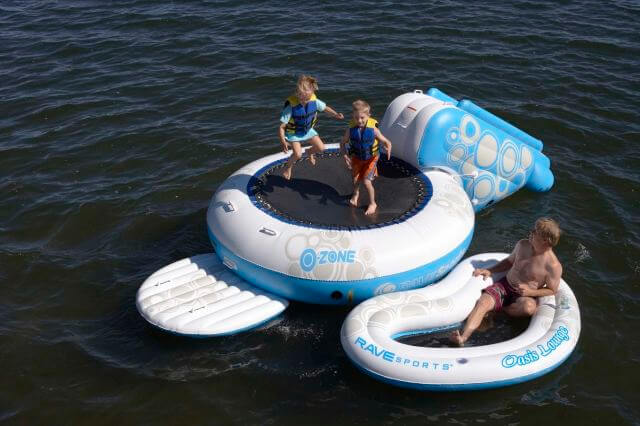 Additional features available on this water trampoline include:
–          soft vinyl handles
–          low profile boarding platform for easy access from the water
–          grab lines around the trampoline for added safety
–          included anchor bag with a capacity of 40 lbs
–          lightweight and portable water trampoline which can be moved with only 2 people
–          only 8 ft of water depth required
What is good about the Rave O-Zone water trampoline?
There are several things about this water trampoline that do make it a good purchase, especially if you buy it at a discount or clearance sale.
The first thing is a 1-year warranty. This is pretty tough to beat as most manufacturers give a limited 3 month warranty and after that you are alone. So if problems do occur (not punctures – this is completely your fault) simply return it and get a new one.
Next, this trampoline is very easy to assemble. With very good assembly instructions it can be done under an hour with only one person involved.
It is lightweight. With a weight of only 37 lbs, this water trampoline is lightweight and easily transferable to any place you like. Of course, the size of it dictates that at least two people should carry it and be prepared for possible punctures.
Price. With only $269.00 it is one of the best buys when it comes to price and together with additional features (slides, lounges), it can make a pretty decent private water resort.
What is not quite good about the Rave O-Zone water trampoline?
As you might imagine one thing we didn't like from start is the size of this trampoline. Even doe it is sufficient for a kid to play in a backyard pool or nearby lake we would rather like to see a bit bigger product from Rave.
The next important thing is the bounce itself. We just aren't happy with the bounce it offers for low-weight jumpers. Bad jumping mat or size issue? We have no idea but Rave will need to work this out if they want to continue to sell mini-sized water trampolines. If not, there is competition waiting just behind the corner.
Personal opinion about O-Zone 5 foot water trampoline
With a good price, good warranty, and excellent quality (except for mat) this trampoline is well worth of buying if you have one small child who will use it. If you plan to use it for multiple years then our advice would be to take the XL version of this water trampoline with a list price of $400 and dimensions 132 x 132 x 36 inches.
Also, always have in mind if more than one jumper is on board constant supervision is required because a serious risk of injury is possible!
Make sure to check review of Rave O-Zone Bigger Brother – Rave Eclipse 200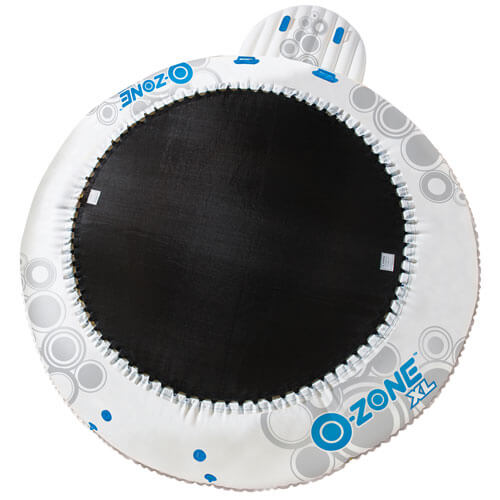 Rave O-Zone 5-foot Water Trampoline; Cheap or not quite?
Good price, good warranty and excellent quality (except for mat) this trampoline is well worth of buying if you have one small child who will use it!