Shakalaka Huntsville, Alabama  – Indoor Trampoline Park
Shakalaka trampoline park manager Brandon Echols said that since launching, Shakalaka trampoline arena has already served thousands of jumpers. Mr. Echols said that arena will feature a unique "Ninja Warrior Aerial Obstacle Course" based on the popular reality TV show "American Ninja Warrior" in several months, but until this is finished, people of all ages seem to be enjoying this new Huntsville attraction.
On our question who can jump, he added: "We really go toward families to get the whole family here. We have little babies out there jumping in the kid's area to parents and grandparents out there jumping with their grandkids."
Shakalaka trampoline park is even bigger live than in pictures. There are two levels available to play and yes, they both have trampolines! On first level there is Open Jump court and section full of balls for the youngest visitors. Upper level features a foam pit with a trapeze on top.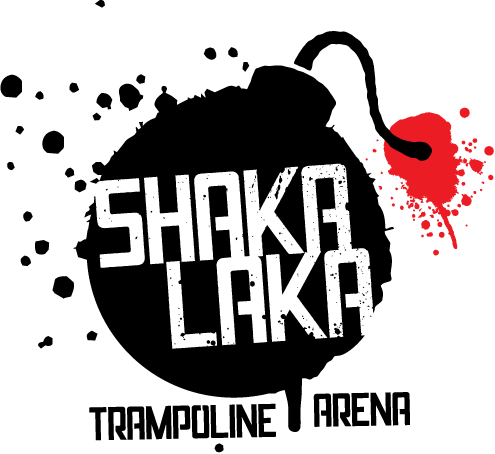 Shakalaka Huntsville trampoline arena is opened from 9 a.m. – 9 p.m. (Monday through Thursday), 9 a.m. – midnight (Friday & Saturday) and closed on Sunday.
Cost of tickets for adults and children under 6 in Shakalaka trampoline arena is $12 for an hour, $16 for 1 ½ hours and $20 for two hours. For additional pricing check out available activities below.
Location of Shakalaka trampoline park! Click here for driving directions.
4710 University Drive
Huntsville, Al 35816
(256)-469-8118
---
 Want to own your own trampoline? Browse BEST TRAMPOLINES
---
 Available Activities In Shakalaka Huntsville Trampoline Park:
ClubBoom – Friday & Saturday night from 9pm -12am (ages 15+)
Enjoy yourself with lights out and laser on!
Open Jump – 12,000ft of trampoline beds (ages 13+)
Angled walls, launching decks, foam pits and so much more…
KidJump – every Mon-Fri 9am-10am 
EXCLUSIVELY for ages 6 & under with special music for them (Disney soundtrack). One accompanying adult jumps free per paid child. Unfortunately, holidays are excluded. At any other time, there is a section of the park reserved for youngsters. Note: dress kids in under-knee leggings so they wouldn't get rug burn.
BounceBoards – $5/hr rental per board.
One of the best workouts for skating, boarding & surfing.

ShakaFit Classes – schedule not available at this time.
Pricing will be $12 per session or $39 for monthly pass.
ShakaSlam – learn to dunk
Launch yourself from the trampoline and learn to dunk like a pro!
DodgeBall – Cage + Wall2wall trampolines!
Play dodgeball on one of the biggest dodgeball courts.
Birthday Parties – celebrate your birthday at Shakalaka Trampoline Arena!
Multiple packages are available for your thrilling birthday party. Contact them for more info.
Family Night – Every Monday night from 6pm to 9pm
Whole family can use trampoline arena for $35/hour

Theme Night  – every Thursday from 6pm – 9pm.
Dubstep, Hiphop, Pijama Parties, 80`s & 90`s theme parties
---
Opening info:
Shakalaka Trampoline Park will be opened inside former "Hibbet Sports" building in West Shopping Center, 4719 University Drive, Huntsville. Complete park will consist in total of 26,000 square foot available space, with more than 12,000 square foot of trampoline jumping area. As in all indoor parks, Shakalaka will feature number of games to play, and it will be fairly big –  featuring from large trampoline field, dodgeball field, dunk basketball and Olympic foam pits. In addition, Shakalaka Huntsville will feature a "Ninja Warrior Aerial Obstacle Course", the first of it's kind in whole region. In addition, there will be other aerial attractions, perhaps something like Gravitopia has.
Shakalaka trampoline park will be opened for all other events, from birthday parties, aerobics classes to all kinds of corporate or private events. It will be opened for six days of week with fair prices ranging from $12 for an hour to $20 for two hours. Other prices are currently unknown but we presume it will be similar to other Shakalaka trampoline parks.
Case Lawrence, developer of Shakalaka park said:
"We have been looking for a location in Huntsville for over a year. The area has strong demographics of youth and young adults; and until now, has been underserved in the marketplace for Extreme Sports Activities," said Case Lawrence, owner, and developer of Shakalaka. "We found a truly unique building for this concept on University Drive; Shakalaka will be one of the nicest trampoline parks in the U.S." Check out for more info about Shakalaka Huntsville Park on their official page!

As they finished the hiring process be sure that the park will be opened soon enough.

Shakalaka…Boom!

---
 Shakalaka Huntsville on Map