"Altitude" Trampoline Park – Billerica, MA
Altitude Trampoline park in Billerica, MA features huge 15,000 square feet of trampoline jumping area with total of 30,000 square feet for whole complex. Best features of Altitude Trampoline park are Rock Climbing Wall where you are able to perfect your climbing technique with any risk of being hurt, thanks to foam pit underneath. Also, there is fantastic and mind blowing game of Battle Beam
Working hours:
Sunday – Thursday: 10:00 am – 08:00 pm
Friday: 10:00 am – 10:00 pm
Saturday: 09:00 am – 10:00 pm
700 Boston Road
Billerica, MA 01821
Phone: (978) 663-5867
Activities available in Altitude Billerica Trampoline Park:
Open Jump – main jumping court
Toddler Time: (Monday – Friday 10:00 am- 02:00 pm) – special program only for youngsters where main jumping court is reserved for them. The price of Toddler Time is $8/hour while parents are welcome to join them at a special price of $2/hour. Toddler Time is unavailable during Holidays or School vacations.
 Rock Wall: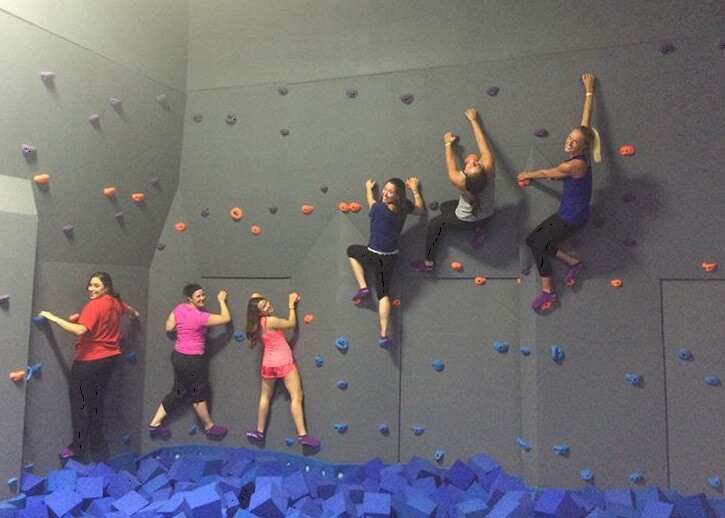 There are a 20ft high rock wall available to test your climbing abilities. The rock wall is included in the price.
3D Dodgeball: No need explaining that. Just come and have the time of a lifetime.
Gymnastics Tumble Tracks:
Basketball Dunking Lanes: Learn to dunk like a pro!
Foam pits: Several foam pits are available where you can test your gymnastic skills!
Private parties (birthdays, team building, family fun): You can have your own private parties in Billerica Trampoline park. Want an unforgettable birthday? Try Altitude trampoline park.
As in all trampoline parks, jumpers need to sign a waiver before they are able to use trampoline court. For person under 18 waiver must be signed by parents or legal guardians. Electronic waiver for Billerica trampoline park can be downloaded here. Just have it signed and bring it with you when visiting Altitude trampoline park.
Prices (for single jumper):
30 minutes: $9.00
60 minutes: $15.00
90 minutes: $21.00
120 minutes: $25.00
Opening info:
Trampoline Park in Billerica, Massachusetts opening in March 2014.
Altitude Trampoline Park, has announced that an agreement is in place for a 30,000 sq. foot facility in the Billerica Town Plaza, 700 Boston Road, Billerica, Massachusetts, 01821.
Company officials stated that renovations on the site will begin shortly and they expect to have the newest Altitude location operational by March 2014.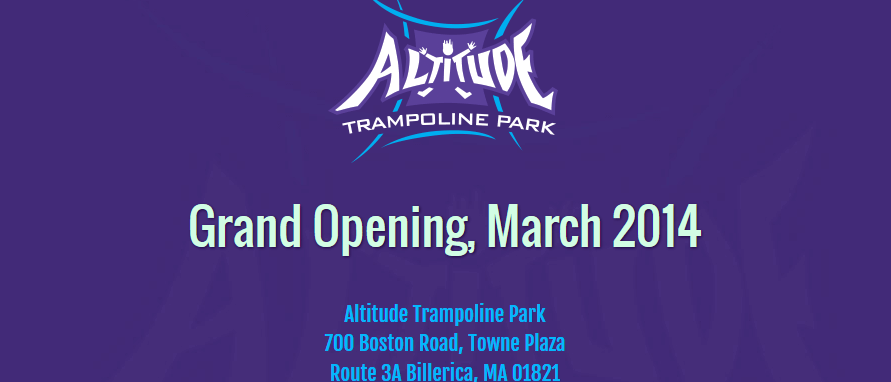 Altitude Billerica will be one of the largest trampoline parks in the state measuring over 30,000 square feet with 15,000 square feet of interconnected wall-to-wall trampolines and attractions. The indoor park will include a variety of specific activities such as 3D Dodge ball, Basketball Dunking Lanes, Kid Zone, Foam Pits, Gymnastics "tumble tracks", as well as a large main court plus in-park party areas for birthday parties, corporate outings, church groups, sports teams or any event up to 300 people. Altitude Billerica will be the first trampoline park in Massachusetts to have a Rock Climbing Wall and Battle Beam suspended over foam pits for additional entertainment.
Kerry Hughes, owner of Altitude Trampoline parks said: "We expect this state of the art indoor trampoline park to add 60 or more part-time, as well as several full-time jobs to the Billerica area."
Want a job at Altitude Billerica Trampoline Park?
January 25 & 26 – 11:00 A.M. – 3:00 P.M . Located in the Towne Plaza at 700 Boston Road (Route 3A), Billerica. They are currently looking to fill full and part-time positions: Asst. Manager, Court Monitors, Party Hosts, Front desk, and Maintenance staff. Fast-paced environment. Applicants with a great attitude, attention to detail, and excellent customer service skills need to apply.
Click on an image to apply!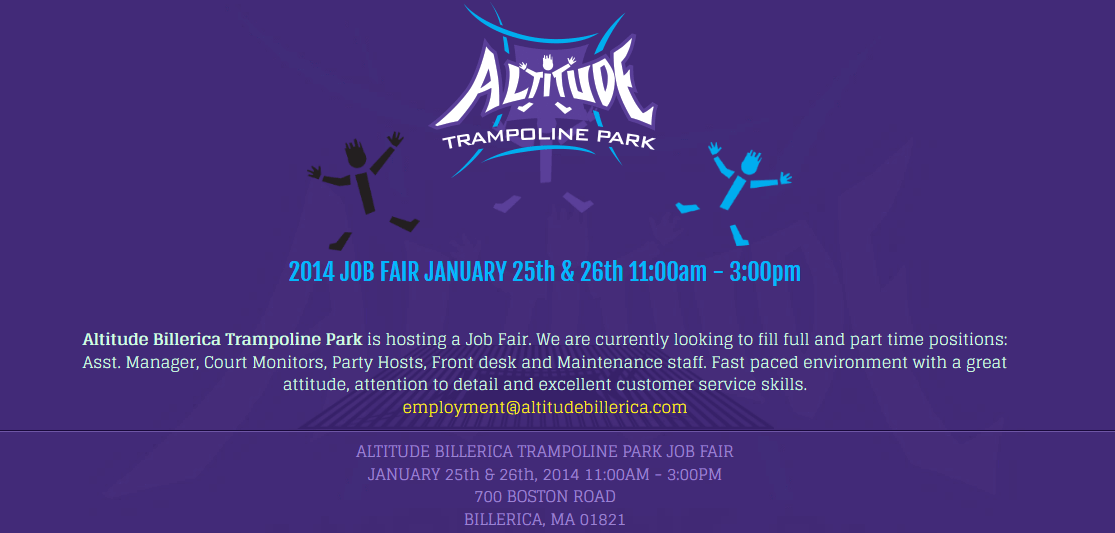 Video of Altitude Trampoline Park, Fort Worth, Texas