Weight limit: 330 lbs (150 kg)
Recommended for: Teenagers
---
Skytric 15ft Round Trampoline Specifications
Frame leg count (15ft model): 6 W shaped legs
Springs: 96, 7.5″ long
Mat: PP with 8 rows of stitching
Enclosed: Yes

Frame:
Rust-resistant Galvanized Durable powder-coated steel frame, with a total height of 43-inches, pretty much basic frame, as we did expect a bit thicker steel, especially as Skytric is a premium brand of Upper Bounce.
Enclosure & Net
The trampoline comes with a conspicuous enclosure, which is one of its main selling points. The enclosure is Skytric's own proprietary (actually "Upper Bounce's") "Top Flex Pole Enclosure System". It is supposed to offer greater stability and security to the users. It is made with galvanized steel, which should make it more durable and less prone to rust and other damage. The frame, the poles, and the legs are all coated in durable galvanized powder. The poles are 1.5″ in diameter if you'll search for replacements.
The net comes equipped with double zippers, meaning it can be opened both from the inside and outside. It is double reinforced and we are confident it will last for a long while. The net is made of Terylene mesh. It is installed inside the trampoline, ensuring you don't come into contact with the springs. It is a familiar "no-gap" system and works great. The net is attached to the trampoline at V-ring spring clips.
Springs & Size
The trampoline is quite large – it is definitely an outdoor trampoline. With the enclosure installed, it measures 108 inches in height, the frame itself is 34 inches high. This means the net is 74 inches high. It comes with six legs and features 96 springs, each being 7.5 inches long. The trampoline can support weight up to 330 lbs, which is more than respectable, but a tight fit if more than one full-sized person is to bounce on the trampoline, the scenario we do not support when it comes to safety. There is a total of 159.45 sq. ft of jumping surface.
Skytric 15 ft, unfortunately, does not come with a ladder. It would have made a nice addition, especially in this price range, as most of the other brands started offering it free of charge. The manufacturer states that Skytric 15 is resistant to cold weather and therefore parts will not need to be replaced as often. We haven't really tested the claim, but from the specs alone, we can say it's good quality stuff.
One of the most common questions we get is about the size, as a lot of you out there think that 15 ft trampoline is a bit too big, and is it may be better to go with a smaller size?
14 foot vs 15 foot trampoline – 14 ft round trampoline has around 133 sq. ft of overall jumping area, while on 15 ft trampolines this goes up to 154+ sq ft. The biggest difference here is not only in spring count but also in spring length. As ones responsible for bounce quality and height, if it matters to you, then always aim for a trampoline with longer springs (at least 8″+). Of course, some 14 ft and 15 ft trampolines share same springs, and this is exactly the case in Skytric 15ft and Upper Bounce 14ft trampoline (sister brands).
Skytric trampoline is available in a few other size options – 8/11/13 ft. Unfortunately, we haven't tested those, so it's impossible for us to judge quality.
Mat & Bounce
The mat is made of very durable polypropylene mesh material with 8 rows of stitching. This is a very strong mat and we cannot really imagine a scenario in which it would tear. It is very responsive and the energy transfer is great. We felt as if we were jumping a bit higher on this trampoline with less effort than with the competitors. The total usable jumping surface is 13.3 ft.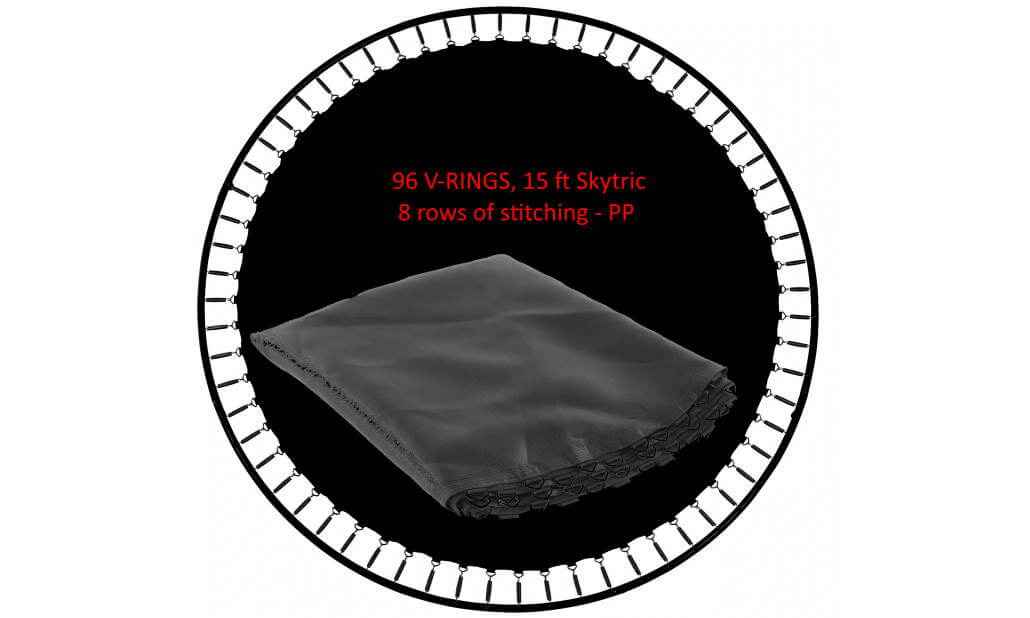 As specified before, there are 96 (7.5 inches long) springs, which is an average number on 15 ft trampolines. Adequate safety pads cover the springs – the protective foam is 1 inch thick and is enclosed in PVC and PE material (450g PVC on top, 310g PE on bottom totaling 1′ foam thickness EPE). It will absorb the forces from any accidentally missed landings and other mishaps.
Assembly & Warranty
The trampoline comes with all the necessary tools (a screwdriver and T-hook (spring tool), as well as the instruction booklet) and parts needed for self-assembly, but bear in mind that considering the size you might want to ask a friend or a family member for an extra pair of hands to aid you. The upper parts on the trampoline do not require screws or tools for assembly. Assembly manual also available here.
Regarding the warranty, there have been cases of customers having to ship back the entire trampoline in lieu of receiving a broken spare part… While we hope nothing will go wrong (and it certainly does not seem likely, as the trampoline is well-made), it's good to know that you might encounter a few issues with the customer service. We hope problems like that won`t occur anymore as Upper Bounce is a respectable manufacturer and can`t afford that kind of incident.
---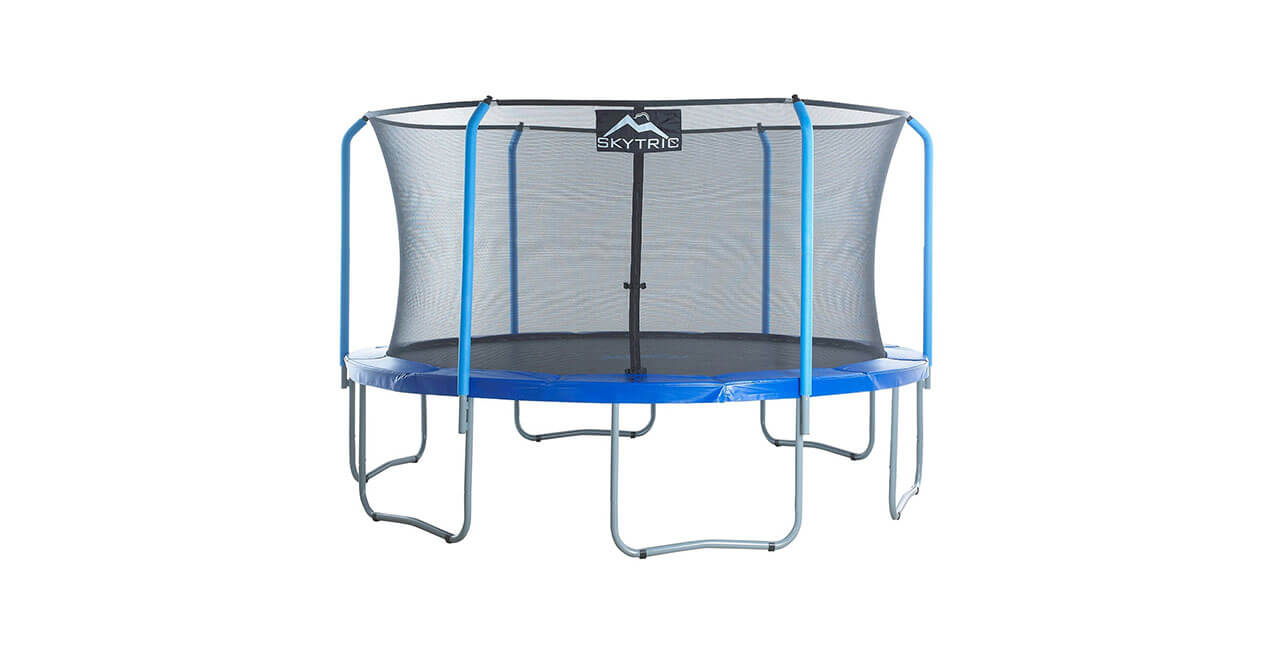 Skytric 15ft Trampoline with Enclosure
We are confident to say that the Skytric Trampoline is a good product. The bounce is great and it looks really good, too. The enclosure and the accompanying net provide good safety and all the parts are made of high-quality materials, with durability in mind. That said, the trampoline is a tad pricey and there have been issues with the warranty service. Still, because of the quality it looks like a good buy – it's well-made, easy to assemble (this is a significant factor with trampolines this big) and very fun to bounce in. Overall, we fell you cannot go wrong if you purchase this model.
PROS
Very safe enclosure
Mat is fantastic
CONS
Frame could be a bit better
Springs are good, but we expected more of them on 15ft model
---
You May Be Interested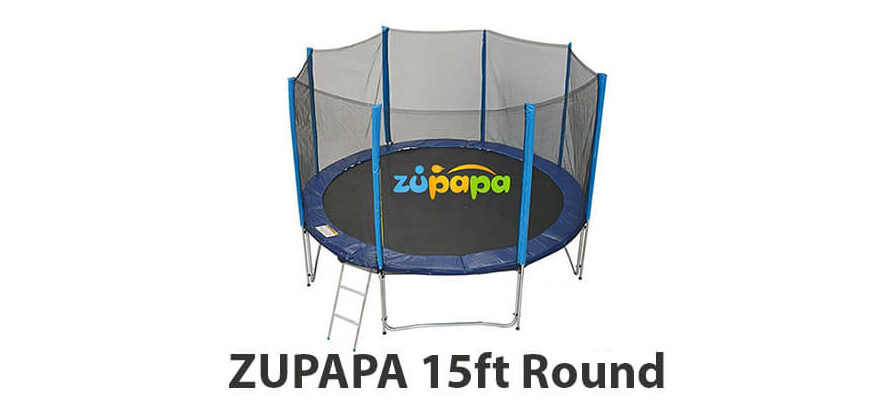 Zupapa is an unknown player in the world of trampolines. But unknown doesn't mean bad – it can mean great value for a modest price. Is this the case here? Well, you know what to do…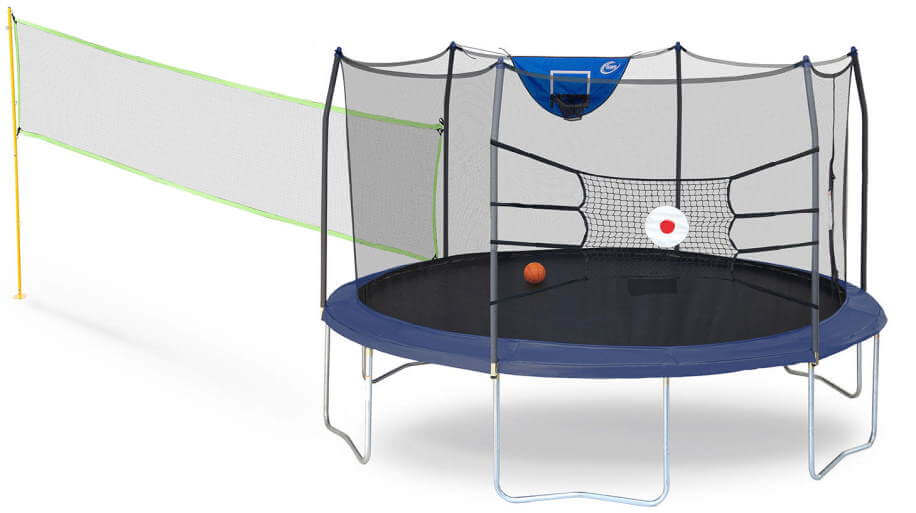 Skywalker 15ft "Jump N' Dunk" Round Trampoline Review This time we got our hands on one trampoline from which we…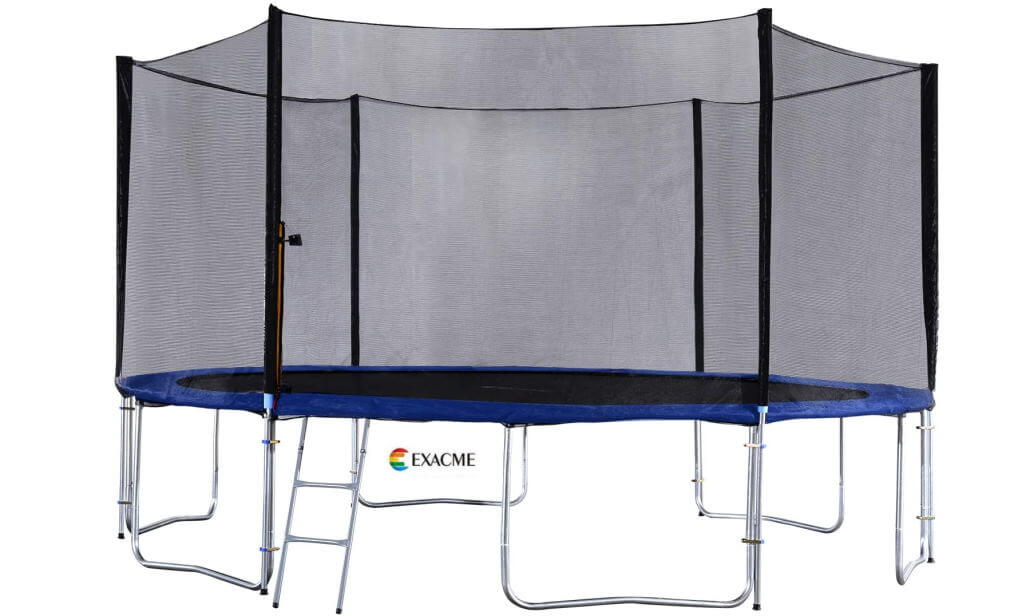 ExacMe 15 ft Trampoline T-series, trampoline with a crazy weight limit, low price, and great reviews, and probably one of the best deals you might get. Below average price coupled with a lot of free extras, create that sweet spot when it comes to trampolines. Are there any hidden surprises? Read our review about the 15 ft ExacMe trampoline!