Do You Need a Trampoline Tent? Find out here…
Like other important trampoline accessories – covers, enclosures, ladders, snag bags, trampoline bounce boards, and others needed to make the trampoline whole, the trampoline tent is one major accessory also needed. For those who do not know that a trampoline tent is, trampoline tents are mostly made in form of tents to cover the trampoline and ensure several things – that no one falls from the side of the trampoline when jumping or bouncing and protecting the trampoline from rain and protecting your kids from the sun.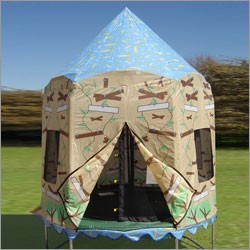 Using the trampoline can be great fun for everyone, but only until starts to rain…
Using the trampoline has the major benefit of ensuring that everyone on the trampoline is safe. There are many types of trampoline tents on the market today made in different sizes, shapes, designs, colors, and also features to meet every age or gender need. But the biggest selection of trampoline tents is in sizes of 12ft or 14ft. They may either come with a screen or zippered doors which helps to easily enter and come out.
Some are being used as a protective cover and some are used to make a fairyland for your kid inside the trampoline. You do not need to have all the money in the world to be able to have fun with your family since trampoline tents can assure that you and your entire family have fun on a regular basis which means saving you huge sums of monies for going out to the part and buying ice creams and cookies.
Due to the many trampoline tent manufacturer's on the market, it is very difficult to find the right trampoline tent at the right price but I always advise using online stores to make searching easier and faster. I know many people will be wondering how much it costs to get a trampoline, well depending on where and how you search you can be looking between $50 to $70 or even $130 US Dollars which is worth buying depending on the type of brand you buy and it's quality.
A trampoline tent really is one good piece of trampoline accessories that you should think about if you have a trampoline in your backyard.
Buy trampoline tent for your trampoline