Aqua Sports Island Hopper Turtle Hop 13 ft Inflatable Water Bouncer
This time we are reviewing Turtle Hop round water trampoline, trampoline which everyone will enjoy, young & old, gay or straight – with the same level of exhilaration. Please note that there is a slight difference between bouncers & trampolines, where bouncers most commonly have no springs. Turtle Hop is one of them – Inflatable Water Bouncer! Check the review ahead!
Aqua Sports Island Hopper Turtle Hop is an inflatable water trampoline constructed of sturdy 30 oz. PVC with electronically welded seams. Graphically, it features a turtle look & shape with an independently inflatable chambered head, arms, and feet, which provide a stable platform, where everyone can find the time of pure enjoyment. Overall 7 independent sections will make sure of that…
Weight limit:350 lbs (160kg)
Recommended for:Age 3+ (knowledge of swimming is crucial)
Required Water Depth: 2.8 ft
---
Frame (body):
The complete body is made from 30-gauge PVC and a total of 7 sections – each pumped individually. 9 Swimmer assist handles will make sure that entry onto this trampoline will be child's play.
Featuring "Dual option fill valve", 4 Anchor-tie D-rings for secure mooring, plus 3 step nylon ladder.
Spring type: Springless
This trampoline uses no springs but the mat is electronically welded onto the frame/body. Because this bounciness truly suffers, maybe several points of bungee cords along wide welded seams would be the answer to the problem. But once more, as this trampoline is used mostly as a platform to play and jump into the water, it's just not a big deal.
Mat:
The built-in, springless PP (polypropylene) bouncer surface is a perfect soft platform for kids hopping (a bit less enjoyable than spring-assisted jumping) into the water. The complete size of the jumping surface available for hopping is around 9 ft in diameter.
Assembly:
Assembly other than inflation is unnecessary as Turtle Hop comes fully pre-assembled. Inflated Product Dimensions: 182″ W (leg to finish) X 166″L (head to tail) X 34″H with total diameter of 140″.
Packaging includes a storage bag, repair kit, double action hand pump, three anchor bags, and an instruction manual.
Warranty:
Aqua Sports warranty is 90 days of limited warranty on all parts other than jumping mat, which comes with 1 year of full replacement warranty.
---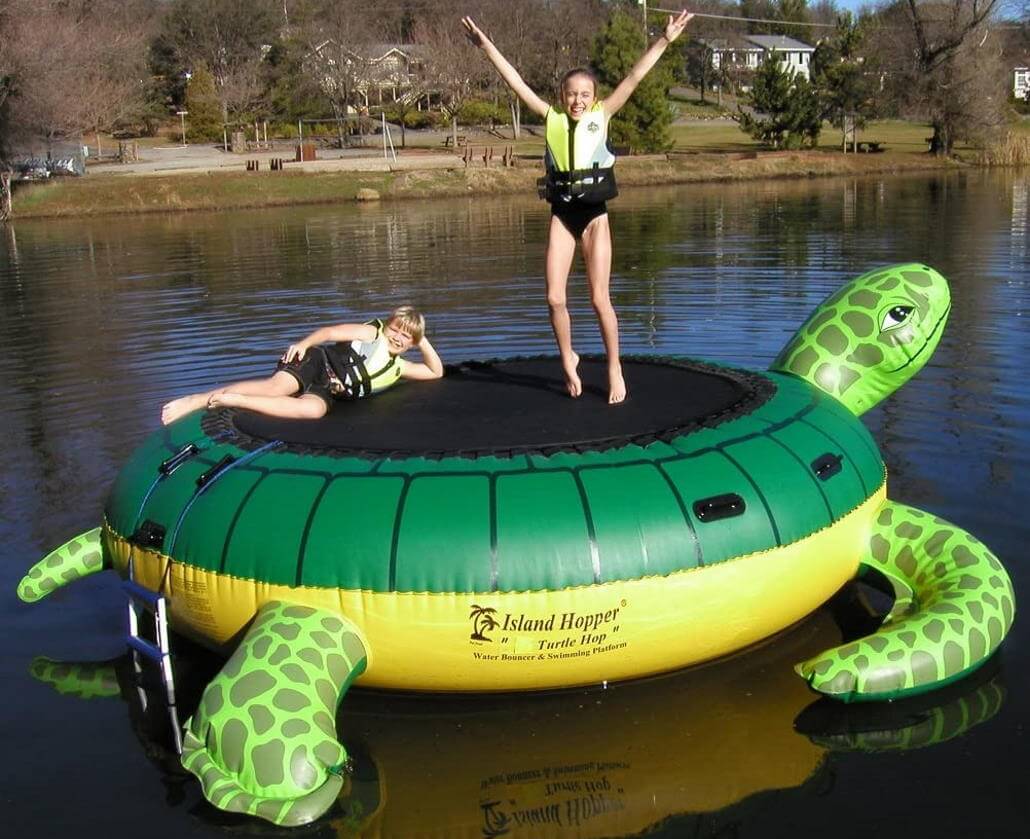 Pros:
Mat Surface Area of 9 ft,
Cheap,
Included extras.
Cons:
Not so bouncy,
Warranty period
---
Note: The Tutle Hop Water Bouncer is not designed for heavy or commercial use.