This time we have exclusive model of 15 ft round trampoline coming from JumpKing, company well known for their brands Bazoongi /JumpPod and Orbounder. With such long reputation in manufacturing of trampolines, we expected nothing less than best American trampoline. Let us see what this JumpKing 15 ft trampoline is capable of…
Weight limit: 200 lbs (90 kg)
Recommended for: Age 10+
---
Review of Bazoongi JumpPod 15 ft Round Trampoline by JumpKing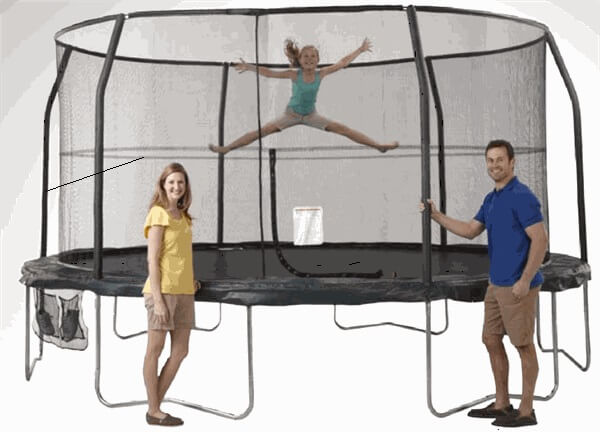 Frame:
Frame is made from standard galvanized steel and it is thick enough to handle force much more greater than stated in specs. There are 6 W-shaped support legs which support all jumpers withing weight limit, and much more… Steel frame is galvanized, meaning it is coated with protective layer of zinc to prevent rust. Also, all joints and connection points are reinforced with POD connectors (JumpKing version of T-connector from Skywalker).
Fact: Trampoline frame is part of trampoline which will last longest
Springs:
Trampoline mat is connected with 84 pieces of 5.5-inch springs, which is below average number for trampoline this size! If there would be 96 springs, and more importantly, if they would be a bit longer, it would guarantee fantastic bounce experience, but unfortunately this is not the case here. Too bad as we rarely stumbled on such a low number of springs on 15ft trampolines.
Mat:
Mat is standard model, made from poly-vinyl
Enclosure:
Enclosure has 8 supporting fiber glass poles which are covered with foam, adding extra protection for safe jumping experience. Entrance to the trampoline is secured with zipper and with buckles. Top of enclosure is reinforced with special top rail system, whichi adds extra sturdiness to the enclosure itself.
---
Warranty
1 year on frame and mat
6 months on trampoline safety pad
90 days on all other parts
Manual: Manual for JumpKing`s Bazoongi JumpPod Trampoline is available here.
Pros
Included shoe bag and spring pull tool
Very good frame
Good enclosure, fiber glass poles give an extra touch to it.
Cons
 Warranty could last more, after all it is a American trampoline
Weight limit a bit to low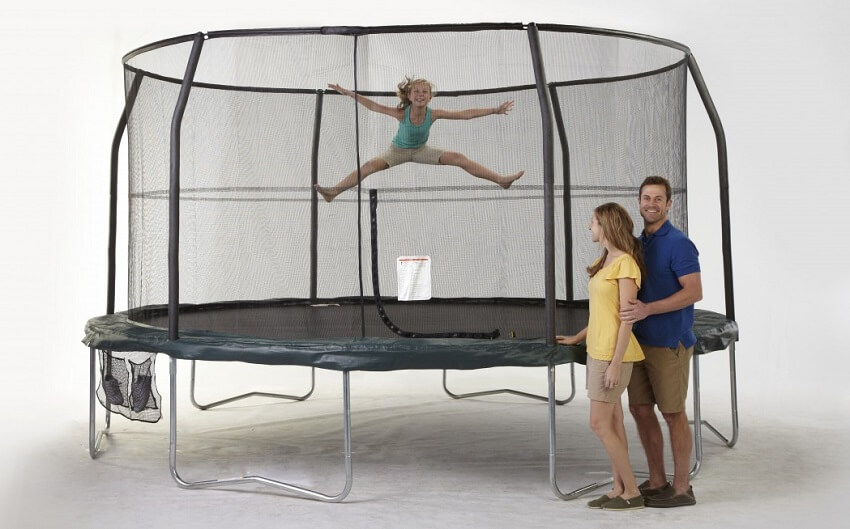 JumpKing JumpPod 15 ft Trampoline and Enclosure
CONS
Springs are quite worthless