ExacMe 16 foot trampoline – Improved version of ExacMe 15ft trampoline or just a bigger brother?
ExacMe 15ft Trampoline, trampoline with crazy weight limit, low price and great reviews just got a bigger brother – ExacMe 16 ft trampoline. So in case 15ft is not enough for just several bucks more you can get even bigger and improved version of ExacMe trampoline. Is it worth of it? Well,  read our review about 16ft ExacMe trampoline and decide for yourself!
Weight limit: 330 lbs (170 kg)
Our Rating:
(4.6 / 5)
Other Reviews of ExacMe Trampolines: 14ft ExacMe trampoline, 15ft ExacMe trampoline
---
About ExacMe 16 foot trampoline:
ExacMe 16-foot trampoline with diameter of 166.9″ (4,24m) and 108 springs for 330 lbs maximum weight limit is very easy to assemble and requires no tools or extra drilling. ExacMe Trampoline can be assembled by two people in less than 2 hours, it meets all GS/TUV/ASTM/EN71/CE quality standards and safety requirements. Full height of assembled trampoline is 37.8-inch (96 cm) while full height with trampoline enclosure  is 108.7-inch (276 cm).
Complete package includes trampoline frame, trampoline safety enclosure, springs, mat,  poles, ladder, clamps and pole pads. It comes with all the hardware needed for DIY assembly.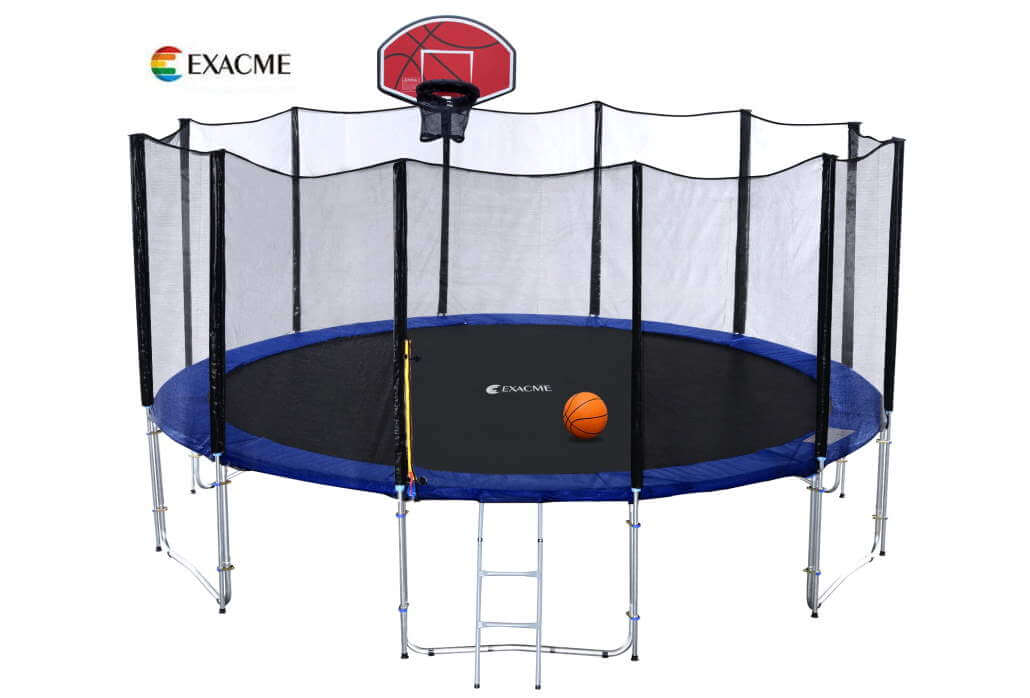 Details:

Rust Resistant Galvanized Steel Frame – Frame has pipe thickness of 0.06″ with full diameter of 166.9″. Frame needs assembly from 12 pieces of steel tubing. Steel is galvanized for extra layer of protection. So do not worry about rust. :)
6 W-Shaped legs with 12 pieces of leg extension tubes – Hot deep galvanized

Trampoline mat from PP (PolyPropylene) – jumping material which is waterproof and highly elastic.
108 pieces of 7″ galvanized Springs – same count of springs as on 15ft version, too bad they didn`t follow industry standards and added few springs more – it could really five a nice boost in bounce.
PVC pad cover in blue color;
Enclosure – PE mesh netting;
Protective foam for the poles;
Frame:
ExacMe 15ft trampoline is made with thick and strong, rust-resistant galvanized steel tubing, which is safer than conventional frame welded trampolines. We guarantee that this frame will be firm and rust-free on any weather conditions. While some may not like it, trampoline frame comes covered with protective layer of grease which you have to clean first. Trust me, if manufacturer ships it with frame protected, it has to be good!
Mat:
Traditionally made from PolyPropylene (PP), which is industry standard for this type of trampoline. PolyPropylene is UV resistant and waterproof so no worries if you don`t have protective cover. Nothing will happen!
Springs:
108 pieces of 7″ springs should provide nice & powerful bounce. Springs are galvanized so need to worry about rust, also, as this are standard dimensions finding replacement springs should be easy. Too bad there isn`t a bit more of them…
Padding:
1-inch thick blue padding should suffice for everyday activities without risk of injury. Trampoline pad is made from PE+PVC material which is waterproof and UV resistant. Pad is filled with protective foam.
Enclosure:
PE mesh netting with zipper lock and straps and ropes for connections to trampoline frame.
Assembly manual for ExacMe 16ft Trampoline can be downloaded here.
Not interested? Read other reviews of best trampolines for Season 2016.!