Trampolines and Mini Trampolines in Ireland
---
When it comes to buying a trampoline in the Ireland, then you are quite limited with options. UK in general has dozen of superb manufacturers which make fantastic trampolines and dependent accessories but not all of them are shipping to Ireland. Domestic manufacturers? You wish.
As most people still buy trampolines at sporing goods stores or shopping malls, they do not realize that choice online is way broader and chances of getting fantastic deals are being multiplied.
At ProTrampolines Ireland, we will try and do our best in giving you honest reviews and directions about trampolines, making sure that only best & safest trampolines reach your doorstep, minimizing a chance of making poor decisions. Have in mind that we will mostly concentrate our reviews on mini trampolines and rebounders, but some outdoor trampolines shall be included as well.
How to choose best trampoline based on your needs?
Most important thing to think about is age and weight of the jumper, then planned activities (is it for recreational purposes or for gymnast training?), and last amount of cash you are willing to spend.
Regarding age and weight, have in mind that larger is not better, at least not about trampolines. Smaller trampolines will give more control to lighter jumpers, with bounce not as high, but as a starting point in term of trampoline training, much better than larger ones. Yes, larger trampolines will give you high bounce, but to accomplish that you need to have enough weight to make some pressure onto springs. Without enough weight, springs won`t even matter….
When it comes to planned activities, you will find out that shapes itself dictate what is and what is not possible to do on trampoline, at least to some extent. If you are buying trampoline for a toddler to do some exercise, then go for a round trampoline, and if you need a trampoline for a gymnast or semi-gymnast then always choose rectangular versions. More about that below, in the "shapes" paragraph.
SHAPES
When it comes to shapes, there are several main ones where each of them brings various advantages over another:
Round Trampolines
With usual size from 6 – 16 ft, round trampolines are most common trampolines found today. They are also referred as recreational trampolines. Jumping on round trampolines does not require prior experience, due to a fact that wherever on jumping mat you land, you will be slightly directed towards center of the trampoline.
Rectangle Trampolines
Rectangular trampolines are closest thing to professional trampolines. Of course, they can`t even compare to 10 times more expensive bigger brothers but features, together with bounciness and size is most comparable.
Square Trampolines
Square trampolines are often good choice if you know why you need trampoline. As it combines all the good things from both worlds (round & rectangular), and without most weaknesses, people really love them but their price is mostly a factor why they avoid them..
About the good things…square trampolines will give you bounciness better than found on round trampolines but then again not as good as on rectangular versions. This is mostly because springs on square are in the similar pattern as n rectangle, providing you with higher bounce and better response. If you need good bouncy trampoline for kids & teenagers then square trampolines are way to go.
Oval Trampolines
Usually some of the biggest trampolines on the market, or at least when it comes to available jumping area. It`s unique size makes it great when multiple children use a trampoline and when trampoline games are played. Trampoline games? Check biggest list here.
Octagonal Trampolines
It`s shape makes it really unique and eye-catching, as having one of those will grab anyone`s attention. Also, quality of bounce is much closer to rectangular trampolines, making it much more superior than round trampolines. When compared to rectangular then bounce is still better on rectangle but safety, especially for beginners, lies on octagonal`s side.
Mini Trampolines
Mini trampolines, also called rebound trampolines (rebounders), are best solution if you want some exercise but don't have time to visit the gym or go out for a quick jog. If the weather conditions are bad (Met Éireann 😊) or the kids have to get some of their energy out, a mini trampoline will prove itself more than useful.
Having a mini trampoline is a fun and quick method to exercise your way to a healthy body. It is fun, but it will also burn over 400 calories per hour, to say at least. Regular aerobic exercise on rebounders and mini trampolines can enhance your overall fitness level, improve your cardiovascular health and strengthen the muscles you use during the workout. It would also improve your motor skills, along with your sense of balance, it will help you to get rid of negative energy, stress, and last but not least, it will strengthen your body and your muscles.
And the best part of it is that you can do it in your backyard or in privacy of your home, whenever you like and want to, all for low cost.
---
---
Top Rated Mini Trampolines | Rebounders
This is a selection of TOP 3 mini trampolines and rebounders available in Ireland,  which we have tested and rated. As we will review more and more trampolines this list will probably change, so make sure to come back and check if there are any surprises on the list. Also, make sure to check  more extended list – Best mini trampolines and rebounders.

 Top Rated Outdoor Trampolines
Airmaster 14 ft "Mega Bounce" round trampoline – 4.26m
Weight limit: 125 kg single user /180 kg combined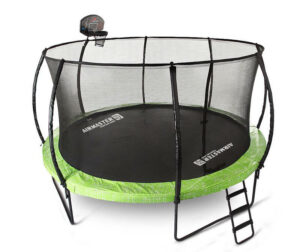 Rating:
(4.7 / 5)
Recommended for: Age 8 – 18
Airmaster is well known global trampoline manufacturer whose trampolines were always at the top of the game.
Their latest, 2014. version of trampoline is one of the coolest trampolines you can purchase for the money, and thankfully, is not all about the looks. Their newest Airmaster "The Bounce" series offers wide span of sizes, from 8 ft – 14 foot, providing you with option to choose based on your needs.
Airmaster 14 ft trampoline brings huge number of safety measures, from combining zip locks and clips for the entrance, ensuring that all openings will be tightly sealed all the way to connecting safety enclosure directly to the mat. That`s not all, as enclosure pads are curved, a change that resulted not only in an increased safety but also provides much more jumping space.
The only thing that really bothers us on this trampoline is number of support legs, as on trampoline that big stability is crucial. But honestly, 4 legs do the job nicely and trampoline is surprisingly sturdy.
Airmaster trampoline specifications:
Frame: made from galvanized steel,  42 x 1.5 mm thick gauge, black powder coated, connected with "T-Master Lock" push & click system. Frame connects to 4 support legs. Frame height is 80 cm from the ground.
Springs: 88 pieces of coated springs 194 mm long.
Mat: PP (Polypropylene) Mat (Made in USA)
Enclosure: Fantastic enclosure with 8 curved support poles. On top enclosure is reinforced with fiber rail, which improves stability of net itself.

Trampoline pads: 0.55mm PVC covers, 10mm inner foam
Additionally, included in the price are flat-step ladder, weather cover and basketball hoop, £109.00 in value.  By choosing a "Value" or "Premium" edition of Airmaster trampoline, depending on your choice, you can get "Mathmania", game which helps children to develop balance and memory skills.
Buy now or check latest price!
---
We R Sports 12 ft. (3.66 m) round trampoline
Weight limit: 120 kg single person, 180 kg combined.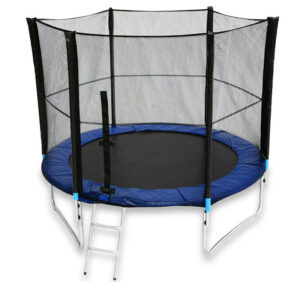 Recommended for: Age 8  – 15

This modestly priced trampoline has a lot to offer and doesn't seem shoddily built at all.
It comes with an enclosure, which is an industry standard, but also has a nifty ladder that lets you climb up and down the trampoline easily. Mind you, it's not the best ladder there is, but it does the job.
Same goes for the enclosure – it's not half bad, but we've seen more innovative designs. It's nothing to hold against this trampoline, though. It does have a degree of resistance to elements, as the mat is UV resistant and the foam won't absorb moisture. The trampoline has all the relevant safety certificates and sports a weight maximum of 180 kilograms. This is a very good result, way above comparable trampolines of this price range. It's very bouncy, so it holds up well in this category too.
The instructions could be clearer (this is a massive understatement). Expect to do a bit of handiwork to make everything fit together, and some parts are built to very tolerant… tolerances. Anyhow, we were able to set it all up and it's all smooth sailing from then onwards. You also get a rain cover and this really sweetens the deal – it's excellent value.
Specifications:
Frame: Frame is made from double galvanized (inside&outside) steel, 38 x 1.3mm thick, connected to 4 U shaped support legs. Total height of frame from the ground is 80cm

Springs: 72 galvanized springs

Mat: Black Permatron jumping mat, UV resistant. Permatron is considered one of the best jumping mats you can currently find on recreational trampolines.

Enclosure: UV resistant netting with 16 poles

Trampoline pad: Pad made from 12 mm thick closed cell foam with PVC outer coating, so you don`t have to worry that will absorb water or lose shape.

Other: TUV, GS, EN-71, CE Approved
---
Jump Star 14 foot round trampoline – 4.26m
Recommended for: Age 8 – 15

This trampoline is probably one of the easiest to assemble as it will take around 1 hour to finish it. Instructions are not the best but everything is pretty straight-forward, so no worries there. Regarding sturdiness, Jump Star trampoline feels like it has much more support legs, as balance this trampoline achieves, even when jumping directly on the netting, is truly remarkable. Jump Star is made from fantastic materials, and for that price range it really surprised us. Probably best-buy trampoline on the UK market today.
Specifications:
Frame: Total diameter of 426 cm (measured from outer side of the metal frame), Frame is made from 1.5mm thick galvanized steel, connected to 4 support legs and it`s height from the ground is 89cm which is pretty high, so great thing is that trampoline ladder is included in the set.

Springs: Made from galvanized steel, 88 pieces of 180mm springs.

Mat: UV resistant, 3 time woven with 6 rows of stitching.

Enclosure: Included in the set, made from UV resistant polypropylene mesh net with Velcro lock entrance.

Trampoline pad: Available in two colors, blue and green, foam with PVC coating.

Other: Free ladder, shoe bag and rain cover.
Buy now or check latest price!
---
Plum "Magnitude" 14 foot round trampoline – 4.26m
Weight limit: 125 kg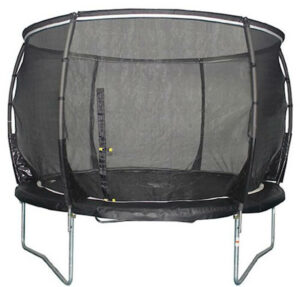 (20 stone)

Recommended for: Age 6 – 15

Plum Magnitude Trampoline features exceptionally innovative bubble shaped design where poles are curved to the outside providing jumpers with massive jumping area. This patented trampoline enclosure, called 3G (why not LTE? :)) separates frame and springs from jumping mat, making it very safe for anyone using it. IF 14ft is too big, do not worry as Plum Magnitude is available in five sizes.
Specifications:
Frame: Galvanized 1.5mm thick steel frame with 4 W shaped support legs, secured with push-button locking system. Total height of frame from ground is 89cm so buying ladder is advised if smaller children will be using it.  Total diameter of Plum trampoline is 426cm.

Springs: 80 zinc-coated steel springs

Mat: Permatron mat,

Enclosure: Plum 3G Enclosure with it`s curved design maximizes jumping space but in same time protects jumpers from jumping onto springs. Enclosure is fitted with an all-black netting that includes a top rim to ensure maximum stability, even when jumpers land onto it.

Trampoline pad: 20mm thick foam enclosed in PVC.

Other: Comes with spring loading tool
Assembled size:  L4.26 x W4.26 x H2.50m
Buy now or check latest price!