Mini Trampolines – While they might appear as toys, they are one excellent piece of exercise equipment. Mini trampolines, also called rebound trampolines (rebounder), are best solution if you want some exercise but don't have time to visit the gym or go out for a quick jog. If the weather conditions are bad or the kids have to get some of their energy out, a mini trampoline will prove itself more than useful. Having it is a fun and quick method to exercise your way to a healthy body. A bit of jumping and you'll have a perfect sense of satisfaction, along side with a lightweight and movable body. Trust me, as trampoline based exercises are consider "cellular workout" which moves complete body, every single cell. And now check mini trampoline reviews!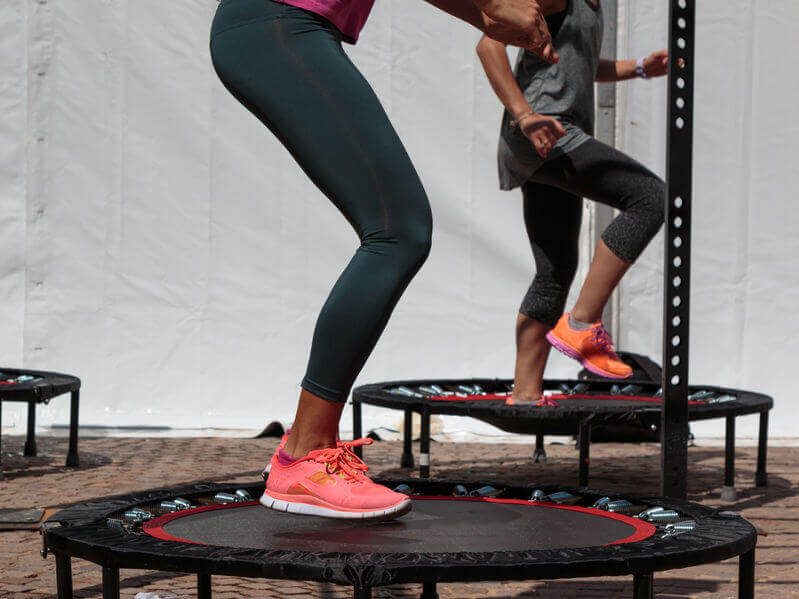 "Mini trampolines" or "Rebound trampolines" are nothing new, as they have been around for 50 years (constructed in 1970, during the massive popularity increase of jogging), and can be used by youth & adults alike. Trampolining, as jumping on mini trampoline, or as addition to any game your kids and you might play, will always get a smile on your face, as you will probably remember your fun time as a kid. If you are a kid now – remember these moments!
---
Best Mini Trampoline Reviews

Stamina InTone is great looking exercise trampoline that will not let you down. Steel legs and oval jumping surface gives you comfortable bounce while blue pad corner keeps you on the center of trampoline.
But best things about this trampoline are it`s accessories, included in package and all for this remarkable price. With this purchase you will receive trampoline workout DVD set with starter exercises made by fitness expert Mia Finnegan, motivational electronic fitness monitor which tracks total workout time, total number of jumps, number of burned calories, jumps per minute etc. And no, it ain't all, as you will get handle bar together with bungee style resistance cords, so you easily increase muscle tone and strengthen your upper body, all while increasing overall cardio workout efficiency.
Stamina Intone jogger is quite sturdy little fitness trampoline, very easy to assemble. Even though Stamina InTone is foldable, it is best to have help from additional pair of hands – it`s because springs cause a bit of tension while folding it so to avoid risk of injuries – ask someone for help, but only few first times, as it will get easier.
We need to recommend this trampoline as it comes with unbelievable price, basically accessories that come with are worth that much!
Weight limit: 250 lbs.
Rating:
(4.2 / 5)

Stamina InTone Detailed Review Check latest price on Amazon
---
What this trampoline doesn't have in terms of flair and style, it more than makes up for it in terms of sheer affordability and usefulness. It's a basic 36-incher with 30 bungee cords that work fine for most kinds of exercise. For stability and noise reduction you get rubber pads for each of its six legs.
You don't get much in the way of additional equipment, but for affordable price – less than just a handle bar on other mini trampolines – so you really shouldn't complain about it.
It's a light, nifty, quarter-folding trampoline that we recommend to most hesitant fitness trampoline first-timers.
There's always time to upgrade to something better, but for starters this is more than adequate with its 250 lbs weight limit, hassle-free assembly and a workable warranty of 3 months. It's a true value offer, and it doesn't surprise us that it's among the best-selling fitness trampolines around.
For only few $ you get Amazon`s most sold mini trampoline! Stamina 36″ is made from good quality and bouncy mat connected to steel legs through elastic bands. Bands are very sturdy so don`t think you can brake them easily.
Several days of workout during the week and you will love this mini trampoline. Regarding possibility of folding it, it is possible but it is advisable to have additional help while doing it.
Weight limit: 250 lbs.

Rating:
(3.6 / 5)
Stamina 36″ Detailed Review Check latest price on Amazon
---
Sunny Health 3.3 feet (40″) Foldable Trampoline with Bar
Sunny Health mini trampoline is entry model ideal if you are new to the concept of rebounding. Trampoline itself is actually good looking, giving impression of more expensive rebounder.
Stability of this rebounder is secured by six pieces of 1″ thick steel legs on heavy-duty steel frame and stability of jumper is secured by adjustable stability bar. Nice addition if you aren`t used to rebounders.
Assembled dimensions are 41″ in diameter (jumping area 29″) and total height of trampoline with bar is 55″.
Padding is pretty thin, but will not be a problem as this trampoline has serious jumping area featuring decent quality PE mat.
And now what we didn't like: Springs. There are 32 metal springs but be alarmed as there were multiple reports on springs breaking during exercise. As you will have warranty for 30 days you will have time to have them replaced (Call Sunny Health & Fitness in CA (626) 968-1000.)
Because of the price, overall quality of trampoline is satisfying. If you get good deal, go with it.

Weight limit: 250 lbs. (115 kg)

Rating:
(3.9 / 5)
---
Jumping on this mini trampoline will make your all 638 muscles of your body must flex, with all muscles exercising! Rebounding is not only proven to be more effective than jogging, it has proven scientific benefits on your body.
JumpSport rebounder offers elegant look with black frame and 6 arching steel legs and make very stable platform. Jumping mat has nice 37″ mat diameter framed by 6″ wide trampoline pad. This model offers great, smooth bounce all thanks to JumpSport "EnduroLast 2″ elastic cords acting as springs. With this elastic bungee cords and great quality mat rebounding will be several times more enjoyable than on standard spring-ed mini trampolines. And to help you start, it comes with Basic Workout DVD.
Regarding quality, this trampoline is tested and certified to over 2 million bounces, so if anyone is up to the task now you know what to buy. Great rebounder well worth of money.
Weight limit: 250 lbs. (115kg)
Rating:
(4.8 / 5)

JumpSport 250 Detailed ReviewCheck latest price on Amazon
---
Stamina 3.2 feet (38″) InTone Rebounder
Stamina 38 inch trampoline is one good looking rebounder. And if this is not enough, it provides you with nice and soft bounce perfect for starter exercise sessions.
Stamina 38-inch InTone Rebounder doesn't come with stabilizing bar but has a decent replacement – resistance tubes for for upper body workout and fitness monitor which will automatically track complete session.
Complete assembled size is 38″ wide and 9″ in height. Padding is not too thick but as there are no steel springs this is just fine. Elastic bands acting as springs are responsible for soft bounce.
Weight limit: 250 lbs. (115kg)
Rating:
(4.3 / 5)

---
For those looking for something upscale to exercise on, the 40 inch MaXimus Pro could be the answer. It looks promising, but is it good enough to get our seal of approval? There's only one way to find out…
Maximus Pro is an originally British brand that has sold well there. It's an upper class trampoline aiming to provide good quality at a fair price.
Like many of its competitors, its primarily black looks are nothing to write home about, but it all looks polished. The silver frame and its six legs perk up the looks a bit.
The mat is anti-slip, double cross-stitched and the frame can take up to 300 lbs., which is impressive for a 40 inch rebounder. Curiously, this trampoline does not use bungee cords, but opts for large springs instead (36 to be more precise). That's good for durability, and the bounce is somewhat better too. Don't get too carried away though: they are adjusted for exercise, so the bounce isn't high.
You'll have to learn to live with the squeaking or apply some grease to the springs. You get a small tub in the package.
The trampoline is quarter foldable and comes with a complimentary carry bag. Carrying and folding it is a chore though, as its 25 lbs. of weight don't lend itself well to hassle-free transport.
But that's not all – You get a handle bar, set 36 inches high, which is useful for certain exercises. Unfortunately, the handlebar is not height adjustable. A DVD is also included with a few exercise programs. You can use it for a few hours if you're new to rebounding. We haven't even touched upon the resistance bands and sand weights.
The trampoline arrived well-packaged and required minimal effort to set up, as it was pre-assembled. Still, during the first few tries opening and closing the trampoline will take a lot of effort.
All in all, this trampoline is not the cheapest, but offers phenomenal value with plenty of add-ons that make or break your rebounding experience. It is reasonably well-built and the warranty – 6 month on the spring cover and 12 months on other parts – is a nice addition to an already enticing package
Weight limit: 300 lbs (130kg)

Our Rating:
(4.4 / 5)

---
Pure Fun 40″ Mini Trampoline with Rail
Pure Fun is very cheap workout trampoline which would be perfect for lightweight users. Even though manufacturer clearly tagged this mini trampoline with 250 lbs weight limit,  most adult users after several months report that welding which holds legs broke, making it useless.
As there is 90 days warranty on this product it can easily be replaced by manufacturer. Also, there are some indications that problems have been fixed by using thicker steel frame and  redesigning leg holders by adding few additional welds.
Overall weight of assembled product is 20 lbs (9kg).
If primary users of this trampoline would be children then expect no issues what so ever. As this mini trampoline comes with adjustable hand rail, it can be used even by toddlers.
Recommended for children and lightweight adults.
Weight limit: 250 lbs (115kg)

Rating:
(4.0 / 5)

---
JumpSport 350 is a non-folding rebounder designed for eager home users or as exercise equipment in gyms and fitness classes.
Full size of JumpSport 350 rebound trampoline is 39″ in diameter, with 33.5″ of usable jumping area.
It is made from heavy duty 16 gauge steel frame and arching grey legs, equiped with 30 "EnduroLast3" elastic cords acting as springs which were tested for 4 million jumps. Probably enough :)
Thanks to Permatron mat bounce on this trampoline is fantastic. Silent, easy and remarkably endurant. Whole trampoline is covered with lifetime warranty on frame & legs, 5 years on jumping mat, 3 years on spring cords and 1 year for padding. In case warrant period passed you can easily replace anything you might need,  as replacement parts are accessible from JumpSport.
Model 350 comes with Workout DVD which includes exercises intended for beginner, intermediate and advance users, so you can easy start you exercise routines.
Overall, this is fantastic rebounder which will serve you for years, but it comes with a price.
Weight limit: 250 lbs (115kg)

Rating:
(4.7 / 5)

JumpSport Model 350 Detailed Review Check latest price on Amazon
---
ACON Air 1.8 Fitness Mini Trampoline 6′
ACON Fitness Trampoline comes in a very interesting size of 6ft. or 1.8 metres, which is a pretty large when compared to similar products. Because of that, it's very versatile and can be used as small standard trampoline or rebounder for any kind of workout. Also, if you were thinking in placing it inside the house, so kids would have place to burn their excess energy then this is your choice #1.
Mat: The phenomenal mat is six times cross-sewn and made of polypropylene. It's, of course, UV resistant. The frame is also heavy duty and galvanized. The trampoline can be left outside without any problems, but due to its size, indoor use is also possible.
Springs: 48 heavy gauge springs, 7 inches long with preload of 39N, give out a firm, responsive bounce.
Padding: For safety against accidentally stepping onto springs, there is 1.2in thick dark green rubber pad.
We liked the fact that both kids and adults can bounce on this without any issues, as a total of 220lbs. maximum single user weight restriction inspires confidence.
We didn't like the fact that an enclosure doesn't come with the trampoline. We understand the manufacturer's decision not to place enclosure on it, as the trampoline isn't that big and the enclosure would look a bit silly and likely make it unsuitable for indoor use, but it would make the trampoline safer, especially if there would be younger kids involved.  If you like trampolines that are "just right" – not too big and not too small, this one definitely provides that Goldilocks effect. Its weight of 66 lbs means it's easy to move around and its attractive price considering its quality makes it a great choice.
Overall, this is a sturdy and a very versatile trampoline that we can recommend.
Weight limit: 220 lbs (100 kg)

Rating:
(4.5 / 5)
---
FIT BOUNCE PRO II Rebounder
Changes from the previous model are mostly cosmetic in nature; if it ain't broken, don't fix it, as they say. And there was no need to change much, as the underlying product wasn't behind in quality compared to its competitors.
The trampoline is very sturdy for such a small (40 inch) rebounder, with a humongous 300 lbs. weight limit. That's some thick steel they put there in order to withstand those forces.
What's more, the trampoline folds in half and its six legs are removable. It will take two people to do it safely, though. It folds only halfway, like a taco, so it won't get as small as quarter-folding trampolines, but it's good enough for occasional transport. You wouldn't really want to fold and unfold it every day, though: its folded state is mainly engineered for safe and easy storage.
Design. When it comes to looks, it's quite a looker with its semi-transparent spring skirt with orange details. The bungee cords are in plain sight, giving it a futuristic look. Sadly, this is detrimental to overall safety of the rebounder, as it's possible that limbs get tangled in between the cords. The cords are very soft, though, but we wouldn't want to risk it.
The bounce is very quiet, almost silent, while being smooth and resilient at the same time. Two extra bungee cords are provided if the current ones get snapped or worn out. There are 30 springs in total.
Its six legs are spring-based with a clip-in design, meaning no screwing is required.
The trampoline comes with a nifty storage bag, an exercise DVD, and a pedometer. The handle bar is sold separately. The pedometer (bounce counter) is a nice addition that lets you track your exercise progress. You also get a free music download letting you get 60 minutes of workout music and three months of free online video membership to their 'Bounce and Burn' streaming service.
The customer service is very helpful and they are glad to answer any queries. The well-designed manual makes assembly a breeze. Spare parts are available from the manufacturer. The warranty is excellent – lifetime warranty on the frame and three years on the rest! Additionally, the customer service is very helpful and forthcoming.
Weight limit: 300 lbs (135 kg)

Rating:
(4.5 / 5)

Check latest price of Fir Bounce Pro II on Amazon
---
Upper Bounce 48″ Mini Trampoline with Handrail
Upper Bounce is foldable with 8 leg base which increases stability. It comes with adjustable handle bar which can be adjusted in 5 different heights so can be used by kids or adults of different heights.
Frame and springs are made of steel so they give pretty high bounce. Warranty on all parts is 1 year and can be returned during 90-days period.
Overall this is good trampoline on which we don`t have any special complaints except 200 lbs weight limit making it ideal only for children and lightweight users.
Weight limit: 200 lbs (90kg)

Rating:
(4.2 / 5)

---
Crescendo 36″ Mini Trampoline
Crescendo 36inch is one trampoline which can be assembled in 2 minutes. Only thing to do is to screw-on legs and you are ready to go.
It features five steel legs with rubber feet. Mat is firm and not quite responsive as on other trampolines, partly because low quality springs that this trampoline uses.
Overall weight of this trampoline is 15.5 lbs (7kg) and can easily be moved around the house or apartment. Crescendo trampoline comes with a illustrations of basic exercises you can perform while exercising.
Overall, this is trampoline which you should not buy as quality of springs and V-rings is questionable. Good but not good enough.
Weight limit: 220 lbs (100kg)

Rating:
(3.4 / 5)

---
How to maximize "weight loss" on fitness trampolines?
The most popular exercises on small trampolines are closely related to Yoga and Pilates. However when you get into a workout you are bound to build more cardio strength compared to Yoga; where you gain flexibility, core strength, and balance.
With mini trampoline workout, you`ll build not only your muscles but will also gain more stamina and more flexibility than with jogging. With regular exercise, you are able to boost your energy and improve your general health. Overall, it's a great piece of workout equipment that can help you accomplish your fitness goals while providing a fun way to exercise, play indoors and get fit, and all while watching TV or listening to your favorite music.
Formaximum calorie burn we recommend this exercise:
1. Always warm-up – start your training with decent stretching to avoid injuries. Start with jumping jacks and switch into high-knee running.
2. Core workout: "Power Bounce" – while sitting down on trampoline jump to standing position as soon as you can.
3. Workout for legs: Lateral Plyo Jumps – Stand on one foot on one side of mat. Try to quickly hop to the other side of trampoline and land onto opposite foot. Do this for 30 seconds with 3 repeats. Take a 10 second break between sessions.
4. Upper-body workout: Planks & Pushups – Start exercise in plank position with your arms in the middle of trampoline then transition to your hands. Do a pushup and return to your forearms for another plank. Do this for 30 seconds with 10 seconds break between sessions. Make sure that your abs are engaged entire time.
---
 Haven`t found what you were looking for? Then check all of our trampoline reviews!
---