Fit Bounce Pro II Rebounder Review
 The Fit Bounce Pro II mini trampolines are imported into the US by Rebound UK, a reputable company. We were therefore expecting a good quality rebounder, and we weren't disappointed.
Weight limit: 300 lbs.
Our Rating:
(4.5 / 5)
Recommended for: Everyone looking for gym-grade workout rebounder.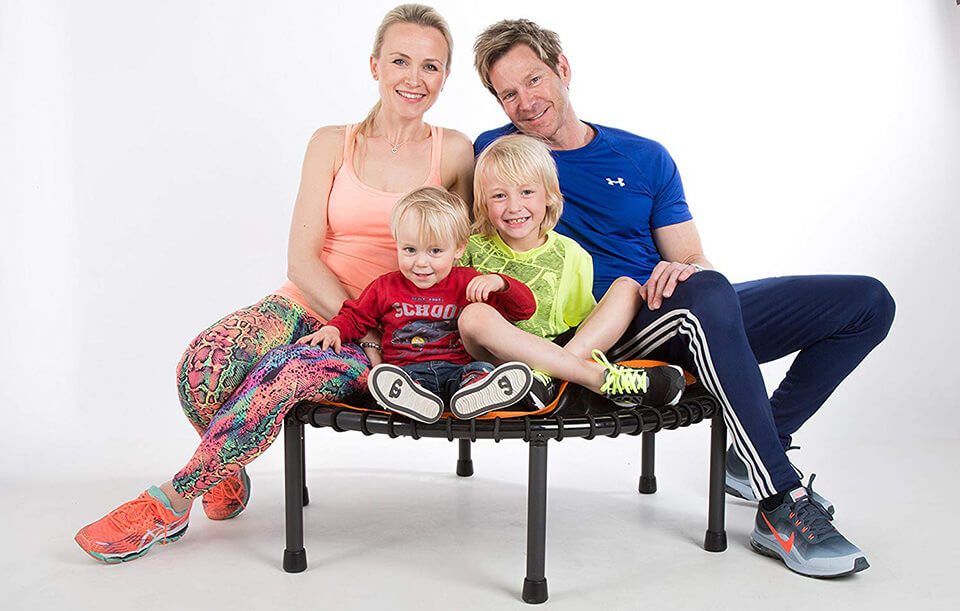 ---

FIT BOUNCE PRO II Rebounder
Changes from the previous model are mostly cosmetic, and there was no need to change a lot, as the underlying product wasn't behind in quality or design compared  when to it`s direct competitors.
Fit Bounce Pro II rebounder is very sturdy for 40 inch mini trampoline, and as you would expect , it can handle jumpers up to 300 lbs.
Rebounder can be folded in half and all of the legs are easily removable. It will take two people to do it safely, as this really is not an easy process to do alone, so it is not a rebounder which you would fold daily, on when rebounder season ends. Fit Bounce Pro II folds only halfway, like a taco, so it won't get as small as quarter-folding trampolines, but it's good enough for occasional transport.
Design. When it comes to looks, it's quite a looker with its semi-transparent spring skirt with orange details.
The bungee cords are in plain sight, giving it a futuristic look. Sadly, this is detrimental to overall safety of the rebounder, as it's possible that limbs get tangled in between the cords. It is very unlikely but there is always a chance…minus points added. Bungee cords are very soft, though, but we wouldn't want to risk it, especially not bare-footed, so at least try to use socks, it will somewhat protect your fingers and nails.
The bounce is very quiet, almost silent, while being smooth and resilient at the same time. Two extra bungee cords are provided if the current ones get snapped or worn out. There are 30 springs in total.
Its six legs are spring-based with a clip-in design, meaning no screwing is required.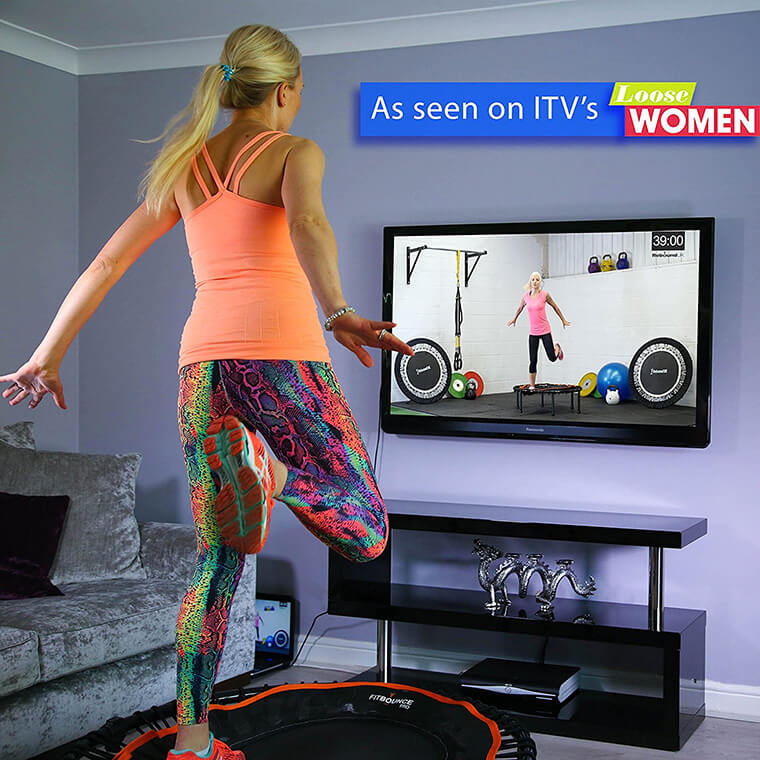 The trampoline comes with a nifty storage bag, an exercise DVD, and a pedometer. The handle bar is sold separately and it is recommended if kids will be using it.
The pedometer (bounce counter) is a nice addition that lets you track your exercise progress. You also get a free music download letting you get 60 minutes of workout music and three months of free online video membership to their 'Bounce and Burn' streaming service.
The customer service is very helpful and they are glad to answer any queries. The well-designed manual makes assembly a breeze. Spare parts are available from the manufacturer. The warranty is excellent – lifetime warranty on the frame and three years on the rest!
Pros:
Great build quality
Attractive design
Bounce counter
Excellent warranty
Quiet operation
Cons:
Potential safety concerns (skirt)
No handlebar
---