Review of Pure Fun Super Jumper Kids Mini Trampoline with Handrail
Pure Fun Super Jumper mini trampoline is a 48-incher, larger than many other rebounders, likely to ensure extra safety for children whose coordination might not be as good. The handlebar set just 35 inches from the floor is great for children ages 3+, while the trampoline itself is 10 inches high. Unfortunately, the handlebar is not adjustable, but it is amply padded and ergonomically shaped.
Weight limit: 100 lbs.
---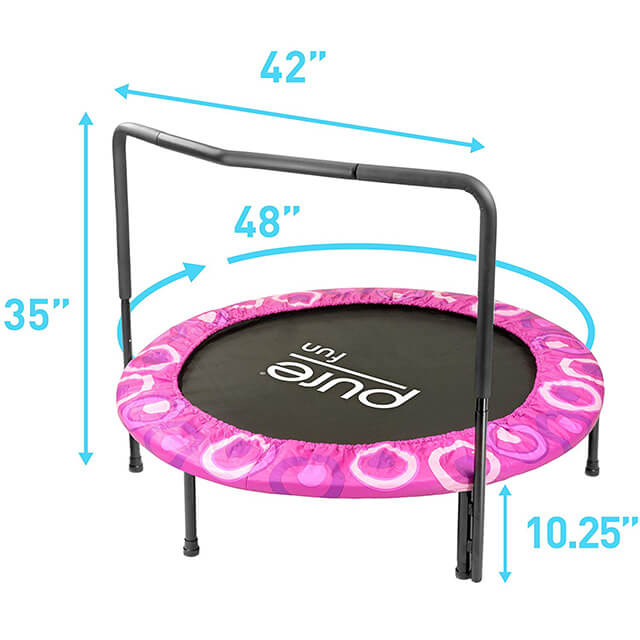 As is the case with other mini trampolines, too much pressure on the handlebar could cause it to tip over, so take care. And of course, the fabric pad that covers the springs is the first to go, almost as a rule.
The feet come with heavy-duty rubber stoppers that eliminate unwanted jerkiness and vibrations.
The frame doesn't look flimsy, but the manufacturer has posted a 100 lbs weight limit. In fact, this looks a lot like product differentiation than a real necessity. Still, it doesn't pay to get this one for adult users, as you're out of luck when it comes to warranty in that case.
Pure Fun Super Jumper comes with 42 springs. That's actually a lot for such a small trampoline. They are of good quality, but are really short (3,5").
It's bouncy enough for children, and a bit better than elastic band-based mini trampolines in the same price range, as the springs will last longer. It's not as quiet, but it can be rectified by oiling or greasing the springs a bit from time to time.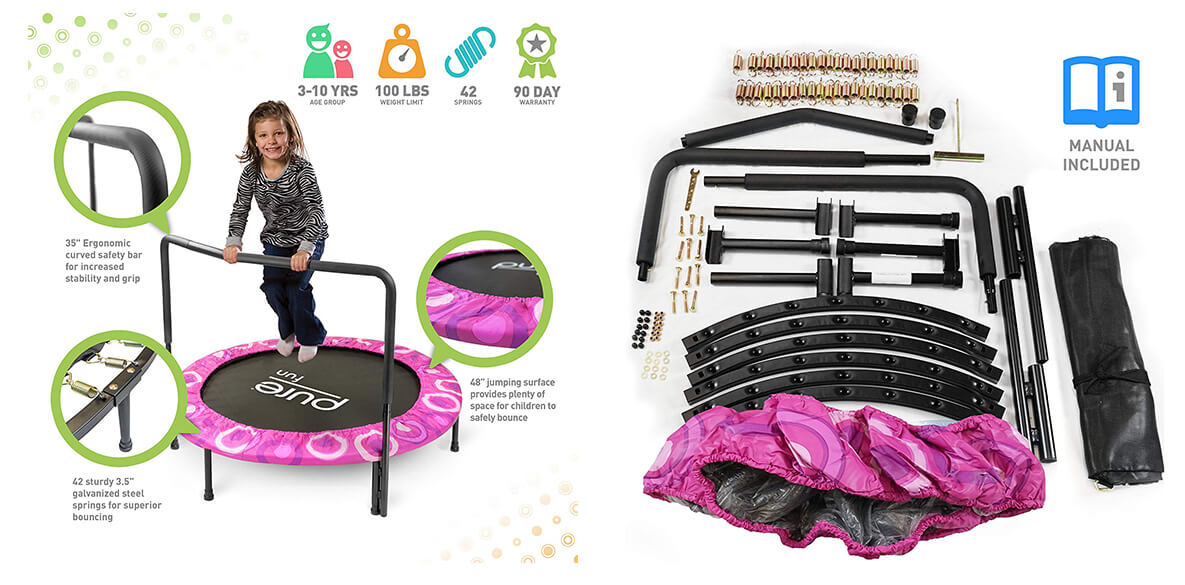 Check Pure Fun Super Jumper price on Amazon
The springs are galvanized and the trampoline can be used outside; but we recommend stowing it away during rainy weather, as the frame could in theory rust through. The trampoline doesn't fold.
The initial assembly is very difficult due to a flimsy spring loading hook. The more springs you set up, the more difficult it becomes… but two adults should manage it. It doesn't take long to get it running, though. The trampoline comes with a 90 day limited warranty. Yes, it's a bit disappointing.
Pros:
good bounce
nice looks
handle bar
quality frame
Cons:
safety cover prone to tearing
warranty could be longer
assembly can be difficult
Overall, this is a decent kids' trampoline for a very agreeable price. There are no glaring safety issues and omissions and the bounce it provides is very good. The frame is structurally sound and looks like it could accommodate adults, even.