ActivePlus® Extra-Large 16FT Trampoline With FREE Safety Net Enclosure, Ladder, Rain Cover & Shoe Bag
Trampolines made by unknown brands always evoke a specific mixture of feelings over here. On one hand, we feel very excited. Could this be the gem we're looking for? But on the other hand, generic branding often makes trampolines nothing more than duds. However, their often attractive price makes them worthwhile to try out. Does this one belong to the former or the latter group? Read on to find out…
Weight limit: 150 kg (23.5 stone)
Recommended for: Teenagers, 13+
---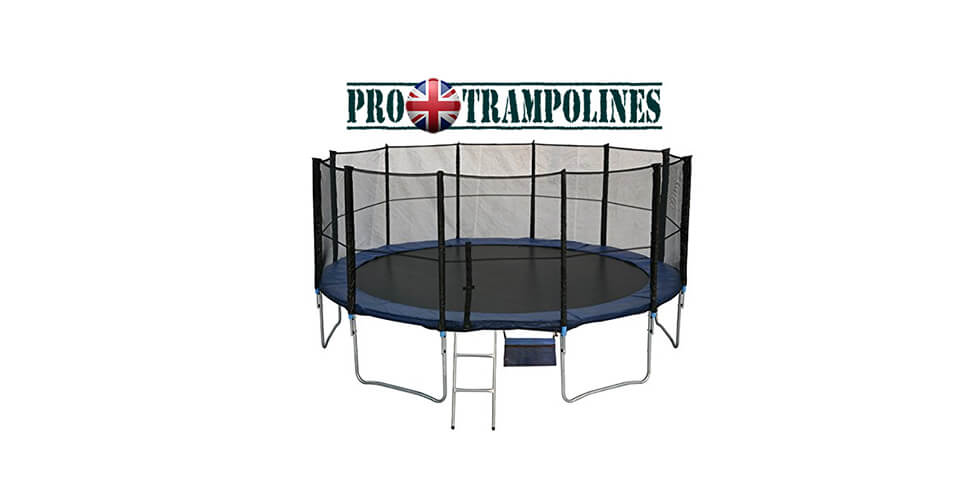 Design
One of the main reasons we gave this trampoline a try was its promising design. While it doesn't look to extraordinary, there are some design considerations that make it look as if some thought went into designing this trampoline. It certainly looks better than other bargain trampolines. It is imposing and large – its 16ft diameter certainly help it make a good impression. The pads are thicker and the shade looks more professional.
Frame / Enclosure
We quite liked the quality of metal work. The legs and poles are galvanized to prevent rust. The trampoline comes with six legs, which is more than the competing trampolines. This makes it stable enough to perform any kind of tricks.
The enclosure is basic looking, without bells and whistles. You get standard foam-covered poles and run-of-the-mill netting. It's not bad, though. Just not very exciting. Yawn.
Safety
The safety pads that cover the springs could be thicker, but overall they do their job. Te enclosure is zippered well, and the netting is sturdy enough. The ample foam covering is enough to protect you even if you strike the enclosure poles. The trampoline has all the certifications from the relevant safety authorities.
Springs / Bounce
The mat is made of UV resistant materials, so it can be left outside. It's basic but functional. The bounce is standard for this type of trampoline. It's not too springy but it works. Total weight limit of 150 kg indicates that the parts are of reasonable quality and the trampoline can be used by adults, too.
Extras
Now this is where the trampoline shines. For a single price you get a whole lot of extra goodies you might otherwise have to pay for. You get a ladder, a nifty shoe bag that is installed near the ladder so that you can put you shoes in a safe place and a trampoline cover for extra safety and weatherproofing during the winter months. This is very nice, as such covers are by no means cheap when purchased separately. Shoe bags are something we haven't seen elsewhere, and it's very nice to have.
Warranty / Assembly
This is where comes the need to temper one's expectation. While nothing so far has been a huge deal breaker, when trying to assemble the trampoline you will be faced with the horrendous glyphs that they call instructions. Also, keep your fingers crossed that you get all the parts in the parcel. This is very common with cheaper trampolines and it's extra hassle contacting the seller for support. The trampoline itself is not that difficult to put up, but you better have some sense for handiness, otherwise you're completely on your own.
And the warranty? Good luck is all we have to say *knock on wood*.
---
Conclusion
While not extraordinary in terms of build quality or user experience, it is good enough, especially when you consider its price. It is solidly built and will certainly last a while. However, as with many budget trampolines, the instructions are useless and you might experience some issues with the quality of the packaging.
But the extras you get make this an enticing purchase, especially if you don't want to spend too much but would also like a large, 16ft trampoline.
We definitely recommend this one as a best buy trampoline.