Skyhigh Oval Trampoline with Safety Enclosure, 8x14ft
Weight limit: 114 kg (18 stone)
Recommended for: Age 8+
---
Skyhigh are a British trampoline manufacturer focusing mostly on mainstream trampolines. It's actually an own brand of sorts of the Big Game Hunters, a huge toy retailer. Their trampolines are no-nonsense good quality offerings, or so they claim. We had their 8x14ft oval version on test. These are prized models, as oval is fairly difficult to come by. Read on to see if it's worth your while…
Design
To begin with, the trampoline does away with the boring blue design. This is a good sign, as it indicates that it's not just another basic trampoline reseller. Do note that most dark blue trampolines are generic and just branded afterwards with whatever name the companies stick on them. This one does look more upscale, and it is obvious more work got into designing this one. So far, so good!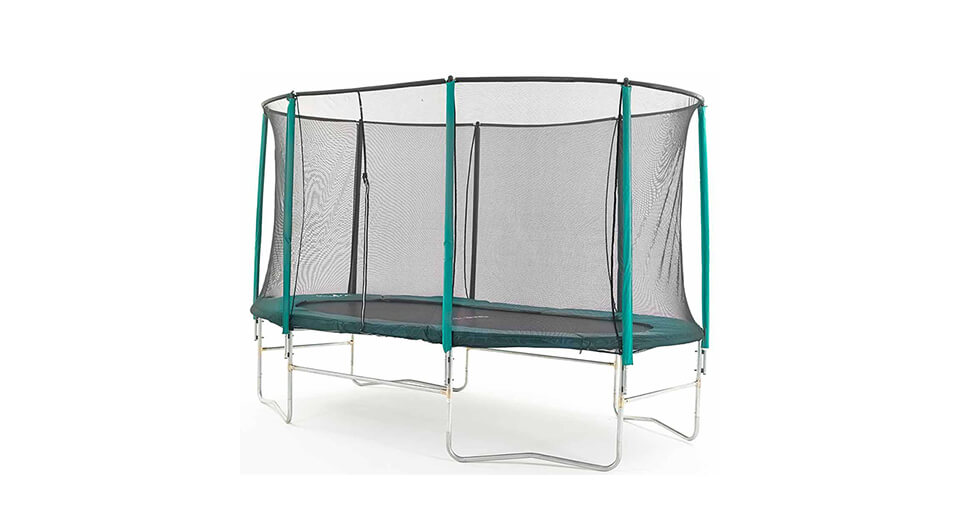 Frame & Enclosure
We quite liked the enclosure netting. While it is not sewn onto the mat, it is made out of a very sturdy material. It will definitely prevent you from falling out of the trampoline. The eight poles in total are covered in soft foam to prevent injury, although they seem too close for comfort, at least to our eyes. They should have been curved away from the trampoline at least a little bit.
The frame is made of thick 42 x 1.5 mm galvanized steel. The tubes lock into the legs in a safe and efficient way, resulting in 114 kg total weight capacity. Only four U-shaped legs support the trampoline, but it is reinforced with bars that run under it, making for great stability and structural rigidity. It all translates into a good bounce and durability.
Size
The 8×14 ft. size looks odd at first, but it really is quite a good fit for many backyards. Round trampolines can be clunky to fit, especially in smaller yards. Most backyards are not square, but rectangular, and oval trampolines are a better fit. Larger sized model is available, and it measures 10×15 ft. It should perform similarly to this model.
Springs & Bounce
The oval mat, as stated above, can support bouncers weighting up to 114 kg. This is enough for normal use. The shape of the trampoline is responsible for a bounce that is a bit different if you're used to round trampolines. Here, there is no force that kind of "sucks you" into the middle of the trampoline. You are free to bounce however you want.
A good number of fairly long springs – 70 springs, 180mm in length, is more than adequate for a good bounce. Oval trampolines really are better for bouncing if you're serious about trampolines. You bounce higher and it's easier to manoeuvre around.
Pads
Skyhigh pride themselves on the quality of the pads, and they have every reason to. They are 27mm thick and made of EPE foam, which is waterproof. Thickness is on par with the more expensive trampolines. The foam is covered with green PVC with a layer of sunproofing – it's UV resistant and durable.
Assembly & Warranty
The assembly is by no means easy. It is a mighty big trampoline and you shouldn't attempt to do it on your own – get someone to help you. It will take you a few hours, but it's doable.
The warranty is surprisingly good. You get 10 years on the frame and a year on other parts. Some trampolines double or triple the price don't offer such good terms, so this is a nice surprise.
Unfortunately, this smaller oval trampoline model does not come with a ladder or a cover. This is probably for cost reasons. However, if you plan on buying a ladder and the cover, the cost rises significantly and even the larger, 10×15 model looks like an attractive option.
On its own, though, the trampoline is very cheap, especially considering its rather rare shape. But it doesn't reflect on quality! It is well-built and honestly it doesn't feel like a bargain trampoline. Our only gripes are with the enclosure, which is very basic, without curved poles or netting sewn onto the mat. That said, there's hardly any competition around at this point, so if you want an oval trampoline, but don't want anything larger, this is a no-brainer.