Hudora Sky 110 Review
Weight limit: 100 kg
Diameter: 110 cm
Recommended for: People interested in weekly rebound sessions
Hudora, German company founded in 1919, and with their motto "We move people", is really not far from true. They are manufacturer of different kinds of sports equipment and not a stranger to the world of trampolines.
With its Hudora Sky 110 mini trampoline, Hudora shows that the equipment is more than just a welcome leisure activity, both for children and adults alike. Let's not forget that mini trampolines are considered as best solution if you want some quick workout session but don't have time to visit the gym or it's just too hot outside.
In our test, we will review you what Hudora fitness trampoline has to offer, what is capable of and is it worth the price (around A$350)
---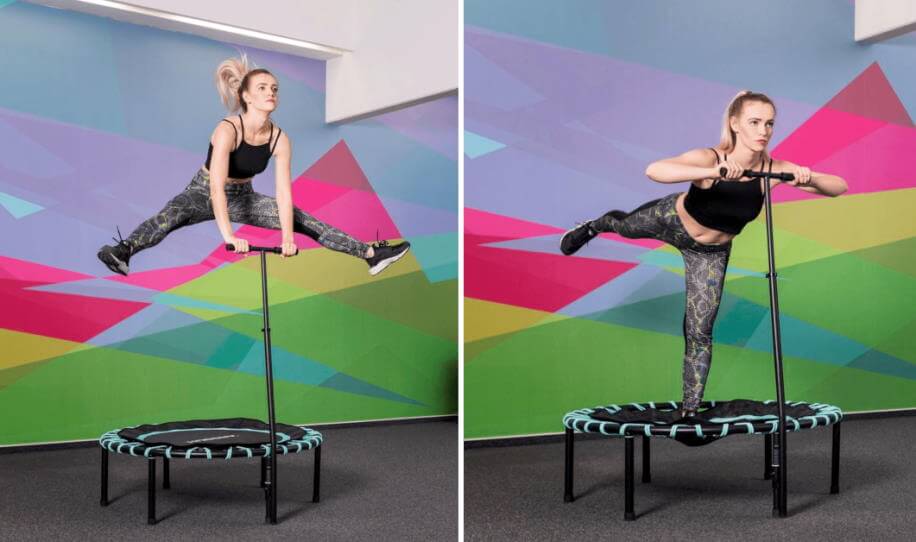 Check latest price on Amazon Australia
Frame:
The diameter of the 110 cm trampoline is in the upper range. Many manufacturers opt for a smaller diameter, most around 100cm, so if you have little space in your home, you might wanna consider smaller model. However, if you have enough space, you will appreciate the 110 cm for your workout. Taller people should really consider it.
6 steel legs offer stability, and they come equipped with rubber pads, which is great as not only will prevent risk of moving a trampoline while training, but also won't damage any wooden floor. Intelligently solved by Hudora, because this material prevents the risk of accidents due to slipping. At the same time, scratching of the ground is prevented. With 10.7 kg, the fitness trampoline is a real lightweight.
Springs / mat
There is 36 springs, as rubber cords which are in plain sight, giving it a futuristic look, especially with its turquoise color (also available in purple). But, this is detrimental to overall safety, as it's possible to tangle limbs in between the cords, and how much that sounds unlikely, there always is a chance. Minus points added. Cords, as Hudora likes to refer to them – "twin-string rubber bands", are very soft, but still wouldn't be great idea to jump bare-footed, so at least wear socks, it will at least somewhat protect your fingers and nails. Problem with being so soft and only 8mm in diameter (which is pretty thin) is that strings could easily snap, and this is something that we weren't to satisfied about. A bit higher number of springs would solve that problem, but that's up to Hudora to solve. Excellent thing is that strength of the suspension can be adjusted in 2 ways.
The height-adjustable support bar is intended for specific jumping and fitness exercises. Especially for beginners, a robust grab bar is a real help for many trampoline exercises. During use, we noticed that the bar is not rigidly connected to the frame, but had minimal influence on overall function.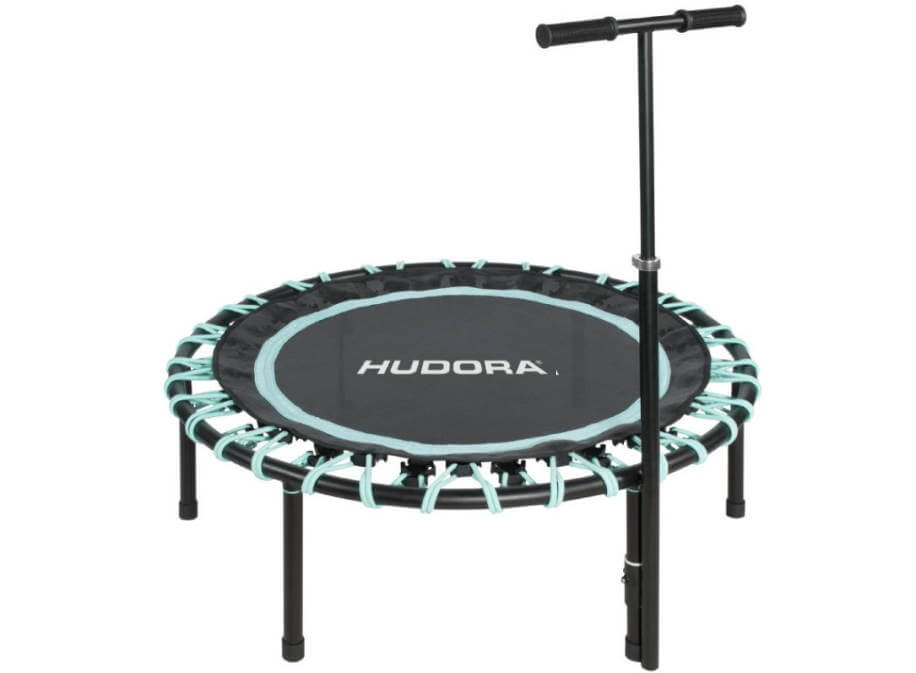 Assembly
Assembly is pretty straightforward, no special knowledge required, so Hudora 110 can be assembled under 10 minutes. At first glance, height of the handlebar might look to low, but no worries, it's fully adjustable, and can be used for numerous sports exercises. Handlebar need to be bolted to the frame, which is not best option. As with all screws, same goes for the handle bar, so you'll need to tighten them after some time.
No worries about support legs as they can easily be tightened without any tools. This is good as trampoline can relatively easily be un-assembled and placed in storage. Overall dimensions of Hudora 110 are – 116 x 116 x 8 cm, with overall weight of 14.5 kg (2.3 stone).
Replacement parts accessibility:
Hudora offers jumping mat and support legs if you require replacements. Unfortunately there is no replacement springs (at least we couldn't find them anywhere).
POSITIVES:
Very good bounce
Stability
Included handlebar and easy assembly
Price
Good online ratings by hundreds of customers
NEGATIVES:
Weight limit could be higher
Spring count and thickness, combined with a fact that replacement springs aren't available online
Final Thoughts about Hudora Sky 110 Mini Trampoline
The Hudora Sky 110 trampoline is an interesting mini trampoline. Already the small packaging size reveals that it is a relatively light and compact piece of sports equipment. Hudora Sky is offered in the mid-upper price segment on the fitness trampoline market. In our opinion, the price-performance ratio is reasonable.