Variflex 38″ Mini Trampoline – This time we review mini version of popular trampoline
The Airzone Variflex 38-Inch Mini Band Trampoline is a safe to use mini trampoline made with no springs. With possible dangers posed by springs, this trampoline has a strong layer of elastic bands. Not only bands are very safe, but they also provide a high bounce back power and very smooth impact.
Weight limit: 200 lbs (90kg)
Price: 28.58 + FREE Shipping
Rating:
(4.3 / 5)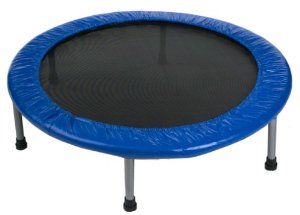 Overall height of 38″ Airzone Variflex mini trampoline  is 9 inches. It has a resilient  jumping mat threaded on to make it strong and its surface large. To make it steady, it is made with wide stands. Its size makes it the best choice for indoor use but there are no obstacles to use this trampoline outdoor.
It can also be folded for handiness in moving and for simple storage. It`s  durable, given the framework`s resistance to rusting due to its powder encrusted reinforcements. The Variflex mini- trampoline is simple in design but hard-wearing. It`s also quiet unlike the squeaky springs in traditional trampoline types.
Variflex Mini Trampoline is perfect to meet standard safety principles regarding home based mini trampoline exercise!
Specs and features

Variflex has bouncy mat made from PP.  It can withhold weights of up to 200lbs (90 kg) and a 9 inch height of rust resilient steel frame. Has a surface radius of 19 inches suitable for both the interior and the exterior. The trampoline has wide stand for stability which come as detachable part.
Variflex 38-Inch Mini Band  provides a high & enjoyable bounce. It`s impact is low and soft.  It safe to use since it has replaced its sharp pointed metal springs with strong elastic bands. The padding and structure meets all safety requirements from the Society for Testing and Materials.
When packed the whole package measures 5-inches in height. Has a width is 10 inches and weighs just 13.05 pounds.
Advantages

Variflex is very safe as per the standard safety requirements. It`s cheap especially for high risk areas that mandate trampolines to be put in restricted access with locks. The trampoline as earlier stated can be used by persons of all ages.
Easy to store because of detachable stand. The stands also can be hand loosened hence reduce cost for additional items for maintenance. It has a soft landing pad that makes the trampoline favor joints. This feature also makes it good for toning the body muscles. For kids bouncing on this trampoline, it helps them develop their sporty aspect and reduce fear of plumpness.
Variflex is also perfect choice for heart related workouts. Divers and gymnasts can improve their training routine using Variflex trampoline.
Disadvantages

As with all trampolines, don`t rule out the fact of injury. Even though this Variflex 38-Inch Mini Band Trampoline boasts of a wide diameter, care is essential while bouncing. A careless bounce or unwise trick may result in serious injury. Also it needs regular checks and repair since it can risk one getting stuck in the rubber in the event its surface is torn or has an opening. It also has a limit to the weight it can withstand. One biggest concern about this trampoline is assembly itself as you will definitely need an extra hand to help you install this trampoline.
Personal Review:

Best choice for anyone who wants a safe, enjoyable and simple trampoline. If you have no fence or want to avoid risks of injury by the neighbors kid, collapse it and go with it to the house. Provided you hold to the weight limits recommended, you don`t need that gym again. Its got style from the all round cushion and can work both indoor and outside on the lawn. It requires limited service and no many tools for that, the hand can do to loosen the screws. With this trampoline, all the family can have fun, and at the same time be fit. Its a cool remedy for the body muscle and therapy for the heart. Only make sure you don`t make that silly judgment or perform unwise skills, this may hurt your back.